Spectrum designation:

Rhapsody Angel

Rank and attributions:

Angel aircraft fighter pilot.

Real name :

Dianne Simms

Place of birth :

Chelsea, London, England

Date of birth:

27 April 2043

Height:

5 Ft. 6 inches

Weight:

124 Lbs

Eyes:

Blue

Hair:

Red

Puppet specifications:

Rhapsody Angel's voice was provided by Elizabeth Morgan, and her facial features were based on 1960's model Jean Shrimpton.
History: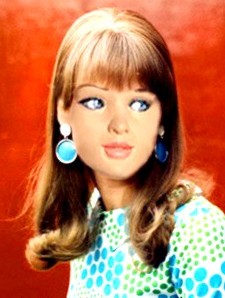 Born April 27th 2043 in London, Chelsea, Dianne Simms was educated at an unnamed girls' public school, and then moved onto London University, England, taking degree levels courses in law and sociology. During her studies, she entered into the swinging party life of a debutante from a wealthy family, but it wasn't long before the endless parties and the hangers-on began to bore her, and Dianne longed for some adventure and excitement in her life. During one particularly dreary party, she was introduced to Lady Penelope Creighton-Ward, Britain's top secret-agent, and head of the Federal Agents Bureau, the world's largest independent detective agency. Lady Penelope recognised the younger woman's longing for a life of action and adventure, and offered Dianne a position in the FAB, which she accepted, and in early 2063 she commenced her special training.
On completion of that training, Dianne was sent on many difficult and dangerous assignments around the world, sometimes alongside Lady Penelope, and sometimes alone. Many times she outwitted her enemies, and brought several notorious espionage agents to justice.
Lady Penelope retired from the FAB, in order to concentrate on International Rescue, and Dianne was offered the role of supreme commander, which she accepted, and under her auspices, the organisation became even more distinguished and respected.
Dianne's intellect, ingenuity, and her ability to retain a cool head in the face of danger, made her the most sought after free agent in Europe. Offers from other security organisations flooded in, and she repeatedly turned them down, until in 2065, for an unnamed reason, the FAB was forced to close. In a perhaps surprising choice, Dianne joined the Euro-Charter Airline Company as its chief security officer, and it was during her tenure there, that she was approached by the Spectrum organisation's selection committee. They had followed her career with interest, and realised her tremendous potential. In late 2066, Dianne became an Angel pilot, codenamed Rhapsody.
What is the truth about Rhapsody's past?
Dianne Simms and her mentor, Lady Penelope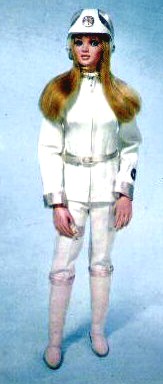 A rare picture of Rhapsody in complete Angel uniform
The biography above was taken almost entirely from the first (1967) Captain Scarlet Annual, and was subsequently used as Rhapsody's bio in the 'Complete Book of Captain Scarlet'. (Published in 2001, author Chris Bentley) However, there are aspects of her history that are difficult to reconcile, and are even quite contradictory.
In the series episode 'Place of Angels', it is mentioned in a discussion between Captains Scarlet and Blue, that Rhapsody spent some time in Manchester, England. Rhapsody's biography in the Chris Drake and Graeme Bassett's 'Captain Scarlet and the Mysterons' book included this titbit of canon information, further suggesting that the reason was that Dianne Simms had worked as a solicitor in the city. This would assume that Dianne graduated from London University with her degrees in law and sociology, but that is not stated explicitly in the 1967 biography, although it is in Bentley's book.
Drake and Bassett's bio is mostly taken from 'The Angels' comic strip from Lady Penelope 1967, and in this version, Dianne Simms works for the Airways Light Freight Agency in Norfolk, UK. When the company is forced to close, she is assigned to deliver a last package to a mystery location, where she meets four other female pilots, all of them destined to become Angels.
There is some controversy as to the age of Dianne's mentor, Lady Penelope, since the actual year in which Thunderbirds takes place remains a contentious topic amongst fans due to the contradictory dates seen in the TV episodes and associated media. These either place the organisation in the 2026 time frame, (in which case Lady Penelope would be in her sixties) or the same timeframe as Captain Scarlet, (2066, which means that Penelope would actually be around the same age as Dianne.)
Personality Profile: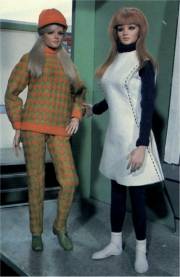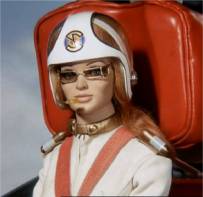 Rhapsody is charming and sophisticated, whether on or off duty, and has a cheerful, bubbly personality (Spectrum Strikes Back). She remains cool under pressure, and will attempt to reason with an enemy before shooting them down. ('Renegade Rocket'). When off-duty, there is nothing more she enjoys than soaring in a glider, or playing chess, especially with Colonel White. She and Symphony are attempting to re-design a three dimensional chess board, just for fun. (As mentioned by President Younger in 'The Mysterons'.)
Rhapsody's Family and Personal Life: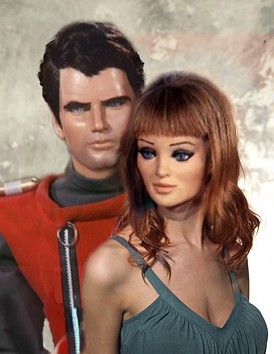 Official sources state that Rhapsody is the daughter of Lord Robert Simms, a World Government Official. There are no other family details, but naturally, fan-fiction writers have filled in the gaps for the purposes of their stories.
Lord Robert has appeared in several storylines, where he is portrayed as: a dashing diplomat with a mysterious past and a love of ancient Egypt in Caroline Smith's stories – 'Obsession and Desire' and 'Looking for Real Life.'; a retiree with a time-travelling mother in Clya Brown's 'Riddle of The Osirians'; and a man so dedicated to his diplomatic career that he sacrifices his family life. (Chris Bishop – The Quest). In a future storyline, the death of his wife has left him a shadow of his former self. ('Pride and Joy' by Lezli Farrington).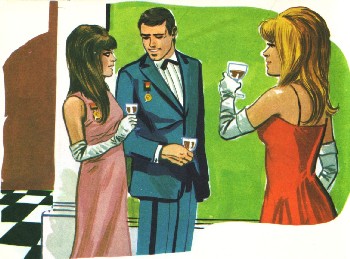 Rhapsody and Captain Scarlet after they received the Legion d'Honneur in the short story 'We will destroy Madame LaRoche'
Rhapsody's mother has several fan-fic incarnations. According to Chris Bishop in The Quest, Lord Robert's wife, the Irish-Italian born Lady Julia Susan Simms, was unhappy with all the moving and constant travelling around the world, and with the effect this had on Dianne, and things deteriorated to a point where the couple separated. In an alternative timeline proposed by Chris Bishop, Rhapsody's mother remarries Colonel White ('Parallax Blue').
In Caroline Smith's stories, she is Lady Charlotte, a typical English society woman, who wants nothing more than for her daughter to settle down and continue the family line. Dianne's need for a more adventurous lifestyle makes the two women clash more often than they agree.
Rhapsody is generally written as an only child, with the exception of Tiger Jackson, who gave her a brother, Edward.
In the series, there is little hint of Rhapsody's preference for any one of the captains, although there were suggestions of a possible relationship between her and Captain Scarlet in the John Theydon novelizations, and this was extrapolated by many fan-fic writers, most notably Mary J. Rudy, Chris Bishop and Marion Woods to name but a few. However, other writers have explored her relationships with the other officers, such as Captain Ochre, (Chris Bishop, Tiger Woods and Caroline Smith), and Captain Magenta (Matt Crowther).
In some of the fan fiction stories in which she shares a romantic relationship with Captain Scarlet, the two of them eventually marry and even become parents (as in 'Pride and Joy' and 'Valediction').
Notes of Interest: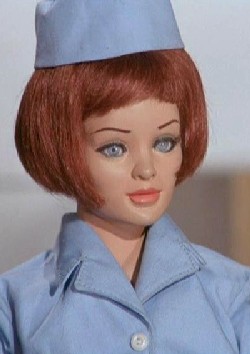 Joe 90: nurse or spy Rhapsody in disguise?
Rhapsody Angel starred in her own cut-out dressing-doll book, which also contained a short illustrated story in the centre pages, featuring her, Captain Scarlet, and a youngish-looking Lady Penelope. (Destiny and Harmony also had their own similar booklets, and these are extremely rare items, since little girls probably used them in the way there were intended, and cut them up!)
Despite her popularity as a fan-fiction character, Rhapsody, perversely, much like Captain Scarlet, ends up suffering or deceased before her time. ('Attrition' by Tiger Jackson, 'Valediction' by Marion Woods, 'Second Sight' by Caroline Smith, and 'Pride and Joy' by Lezli Farrington) however, many of these stories are either Halloween or alternative/future timelines.
Rhapsody is one of the four members of the Spectrum senior staff who are of British origin, the others being Captain Scarlet, Colonel White, and ex-Spectrum agent, now Mysteron agent, Captain Black
The Faces of Rhapsody Angel:
| | |
| --- | --- |
| Jean Shrimpton | Elizabeth Morgan |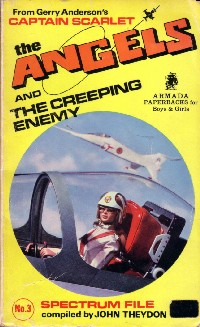 'The Angels and the Creeping Enemy', John Theydon's third book
Rhapsody's features were inspired by those of the 60's model Jean Shrimpton and there is an obvious resemblance between the two. She was given voice by the talented Liz Morgan, who also performed as Destiny and Harmony in the series.
The Rhapsody puppet found a new lease of life as a nurse in 'Joe 90', complete with a shorter hair, albeit in the same distinctive auburn red.
Despite being one of the lesser featured Angels in the series, Rhapsody seemed to be a popular choice for the other media. The Angels strip, printed originally in Lady Penelope, and then in Action 21 reprints, was told from Rhapsody's point of view and she was the lead Angel character in the mini-albums, 'Captain Scarlet and the Mysterons', and 'Captain Scarlet is Indestructible'. She also featured as the main character in a short story entitled 'We will Destroy Madame LaRoche', in the 1967 Angels storybook, and had three chapters and an illustration to herself in the novel "Angels and the Creeping Enemy", on which cover she also was featured. Although less used by other comic strips artists, you can still find Rhapsody in a few panels of the Century/TV 21's Captain Scarlet strips.
For Issue number 13 of the 'Captain Scarlet and the Mysterons' magazine released by Fleetway Editions Ltd, in 1994, artist Lynn Simpson drew a colour portrait of Rhapsody Angel for her series of characters' Portraits Gallery.
From the Angels comic strip

Mike White's art

Art by Lynn

Simpson

Rhapsody gets wet, in the first story arc from

Ron Embleton in the TV/Century 21 strip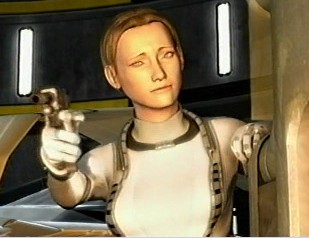 CGI Rhapsody:
There is little information on the character of Rhapsody in New Captain Scarlet, other than the information that she was a pilot for rescue helicopters for the Royal Naval Air Service, and that her real name is Caroline Foster-Finch. This surname, suggesting she might hail from the English upper classes, is the only resemblance to the original Rhapsody. She only appears in a few episodes of the series, mainly in non-speaking parts, and does have only a few lines in those where she speaks.