Spectrum designation:

Lieutenant Green

Rank and attributions:

Colonel White's aide, Communications Officer, Computer expert, Colour Code Senior Lieutenant.

Real name :

Seymour Griffiths

Place of birth :

DPort of Spain, Trinidad, Republic of Trinidad and Tobago

Date of birth:

18 January 2041

Height:

5 Ft. 8 Ins.

Weight:

147 Lbs

Eyes:

Hazel

Hair:

Black

Puppet specifications:

The Lieutenant Green character was based on Cy Grant, and the idea that Green has a love of Calypso music is obviously derived from the fact that Cy Grant was a real Calypso singer himself in the BBC TV series, "Tonight".
History: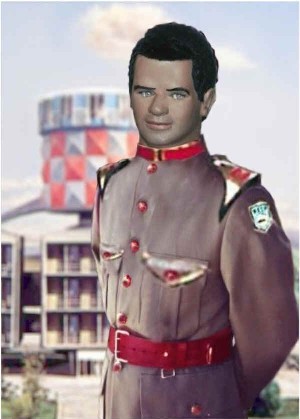 Born in Port of Spain, Trinidad, Seymour Griffiths is the eldest of a family of nine children. When he was twelve, tragedy struck the family: his parents died in an air disaster, and the children were left to fend for themselves.
As the eldest son, Seymour took it upon himself to take care of his brothers and sisters, realising that for the family to survive and stay together, they had to organise themselves. Seymour had to mature quickly after the tragedy and under his wise guidance the hardest jobs were divided amongst the three eldest brothers, while his sisters took care of the housework and the three youngest children. Despite the resolve of the Welfare Services to disperse the family to different foster homes, Seymour was able to convince them that the children could cope, and his courage and determination to hold his family together won the day. He worked during the day to provide for the family's needs and attended education classes in the evenings at the school his brothers and sisters attended in the day. On completion of his courses and after ensuring his younger siblings could now cope without him, he moved to Kingston, Jamaica, and enrolled in the University there, where he gained degrees in telecommunications, technology – and music…
While studying for his post graduate diploma Seymour proved his intelligence and capabilities, by constructing the world's first pocket radio-telescope.
Concluding his studies in Kingston, the resourceful young man – he was still only 21 years of age - joined the relatively new World Aquanaut Security Patrol, as a junior hydrophones operator in 2062.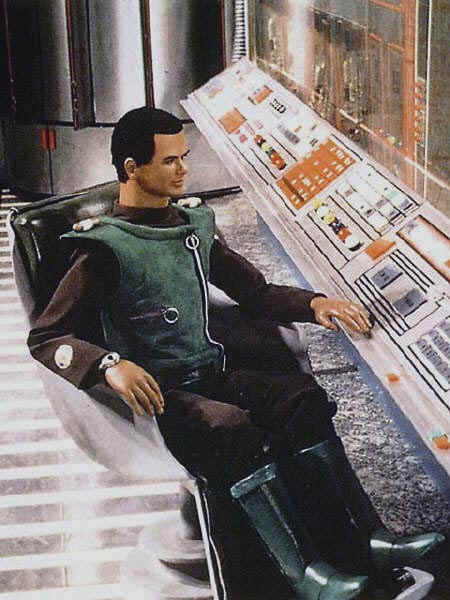 While on active duty with the WASP submarine Corps (on an unnamed vessel) Seymour served on some dangerous assignments and his quick thinking and alertness saved the craft many times during enemy attacks. Around this time, one of his brothers, who it seems was also serving in the WASP, was killed, and Seymour made the request to be transferred to the WASP communications centre at Marineville. Whether his demand was related to his brother's death or not is unknown.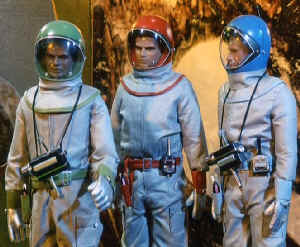 As his request was granted, Seymour quickly took an advanced course in communications. In nine out of the ten exams he had to take, he passed with an incredible mark of 100%, an achievement previously unheard of in that field. It didn't take very long for the WASP to recognise Seymour Griffiths' unsurpassable talents, and he soon became sole chief of all communications installations for Marineville Control Tower. Under his guidance, the Control Tower was run with such efficiency that WASP officials eventually created a new communications section, and assigned twenty skilled new operators and technicians, all under Seymour's command. The young man showed that he was more that up to the task he faced with this new challenge, and gained a reputation that had, by the time he was 24, in 2065, reached the ears of the Spectrum selection committee.
Because of his expert knowledge in technology, communications and computers, and considering his very successful experience at command level with the WASP, the selection committee realised that Seymour Griffiths would be a tremendous asset to the new Spectrum organisation. He was offered the rank and colour code of Lieutenant Green, and received the position of Colonel White's assistant, as well as chief of communications for Cloudbase, with a complex, computer-controlled, communications console to help him. Thus, Seymour Griffiths became one of the first members to join Spectrum, he assisted Colonel White in the months when the organisation entered the last phase of its creation, and new members were signed up and trained, such as the Angel pilots.
It is through Lieutenant Green that all of the Colonel's orders for the Spectrum organisation, and Cloudbase in particular, are relayed. Although he very rarely gets the chance to leave the confines of Cloudbase during mission status, the Lieutenant has relinquished his position at Cloudbase's communications console to others – namely Captains Blue and Magenta - on a few occasions (such as when he visited Earth's Moon with Captains Scarlet and Blue, in the episodes 'Lunarville 7' and 'Crater 101', or when he joined Captain Scarlet in "Avalanche").
Personality profile: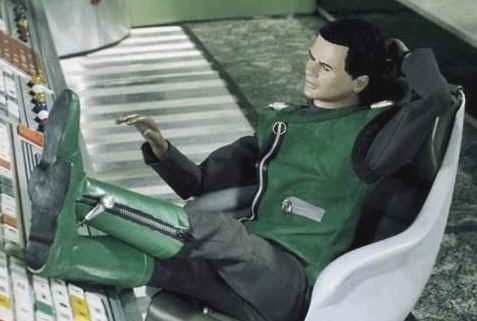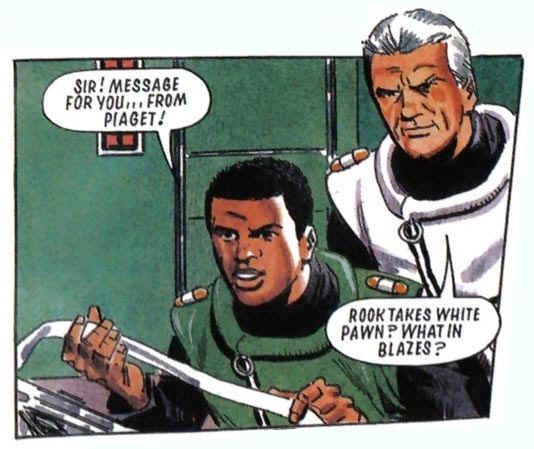 On duty, Seymour is alert and usually calm, never allowing himself to be flustered, worried or annoyed. He does seem to have a somewhat sarcastic side to his nature, which is, on some occasions, directed towards Captain Scarlet, as seen in episodes 4 and 31, although because the later episode includes a dream sequence, it isn't really known if Green's apparent derision for Scarlet runs as deep as it seems, or if it was only imagined that way by Symphony Angel.
As Colonel White's aide and confidante, Lieutenant Green is completely trustworthy, reliable, and loyal to both Spectrum and his commander – almost to a fault (as seen in "White as Snow"). Although he is almost continually seen working at his station in the Control Room, Lieutenant Green often displays a desire and impatience to be more involved in the action, as seen in the episode "Manhunt". In that same episode, in his eagerness to join the hunt for Captain Black, Green also displays something like resentment towards the renegade officer. Whether there is a specific and personal reason behind this resentment is unknown.
Off duty, Lieutenant Green relaxes completely, and becomes humorous, full of fun and even boisterous. He adores music, especially the West Indian Calypso, and frequently delights the other Captains and Angel pilots by playing his guitar and singing traditional West Indian songs.
Family and personal life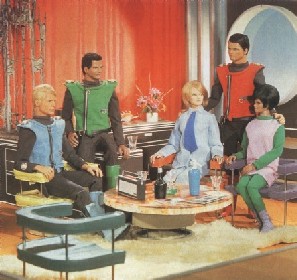 According to most of the sources of his official biography, Seymour Griffiths is the eldest son of a family of nine – which counts at least four boys and three sisters amongst the eldest, although the gender of the youngest children is unknown. While Seymour's siblings remain unnamed in any official biography, Chris Bishop's story "A Question of Trust", named the brother who died as Joshua, and explained that his death by drowning occurred during the sabotage of the Stingray prototype – an incident that also caused Bradley Holden's back injury (Captain Grey).
Other Fanfic authors have given details of an extended family for Seymour: in "Pride and Joy", Lezli Farrington created a nephew, Aaron Griffiths, who becomes Captain Amber, and who, in further stories, becomes infatuated and involved with Rose Metcalfe (the daughter of Captain Scarlet and Rhapsody Angel, also Lezli's creation). Marion Woods proposed a relationship between Lieutenant Green and Captain Blue's sister, Katherine Svenson (created by Chris Bishop), but this relationship, which results in marriage and produces one son – Marcus - does not last, according to Marion's story "Valediction". Following his divorce, Green becomes involved with Lieutenant Flaxen (Audrey Geffen, another of Marion's creations) whom he marries just before his retirement.
In the story "Seeing Green", Caroline Smith provides names for all of Seymour Griffiths' siblings, and these are different from those proposed by other authors: Talia, Clyde and Wayne (twin brothers), Nathan, Alvin and Valey (twins, boy and girl), Lisa, and Audley, as the brother who died in a submarine accident while in the WASP.
The episode "Attack on Cloudbase" seems to suggest that Green might have a soft sport for Rhapsody Angel, but as most of this episode is part of a dream sequence, it is debatable if this is really the case, or just an assumption by Symphony Angel. However, this observation was used by Chris Bishop for the story written in collaboration with Ono, "Curse of the Wolf", and again by Caroline Smith in "Seeing Green".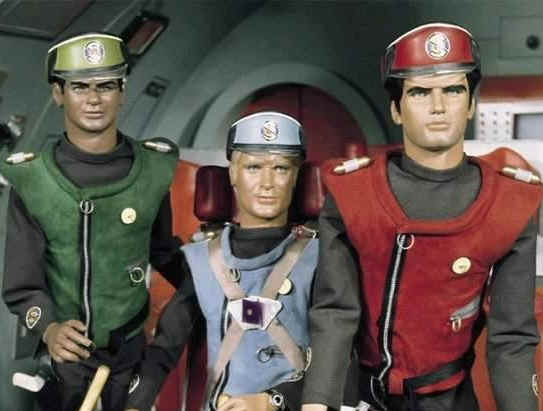 Interesting facts
Lieutenant Green is one of the three characters of the TV series to appear in all the episodes, the other two being Captain Scarlet and Captain Blue. However, in the last episode of the series "The Inquisition", he appears only in flashbacks, as Captain Blue recalls events from the Moon missions. Although puppets, his and Melody Angel's characters were some of the first Black characters to play major roles in a TV series.
Despite obviously being one of the main characters of the series, Lieutenant Green doesn't appear in the opening credits presentation – an oversight that was corrected in Gerry Anderson's New Captain Scarlet for the Lieutenant Green of this series.
Carved from the same wood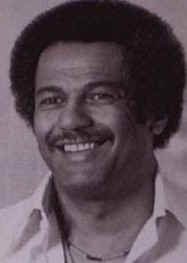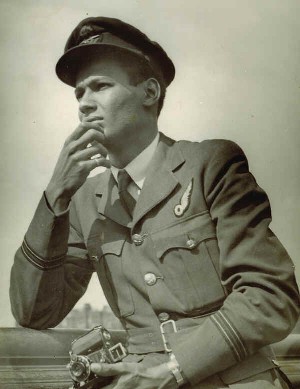 Lieutenant Green's face – and taste in Calypso music – was based on that of the character's voice performer, TV artist and singer Cy Grant.
Born November 8, 1919 in British Guiana, Cy Grant is an actor, singer, guitarist and writer. He served as a Flight Lieutenant in the Royal Air Force during World War II, and when his plane was shot down over Germany, he was captured and subsequently spent two years as a prisoner of war at the Stalag Luft III camp. His picture even appeared in the German newspapers, under the caption, "A Member of the RAF of Indeterminate Race".
Freed after the war, he qualified as a barrister, but decided on a career as an actor on stage and in film ("Shaft in Africa", "At the Earth's Core" and "Sea Wife"), as well as a singer in films, concerts and nightclubs, where he sang folksongs and calypsos. Grant became one of the best-known calypso singers in England in the late 1950s, due to nightly appearances on the BBC television news magazine programme entitled Tonight. Grant has written a number of books, amongst them "Blackness & the Dreaming Soul", and a book of his war memoirs, under the title "A Member of the RAF of Indeterminate Race".
There is an Official Cy Grant website on the Internet, where you can learn more about the artist.
The many faces of Lieutenant Green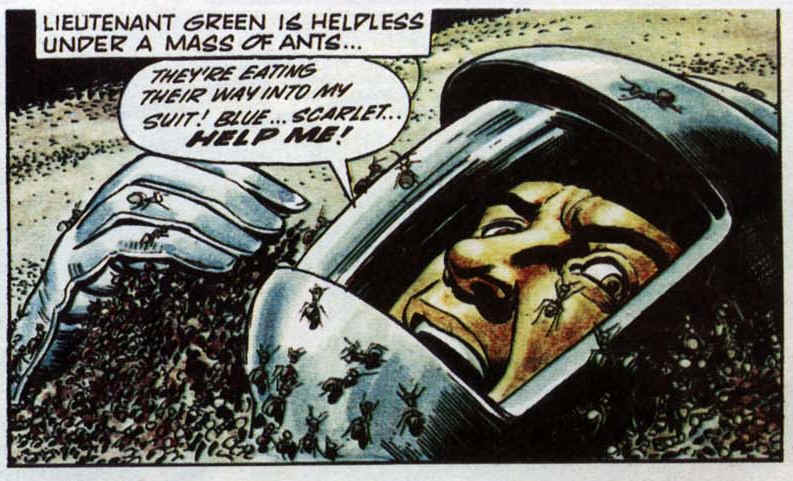 "Ants attack!" by Don Harley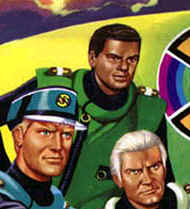 Green on the Embleton poster
Like the other characters from the TV series, Lieutenant Green was drawn by the various artists of the Captain Scarlet comic strips from TV 21.
However, he is not as prominently used as he was in the TV series, and takes back stage to the hero of the series, Captain Scarlet, as well as to Captain Blue and even Colonel White, mostly keeping to his station in front of the Cloudbase computer/communication centre (As seen, most noticeably, in the first story arc drawn by Ron Embleton). His picture made the cover in Issue 171 of TV 21, in a story arc where he nearly becomes victim to killer ants (drawn by Don Harley). He also was one of the five characters to appear on the poster drawn by Ron Embleton for the Anglo Confectionary bubble gums cards (The other characters being Captain Scarlet, Captain Blue, Colonel White and Symphony Angel).
| | | |
| --- | --- | --- |
| Mike Noble | Barry Mitchell | "The Angels" strip |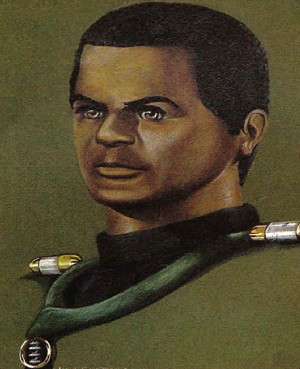 Lynn Simpson
In the Angels comic strip from the Lady Penelope magazines, Green received a little more of the spotlight, and becomes one of the first officers – along with Colonel White – to meet the Angel pilots. It is revealed that his was the mysterious voice addressing the Angels through a speaker, throughout their training, before the girls finally learned the real purpose behind their getting together.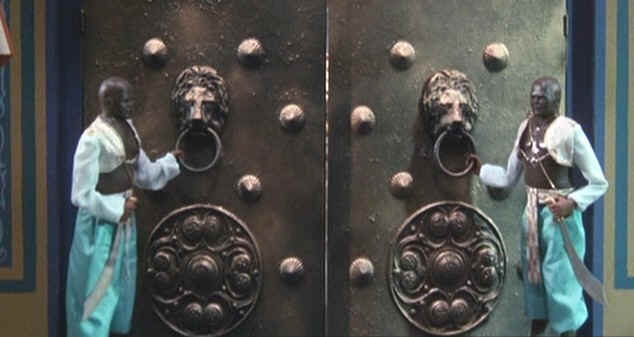 The Lieutenant Green character was not drawn by Lynn Simpson for her original collection of lithographs, but the artist corrected that oversight by adding the character to a new series of drawings that was published in various issues of the Captain Scarlet magazine, published in the 90s.
The Lieutenant Green puppet was used as supporting characters in "Joe 90", (two puppets appeared as Arabian palace guards in "King for a Day"), and also in "Secret Service".
Female Green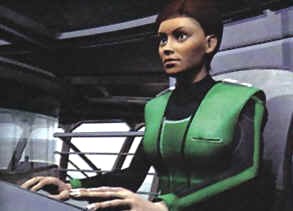 In the "New Captain Scarlet" series, although the character of Lieutenant Green had been kept, it received a radical make-over and was turned into a female. The new female Green kept the same functions as Communications officer and aide-de-camp to Colonel White; named Serena Lewis, she's born in Houston, Texas, U.S.A, and is the daughter of an American Astronaut, Robert J. Lewis, who disappeared during a mission to Jupiter, and reappears as a Mysteron agent in the episode, "Homecoming". The Trinidadian and musical aspects of the character are kept through her mother, Charmaine Samuels, a professional singer from Trinidad. No other family is given to Serena Lewis, and there is no mention of any siblings. This Lieutenant Green seems to be involved romantically with the CGI series' Captain Blue.