The finger is on the Trigger, about to unleash a force with terrible powers beyond the comprehension of man. This force we shall know as the Mysterons. This man will be our hero, for fate will make him indestructible. His name, Captain Scarlet. This is the trigger: a Martian Exploration Vehicle, inside, three men from Earth…"
Voice over by Ed Bishop (Captain Blue) for the first episode "The Mysterons".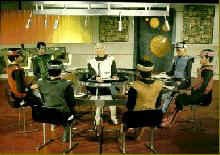 And thus, with this introduction, begin the adventures of Captain Scarlet, number one agent of Spectrum. He will live on in 32 television episodes, as well as in comic strips, novels, fan fictions, books of different kinds, magazines, games, toys, and so on. The series has been repeatedly adapted to video and DVD (and also on laser discs) bringing back its hero to his numerous fans… and presenting him to yet another generation. For the story of "Captain Scarlet and the Mysterons" has still today kept its appeal by the same originality that enthralled viewers of the past.

Set in 2068, the series follows the continuing battle of the World Organisation Spectrum against the Mysterons, who have launched a War of Nerves against Earth after their city was mistakenly destroyed by a group of Earthling explorers, leaded by Spectrum's Captain Black. The Mysterons possess incredible powers, the least of which is their "power of reversing matter": They can take an object, or a person which has been destroyed or killed, and recreate it, him or her, to an exact copy… a copy they can control as they wish to exact their revenge on Earth. It's by the powers of the Mysterons that Captain Scarlet is killed, in the first episode, along with Captain Brown, then both recreated to try to assassinate the World President. Captain Brown dies in a kamikaze attack, allowing himself to explode with a bomb, so the World President would perish with him. But when the President survives the attempt, Captain Scarlet then kidnaps him and takes him to the top of London Car-Vu, where, after a shoot out with Captain Blue, he is shot and falls to his second death, 800 feet below.

After Spectrum has recovered the body, it is discovered that Captain Scarlet is not dead. Instead, his body now heals at an incredible rate, and he can even recover from a fatal wound. Captain Scarlet , now free of the Mysterons' influence, has kept their incredible power of "retrometabolism", and is now indestructible… ready to take on the aliens who had tried to make him their slave.

Now back fighting for Earth, Captain Scarlet has on his side all of Spectrum: Colonel White, the commander in chief; Captain Blue, his friend and usual partner; the Angels, the beautiful female fighter pilots; Lieutenant Green, and the other captains. On the side of the Mysterons: Captain Black, whose body has been taken over by them, and who carries out their orders by killing and destroying, so they can continue to wreak havoc on Earth. The fight will go on, Scarlet demonstrating again and again his new capacities, not always winning, and often giving his life so others will be spared…
The world of Captain Scarlet, created by Century 21, is a very complex one. Follow the links for more details on each subject:
HISTORY OF THE 2068 WORLD
CHRONOLOGY OF THE CAPTAIN SCARLET UNIVERSE
THE BRITISH DICTATORSHIP 2028-2047
New page - September 19, 2016.
ORGANISATION CHARTS OF THE WORLD PEACE-KEEPING FORCES
CHRONOLOGY OF THE ANDERSON UNIVERSE
THE MYSTERON MARTIAN COMPLEX CUTAWAYS