Spectrum designation:

Captain Magenta

Rank and attributions:

Senior staff officer, colour-coded Captain.

Real name :

Patrick Donaghue

Place of birth :

Dublin Bay, Leinster Province, Republic of Ireland

Date of birth:

17 May, 2034

Height:

6 Ft.

Weight:

173 Lbs

Eyes:

Brown

Hair:

Black

Puppet specifications:

Voice provided by Gary Files
Personal history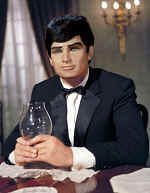 Patrick Donaghue is the odd one out amongst the Spectrum agents and flight crews, because, unlike most of his colleagues, he doesn't have a background in the military or law-enforcement services; quite the contrary, he comes from what is called the wrong side of the tracks.
Born in Dublin, Republic of Ireland, he was three when his parents emigrated to the United States, perhaps due to the political situation in nearby Great Britain at that time. Not having a great amount of money, the Irish family settled in a poor neighborhood of Manhattan Island, New York. Patrick grew up in an atmosphere of poverty and street crime; he mixed with street gangs, learning to pick pockets, which seemed to be more important and certainly had greater rewards and more appeal than learning to read and write. But his mother encouraged Patrick to study hard at the local high school, and eventually, almost against all odds, he won a scholarship to Yale University, New Haven, Connecticut.
However, when he started his studies at Yale, Patrick soon became involved with a small gang of political extremists known as "Group 22". Because of his participation in the "anti-Bereznik riots" of 2052, young Patrick was sent to Rikers Island, a New York prison, for a term of 90 days, where he spent much of his jail time in the prison library, continuing his university studies via correspondence, and returning to Yale after his term in prison.
Graduating from Yale University at the age of 22, in 2055, with degrees in physics, electrical engineering and technology, he joined a large, unnamed firm in Williamsburg, Brooklyn, New York, as a computer programmer. But the boring, repetitive desk job he was chained to made him yearn for a chance of action and adventure. To make a better life for himself and his family, he decided he needed more money than this job could earn him. So once again, Patrick turned to a life of crime. He created a small but efficient crime ring, to operate in New York State, when he organised the smaller street gangs together, and soon, Donaghue transformed the individual "arms" of these criminal gangs into a combined and efficient group. Within two years, through meticulously detailed ingenuity, and ruthless instigation, the ambitious and imaginative Donaghue had become a kingpin of crime, highly regarded and well-respected in the underworld of crime, deriving much of his financial gain from computerized crime, and eventually controlling nearly two-thirds of the criminal organisations of New York State.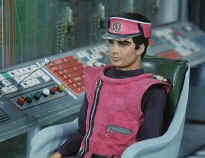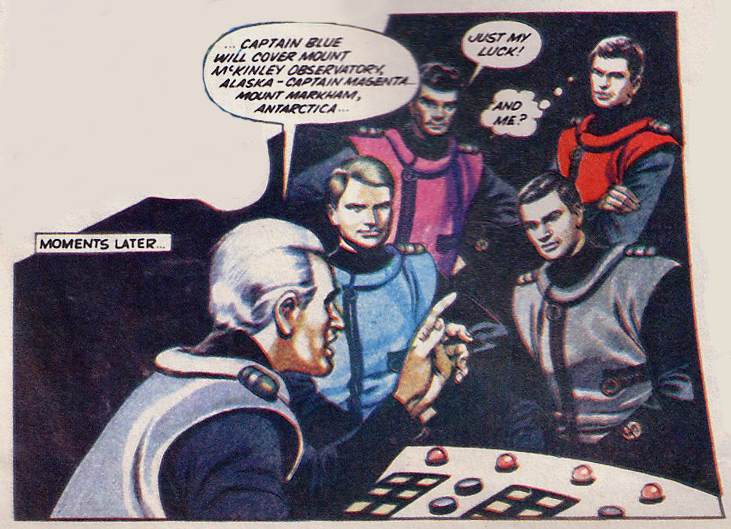 The selection committee charged with creating Spectrum considered that they needed to recruit someone from the "underworld" if their security organisation was to succeed in beating infiltration by criminal and terrorist organisations. Someone who knew how such criminal groups worked and who was respected and trusted within the "underworld", and who could provide invaluable inside information, and even work safely on the inside, when necessary. Their choice fell on Patrick Donaghue, whose background they had studied and who they considered could be brought back to the right side of the law, with the right incentive. They contacted him through a coded advertisement placed in the 'Help Wanted' section of the "Daily USA" newspaper, offering him a position as a field agent within the Spectrum organisation. This new challenge interested Donaghue and after consideration, and on the terms that he would be granted a full pardon by the World Government, he accepted the offer.
Whilst usually acting as a field agent, when he was not on duty as such, his competence at computer work, often leads to Captain Magenta acting as a replacement officer for Lieutenant Green, at the Control Room desk. A security expert and an electronics genius, Magenta also spends some of this time designing ways to make World Government security buildings even more impregnable.
Personality profile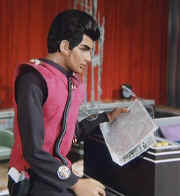 On duty, Captain Magenta appears enthusiastic and decisive, taking on each new mission as a personal challenge, dedicating himself to succeeding whatever the danger. He is courteous to higher ranking officers and ever eager to please, although he can be prone to officiousness ("Operation Time"). That aspect of his personality, however, does not quite match with Patrick Donaghue's official background as a former gang leader, efficient and at time ruthless. This inconsistency in Magenta's persona could be explained, with the fact that his behaviour on duty might be due to an excessive desire, or need, to continuously prove himself in the eyes of his superiors and his colleagues, and to show that he's worthy of the trust put in him in the first place.
Off duty, Magenta is charming and sarcastically witty. Although much of the time he likes to be in other people's company, he occasionally chooses to be alone to think and have time to himself.
As a note of interest: in the episode "Attack on Cloudbase", Captain Magenta, who is manning the radar room, addresses both Captain Scarlet and Captain Blue with a deference that might seem to indicate that he's a lower rank. In reality, the part had originally been written for a new Spectrum agent, Lieutenant Sienna. But not wanting to go to the extra expense or creating a new uniform, the producers simply replaced the Sienna character with the already existing character of Captain Magenta. Magenta's behaviour in this episode could be explained by the fact that the whole incident was in fact a feverish Symphony Angel's dream…
Donaghue's Family Honour
The official background created for Patrick Donaghue by Century 21, while drawing general lines, offers quite a fertile ground from which writers of fan fiction can draw inspiration to build a more detailed personal history for Magenta. While many writers (Chris Bishop, Matt Crowther, Sage Harper, Siobhan Zettler, Tiger Jackson) have written about Captain Magenta, no-one tackled his shady past life better than Sue Stanhope, notably in her trilogy "Past Imperfect", "Present Tense" and "Future Conditional", and in the stories "Family Honour" and "Dead Ringer", the latter written in collaboration with Chris Bishop. Still in a collaboration between Sue Stanhope and Chris Bishop, the family described in the official background took on a more detailed form, with the creation of his parents, Sean and Lily Donaghue, and his younger sister, Sarah, and a tension was created between Patrick and his proud father who couldn't accept Patrick's life of crime. Sage Harper has also created her own family for Magenta in her own series of stories.
Captain Magenta of Spectrum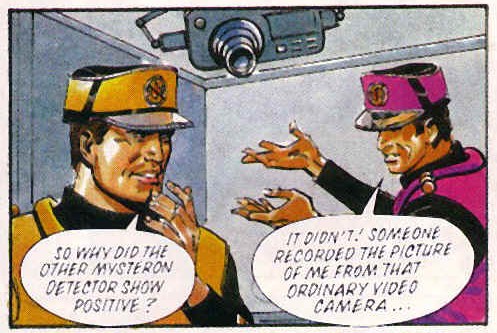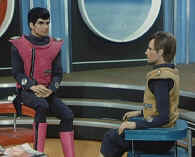 Fan fiction writers also gave Captain Magenta sentimental attachments to some of the Angel pilots, like Rhapsody Angel (in Matt Crowther's stories) and an unrequited passion for Symphony Angel (in Marion Woods' stories), but mainly with Destiny Angel (Lezli Farrington, Chris Bishop, Sue Stanhope), the latter relationship mostly being inspired by a few scenes drawn from the TV series, where Destiny is often seen in the company of Magenta. Other than these scenes, however, nothing in the TV series, or in any other related Century 21 media, really provides any information that Magenta is romantically involved with any of the Angels.
An interesting aspect for the world of fan fiction, is the teaming of Captain Magenta with Captain Ochre, as tension could be expected between the ex-leader of mob gang and the former cop, who nearly became supreme commander of the WGPC (as described in such stories as Chris Bishop's "All the Colours of the Rainbow" and Sue Stanhope's "Team Spirit"). The two would eventually become best friends, accomplices in misdeeds, and a team to be reckoned with, nearly as capable and inseparable as Captain Scarlet and Captain Blue. While it seems obvious that fanfic authors would find the idea of making a cop and a gangster into partners appealing, it also could be argued that the idea behind it all could have been inspired by the TV series as well, where the two of them appeared as a team on a few occasion, notably in the episode "Heart of New York", and also in comic strips.
The many faces of Captain Magenta

Gary Files provides the voice of Captain Magenta with a slight Irish accent. He also provided the voices of supporting characters in the show. Having already worked with Century 21 Productions, he had played John Tracy in the feature film "Thunderbird 6", after "Captain Scarlet", he stayed on to give his voice to Matthew in "Secret Service", and played characters voices in "Joe 90". He also played the part of Phil Wade in the first episode of "UFO". Following the end of "Captain Scarlet and the Mysterons" the Captain Magenta puppet was re-used on a few occasions, as background characters in both "Joe 90", and "Secret Service".

In 'Joe 90'

In 'Secret Service'
Ron Embleton

Like his Spectrum counterparts, Captain Magenta was drawn by the artists who illustrated the various strips from TV Century 21. A particularly accurate representation of Magenta can be seen in the very first story arc from the comic strip, with Captain Blue, drawn by Ron Embleton, and is also featured in a Mike Noble strip, in which he is partnered with Captain Scarlet after Captain Blue had apparently been Mysteronised. He is also largely featured in the strip "The Labyrinth", written by Graeme Bassett and drawn by Barrie Mitchell, where we can see him alongside most of the other Spectrum captains, most notably Captain Ochre.

While Magenta was not featured in the series of classic drawings done by Lynn Simpson years ago for the Fanderson fanzine, in the latest version of the Captain Scarlet magazine strips, she drew a new series, in full colour, that this time includes the Irish-born captain.

Lynn Simpson
| | |
| --- | --- |
| Barrie Mitchell | Mike Noble |
| | |
| --- | --- |
| The Captain Magenta in the CGI series, "Gerry Anderson's New Captain Scarlet" is definitely not the same character as the original Magenta. He is rarely seen in the series and very little information has been supplied about the character. His name is Mario Moro, and his personality is far different from Patrick Donaghue. This Magenta seems to view himself as a seducer, but doesn't seem to have that much success with women – including the female Captain Ochre! In another ironic twist, the new Magenta has been given an Italian American nationality, but unlike the original Patrick Donaghue, he was not given an 'underworld' background, (which might have been viewed too stereotyped, as the character was already a would-be Casanova!), and instead was a military police officer before joining Spectrum. | |