Spectrum designation:

Destiny Angel

Rank and attributions:

Angel aircraft fighter pilot. Often acts as pack leader

Real name :

Juliette Pontoin

Place of birth :

Paris, France

Date of birth:

23 August 2040

Height:

5 Ft. 3 inches

Weight:

122 Lbs

Eyes:

Brown

Hair:

Blonde

Puppet specifications:

The Destiny Angel character was based on actress Ursula Andress, and her voice was provided by Elizabeth Morgan.
History: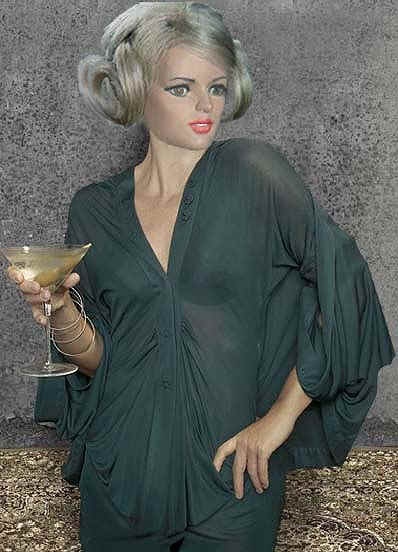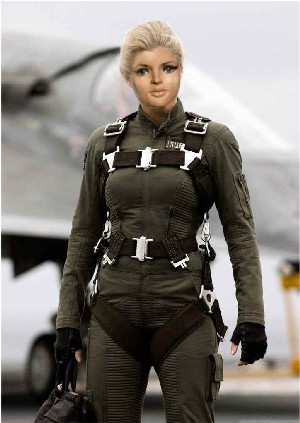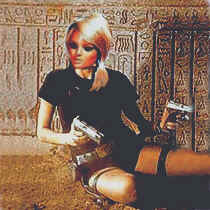 Destiny's WAAF career
Born in Paris, France, on August 23, 2040, Juliette Pontoin is the daughter of a wealthy French textile manufacturer. She was educated at an unnamed Parisian convent, and in 2057, went to Rome University, in Italy. She enjoyed her time at University, particularly the social side, and as a consequence, she only gained degrees in Weather Control and Telecommunications.
With such unusual qualifications, Juliette was at a loss which career to choose and so she joined the World Army Air Force in 2060, as a stop gap. The commanders in the WAAF transferred her to the Intelligence Corps, which suited her far more, and she decided to make intelligence her chosen career.
As part of her job, Juliette started training to become an aircraft pilot; she began to make a name for herself amongst WAAF officials for her flying skills as much as her ruthless efficiency in dealing with Intelligence Department assignments. It was due to her superb work, that many enemy organisations were quashed during this period.
As a reward for her tremendous contribution to the service, the WAAF promoted her to commanding officer of the newly formed, Women's Fighter Squadron. She excelled in air-combat tactics and her leadership was such that she quickly gained the respect and admiration of the other squadrons, and she became the ace pilot of the WAAF.
However, this wasn't to last. After three years, tired of the lack of personal freedom and the strict regulations of the Armed Forces, Juliette decided to leave, and started her own firm of flying contractors.
Though she imagined she was through with the military life, Juliette found out very soon it wasn't quite the case. Her prowess in the field of Intelligence gathering, her remarkable skills as a pilot, and her flawless record with the WAAF brought her to the attention of the Spectrum selection committee. She was approached in 2065, and, probably tempted by this new challenge, she happily accepted the job of pilot in the new organisation's squadron of Angel fighters, and received the code name of Destiny Angel.
Personality profile: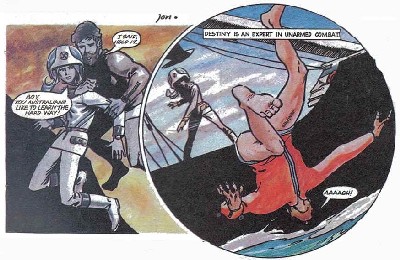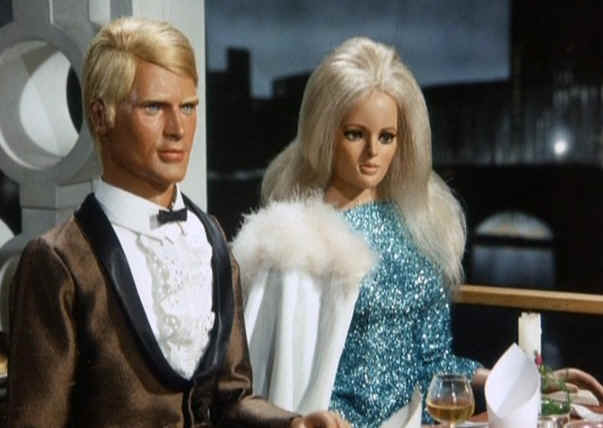 While on duty, Destiny is utterly ruthless and totally efficient at her job. However, once off duty, her personality changes completely. She's charming, sophisticated and very feminine. She is extremely fashion conscious, and takes every opportunity she can to spend time on dressmaking and designing her own clothes – the dress she wears in the restaurant sequence at the end of "Big Ben Strikes Again" is one of her own designs.
In some sources, Destiny Angel is recognised as leader of the Angel pack, although any of the pilots can act as Angel Leader when the occasion demands, and perhaps, depending on the mission and the expertise required.
Off-duty it seems the role of 'leader' belongs to Melody Angel, whose powerful personality tends to make her dominate her social circle.
According to "The Angels" comic strips, Destiny Angel is an efficient hand-to-hand combatant. In addition to her duties as a fighter pilot, Destiny will often join Spectrum ground agents on missions ("Model Spy"), which gives her an opportunity to display both her efficiency as a Spectrum agent and her innate charm, which often causes people to underestimate her.
Personal life: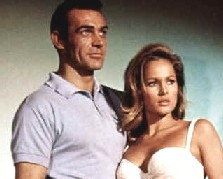 Although not confirmed in most official sources, it is widely accepted that Captain Scarlet and Destiny Angel do, at least, know each other well enough to be good friends, and may have been – or may still be – romantically linked. Chris Drake suggests in the 1993 reference book "Captain Scarlet and the Mysterons" that this explains why Destiny is called on to identify Scarlet's body at the end of episode one, "The Mysterons". Many fanfic writers used the hint, such as Mary J. Rudy ("Chance for a Lifetime", where it is mentioned that they were old friends) Richard Spake and Kimberly Murphy ("Whose Heart the Blackest"), Chris Bishop in various stories (most noticeably in "A Question of Trust"), and other writers who also followed on the same idea afterwards.
Although the character of Destiny was changed in the "New Captain Scarlet" CGI series, it is to be noted that in this series, there is a romantic link between Scarlet and Destiny.
Juliette Pontoin's family are not named in any official sources, although a sister, named Monique, did appear in one of "The Angels" comic strips, in the Lady Penelope magazine. Unlike what has been done for some of the other characters, few fanfic authors have written any details about Destiny's extended family. Sage Harper named her father Jacques and her mother Amélie, Marion Woods chose the name Armand Pontoin for her grandfather, and while Tiger Jackson did not name her parents, she wrote about an older brother – Aramis – who had died young, in the story "The Christmas Rose".
Marion Woods (in "The Gift of Oneself") used the hypothesis of a business connection between Destiny's family's textile company and Captain Blue's family's firm, which left a certain reserve between the two Spectrum agents. Sage Harper (in "Relative Troubles") followed on this same idea.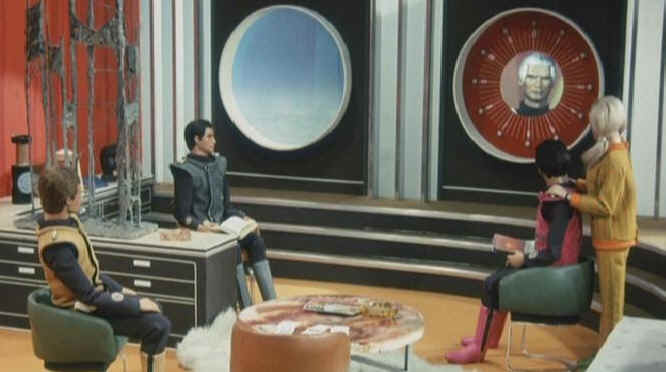 In fandom, quite aside from her 'past history' with Captain Scarlet, authors have paired Destiny Angel with either Captain Magenta or Captain Grey. The association with Magenta is based on a few scenes in the TV show, where the characters are shown together; the relationship with Grey because the facial features for both of the puppets, of Destiny and Captain Grey, were inspired by Ursula Andress and Sean Connery, who starred together in the James Bond movie "Doctor No". In stories written by Lezli Farrington, and set in the future, Destiny is married to Patrick Donaghue (Captain Magenta). In her story set in 2100, ("Valediction") Marion Woods writes that Destiny and Grey have married and are running an adventure holiday company on the Mediterranean coast, and mentions a daughter called Alinor.
There are a few cases where fanfic writers seem to want to draw a link between Destiny and Captain Black, but these cases are so far rare, and seem to have been inspired by the love-triangle subplot developed in the "New Captain Scarlet" CGI series, where Destiny Angel had been in love with Captain Black, before falling for Captain Scarlet after Black is killed by the Mysterons.
Interesting facts: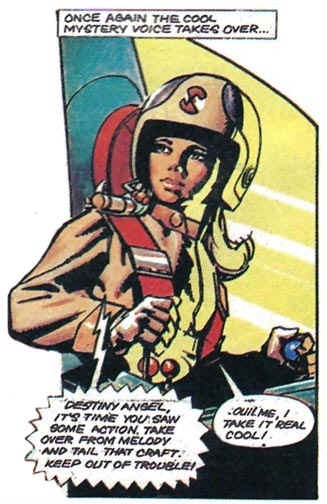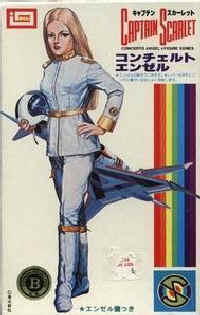 Imai's "Concerto Angel"
According to the Lady Penelope magazine, the Angel fighter squadron started their training undercover, as an air-show team of flyers. But while training and following the air-show course, they had many adventures: being involved with spy rings, smugglers and pirates, before finally learning of Spectrum and what their real jobs would entail.
Still according to the Lady Penelope magazine, Destiny was supposed to be from Sweden, and not France – and is mentioned as such in a few strips, before the information was changed, and Destiny definitely became a Frenchwoman.
While performing the voice of Destiny, the actress Elizabeth Morgan, uses a very well rendered French accent. She also played Rhapsody Angel, changing her accent to an upper-class English one. This occasionally led to sequences where the character on the screen spoke with the wrong voice. During one of the recording sessions, for the episode "Attack on Cloudbase", Ms. Morgan put so much emotion into her voice performance while playing a distraught Destiny, that the director was forced to remind her that puppets can't cry and she had to find another way to convey the character's emotions!
In Japan, where "Captain Scarlet and the Mysterons" was and still is very popular, the name of "Destiny Angel", the only Angel not having a 'musical' codename, was transformed to "Concerto Angel" – the only Angel to have a 'musical' codename! This also explains why the Imai action figure produced in Japan was presented as 'Concerto Angel', and not 'Destiny Angel', and still could occasionally be found under that name, on auctions sites, like eBay.
The many faces of Destiny Angel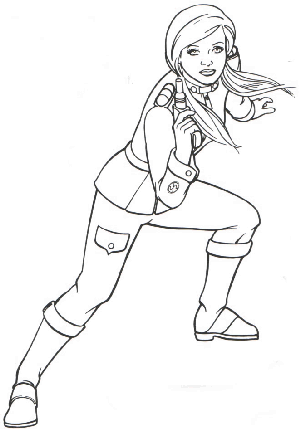 | | |
| --- | --- |
| Liz Morgan | Ursula Andress |
Actress Elizabeth (Liz) Morgan was the voice of both Destiny and Rhapsody Angels, and did the voice of Harmony in a few of the first episodes. At the time of "Captain Scarlet", she was known for presenting "Finding Out", a school's programme. After "Captain Scarlet", she appeared in "Frankenstein Must Be Destroyed", and starred in "The Old Devils" for BBC Wales. She has also performed in various TV series, and she's written over 24 plays for BBC Radio 4, and taken her one-woman show to the National Theatre and on a tour to America.
The facial features of Destiny Angel were inspired by Swiss actress Ursula Andress, who was best known at the time for her portrayal of Honey Ryder in the James Bond movie "Doctor No".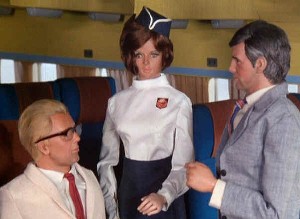 Air stewardess Destiny ('Joe 90')
Hiding under clever camouflage, the Destiny puppet was re-used in the later Supermarionation show "Joe 90" and "Secret Service". She can, for example, be recognised under a brown wig in the Joe 90's episode "King for a Day".
The character of Destiny Angel also occasionally appeared in the "Captain Scarlet" comic strips, in TV21, drawn by artists such as Ron Embleton and Mike Noble, but the majority of her appearances were in "The Angels" comic strips (drawn by Jon Davis). She's also one of the few characters to be featured in the activity books produced by Carlton Books Limited, in 2001, drawn in a ligne claire style.
Drawing artist Lynn Simpson made a full colour portrait of Destiny Angel, which appeared in the Captain Scarlet magazine in the 90s.
| | | | |
| --- | --- | --- | --- |
| Ron Embleton | Mike Noble | Jon Davis | Lynn Simpson |
CGI: A different Destiny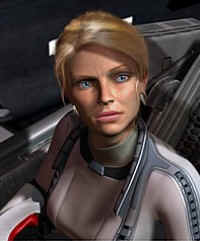 Later publicity shot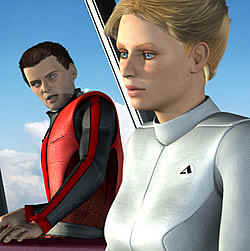 Final version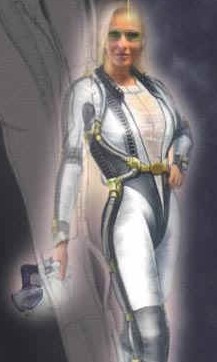 First promotional picture
In the CGI revival series, the character of Destiny Angel was drastically changed. The first promotional image to be published of her wasn't very flattering, but fortunately the character has evolved into the Destiny character seen in the series. Now named Simone Giraudoux, despite having a definitely French name, Destiny is now American, born in Silicon Valley, California; her parents were named Philippe Giraudoux and Emmanuelle Chiraqu Giraudoux, and were both in nano-technology research. The authors of the CGI series seemed to want to make Destiny a strong-willed character able to stand on her own two feet in difficult situations, and to this end, she plays a very prominent part in the early New Captain Scarlet stories, almost becoming Scarlet's accepted partner at the expense of Captain Blue.
The series included a back story about a love affair between the character and Captain Black, which only ended with his death at the hands of the Mysterons on Mars. Subsequently, she fell for Captain Scarlet. Fanfic writers, such as Skybase Girl in the story "A Twisted Trinity", expended on this idea and pushed the relationship a little further into its logical development.
However, most of the reaction from the fans to this version of the character seemed lukewarm, and it is noticeable that in the later episodes, Destiny appears less frequently, despite the fact that a full episode ("Fallen Angels") was even devoted to her heroics in the second part of the series.