Spectrum designation:

Captain Ochre

Rank and attributions:

Senior staff officer, colour-coded Captain.

Real name :

Richard Fraser

Place of birth :

Detroit, Michigan, U.S.A.

Date of birth:

23 February, 2035

Height:

6 Ft.

Weight:

170 Lbs

Eyes:

Brown

Hair:

Dark brown

Puppet specifications:

Voice provided by Jeremy Wilkin.
Personal history
Like many teenage boys, Richard Fraser hated high school and spent much of his time designing and building model aircraft, rather than studying. Therefore, he is unique amongst the Spectrum agents in that he has no outstanding academic credentials. A keen amateur pilot, he learned to fly at 16, gaining his pilot's license. When he left school at 18, lacking the necessary grades for University and having failed the University entrance exams, he applied for a post in the World Army Air Force, but was rejected due to his lack of degree-level qualifications.
Presumably, rather than take a post at a lower rank that was not what he wanted to do, Fraser made the decision to join the World Government Police Corps in 2054; his 'second best' option.
After three years of basic training from cadet to officer (rank unknown), Richard Fraser became thoroughly engrossed in detective work and his real character and abilities began to emerge.
Transferred to Chicago in 2059, he tackled one of the toughest crime syndicates in the U.S. at the time. That the syndicate was smashed was largely due to Fraser's ingenuity and vivid imagination, plus his ability to spot the smallest clue, which made him such a brilliant detective. He also demonstrated excellent leadership qualities.
He rose quickly through the WGPC ranks, until, when the supreme commander retired, Richard Fraser became the leading candidate to replace him. To general surprise, Fraser, now a commander, refused the post, which would have kept him tied to largely administrative tasks, preferring to take command of a smaller division, which would offer him greater chances of continuing to do field work – with all the action and excitement that entailed.
It was this loyalty to his convictions, his inspired detective skills and his evident common sense, which, in 2065, prompted the Spectrum selection committee to approach him with a view to joining the fledgling organisation.
The nature of the challenging work promised by Spectrum made it an easy choice for Fraser, and he accepted the commission.
Given that he was well-known in the public eye and a possible target for underworld reprisals, Spectrum orchestrated a fake assassination, known as 'Operation Jigsaw' with Fraser's consent. On 19th June 2066, Richard Fraser was apparently assassinated and the news relayed around the world. In fact, he was shot with a tranquillizer dart and his 'body' taken to the National Hospital of Chicago, where he was revived. Some sources say that while he was there, Fraser also had 'plastic surgery' to alter his appearance and give him the freedom to work unhindered.
In July 2066 Richard Fraser became Captain Ochre of Spectrum.
Personality profile
The 'Captain Scarlet annual' of 1967 describes Richard Fraser as: 'an inspiration and encouragement to all (the) Spectrum agents who work with him', going on to say that he is 'quick-witted, a brilliant conversationalist, and strongly prone to practical jokes'. He is also described as 'very popular with the Angels as he's always teasing and joking with them'. It concludes with the information that he still spends his spare time making model planes and is very proud of his collection of 400 items.
Sources credit Ochre with often being in charge of personal protection. In the TV series, he guards President Olafson ('Codename Europa') and drives the VIP Transporter, 'Yellow Fox' ('Dangerous Rendezvous'). This episode suggests that he is willing to put his life on the line in the course of his duty; the passenger section within the tanker body is virtually indestructible, the truck section is not.
Later in the same episode he risks decompression to hurl a booby-trapped diamond pulsator through a porthole to prevent the destruction of Cloudbase with seconds to spare.
Operation Jigsaw
'Operation Jigsaw' was devised so Police Commander Richard Fraser could disappear from the public eye and freely enter his new career under the identity of Spectrum Captain Ochre. While the above events were described in an article that appeared in the "Captain Scarlet Annual 1968", it should be pointed out that a small note was inserted at the side of the page, which stipulated:
"For security reasons, this report from the JIGSAW file is false. It points a true and clear picture but names and places have been changed for they must remain TOP SECRET."
According to the same article, Fraser might not be the only candidate whose identity has been protected by the application of Operation Jigsaw, and to have possibly undergone plastic surgery – although no names are revealed. It is also quite possible that the events described in the article did not happen at all this way, as it would be too easy to discover the real identity of the police commander who had supposedly been killed by a sniper in order to join the ranks of Spectrum. Therefore, these events might be considered as false information – which opens up for fanfic writers possibilities to present their own history of how Fraser faked his own death.
For example, during the explosion of a 'booby-trapped car', as suggested by Chris Bishop in her story, "All the Colours of the Rainbow". Chris also suggested that Fraser didn't undergo plastic surgery either – which would have implied the unlikely possibility that many – if not all – of the other Captains would have done the same, but simply shaved a beard that he had been sporting for years during his time in the WGPC, in order to appear older.
Family and personal life - according to fan fiction
Of all the 'supporting' characters in 'Captain Scarlet and the Mysterons', it is probably Captain Ochre who is the most popular, and who features most in Fan Fiction stories. Consequently, although no official information, beyond that noted above, was ever given about his family or background by the producers, he has acquired several versions of a personal history. Despite the fact that these have no validity, beyond the fiction they appear in, and that sometimes stories written by different authors might not have any relation whatsoever with each other, they do show a certain collective image of the character.
Sue Stanhope described a family consisting of a much older brother, William, and his wife, Carol, who were killed in a house fire, leaving Fraser as the guardian of their wayward son, Ryan. (Present Tense).
In a collaboration between Chris Bishop and Marion Woods (Rock-a-bye Angel) there are references to Ochre being the younger of two brothers – which takes as its source Sue's earlier story.
Marion Woods wrote of his relationship with a schoolteacher, which left him with a supposedly 'posthumous' son (Tears of a Clown) and, in a story set in the year 2100, hypothesised that Fraser never married but, on leaving Spectrum, enjoyed a series of relationships with 'pretty companions'.
Fraser is also sometimes credited with having a romantic relationship with Rhapsody Angel – before she fell for Captain Scarlet (Caroline Smith) and after she has broken up with Captain Scarlet in some of Sage Harper's stories.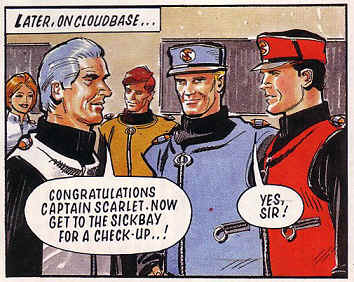 Ochre in the background, grinning...
What kind of joke is he preparing?
The most common of these associations, however, is a tempestuous on-off relationship with Melody Angel – as described in various stories by Chris Bishop and Sue Stanhope, amongst others. As a variation on that theme, Marion Woods makes their relationship platonic, but with Ochre remaining Melody's closest male friend.
The overall consensus is that Captain Ochre is something of a ladies' man and a very popular one at that – a very likely theory that might have originated from the 'official biography' which states that he is 'very popular with the Angels' – and probably the other female members of Cloudbase crew.
Ochre's reputation as a 'practical joker' is another popular aspect of his character for fan fiction writers ('Jochre's Wild', 'War of Nerve') - although it often lands him in trouble and is not universally appreciated by the officers who are the butt of his jokes - as is his 'bright and breezy' attitude and easy-going charm. According to many fan fiction stories, while everyone acknowledges his talent for building models, his hobby is otherwise not very appreciated amongst his colleagues, most notably Colonel White, especially due to his penchant for using smelly glues when making them in the Officers' Lounge – as he claims he needs a large room for the odour to dissipate more quickly (Mary J. Rudy). This has become something of a running joke through many stories.
Captain Ochre and Captain Magenta
| | |
| --- | --- |
| | Both on-screen and in most fan fiction, Captain Ochre is partnered by Captain Magenta and the dynamics of the relationship between the ex-cop and the ex-gangster have proved a fertile ground for various fan fiction authors. Most notable amongst these are the trilogy of stories by Sue Stanhope: 'Past Imperfect', 'Present Tense' and 'Future Conditional' as well as her highly entertaining short story 'Team Spirit'. Among other authors who have tackled the subject are Siobbhan Zettler, Chris Bishop, Mary J. Rudy, Marion Woods, etc. |
... And the other Captains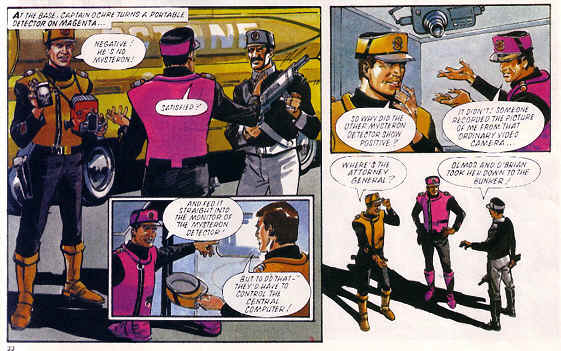 However, the seemingly versatile Captain Ochre works very well with any of his Spectrum colleagues, and often provides a counter-balance for the more sombre characters such as Captain Scarlet and Captain Blue, and can be relied on to provide a little light-hearted banter on most occasions. The episode 'Flight to Atlantica' - where he is paired with Captain Blue and where, under the influence of champagne, drugged by the Mysterons, they bomb the Underwater base of Atlantica - is a fine example of this.
Occasionally these light-hearted aspects of Captain Ochre's character can overshadow the fact that he is an intelligent, forceful personality who more than holds his own amongst the academic high achievers who form the majority in Spectrum's senior ranks.
The many faces of Captain Ochre
Jeremy Wilkin as

Lt. Maxwell

Captain Ochre

The Ochre puppet

in Joe 90
Captain Ochre was voiced by the versatile Jeremy Wilkin, a British-born actor who also contributed voice-overs for numerous guest characters in many of the episodes. Prior to 'Captain Scarlet' he had been cast as the voice of Virgil Tracy in the second season of Thunderbirds, and the two feature films Thunderbirds are Go and Thunderbird 6. He continued his association with Gerry Anderson productions as the voice of the Bishop in 'The Secret Service', and made regular appearances as Lieutenant Gordon Maxwell in UFO.

Although the original series finished after 32 episodes, the Captain Ochre puppet made numerous appearances afterwards in the Supermarionation show

Joe 90, where he sported a dishevelled look in the episode 'Attack of the Tiger' and was Agent 84 in 'Mission X-41'. The puppet also was largely used in the last, short-lived Supermarionation series, The Secret Service' – its role ranging from the most crooked of characters to the most honourable one.
While Ochre is almost certainly the most popular 'supporting character' of the Captain Scarlet mythos for fan fiction writers, it obviously was not the same for comic strips authors, as Ochre appeared very rarely in the strips that run in the various Century 21 magazines.

Although he was hugged by the spotlight in the trilogy of stories drawn by Mike Noble, where he was partnered with Captain Scarlet during an attempt to counter a Mysteron attack against the human settlement of Kahra, on Mars, i

t was unfortunately only in the later strips that Ochre made a few, rare appearances, sometimes only in the background.
| | | |
| --- | --- | --- |
| | | Captain Ochre, as featured in Mike Noble's strips |
An action scene from the Kahra story, from Mike Noble, originally printed in 'TV 21', Issue 166 under the title 'Mysteron Victory'.
| | | |
| --- | --- | --- |
| | In the 80s, artist Lynn Simpson included Captain Ochre, in her series of Spectrum portraits, which also featured Captain Scarlet, Captain Blue, Captain Black and Colonel White. The same model was used, years later, for the drawing of yet another portrait of Captain Ochre, this time in colour, for one of the short-lived 'Captain Scarlet & the Mysterons' comics, which were published between 1993 and 1994. | |
Lady Ochre

No confusion can exist between the original Supermarionation Captain Ochre and that created for the CGI series, as the character was re-imagined as a woman – a controversial step in the opinion of some fans. However, Elaine McGee, is portrayed as a feisty Irishwoman, sometimes partnered with Captain Blue (echoes of the original Captain Scarlet episode 'Flight to Atlantica') who is more than capable of handling herself under difficult circumstances, and who, in some instances , displays an impetuous streak worthy of the original Captain Scarlet character Symphony Angel. ('Grey Skulls'). Her official biography lists her as a former undercover agent for the European Police Agency.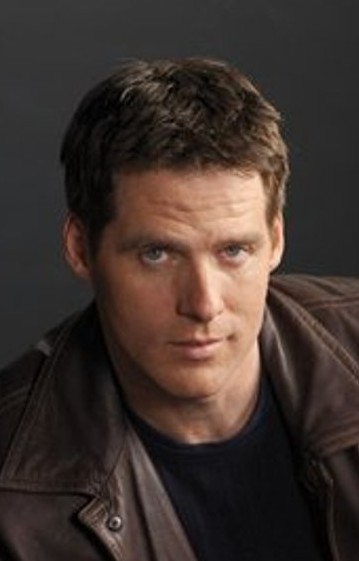 Casting call for live action movie
One possible choice to play the wise-cracking Captain Ochre is Ben Browder from Farscape and Stargate-SG1.