BACKGROUND DETAILS:
Colonel White is the Supreme Spectrum Commander. Formerly of the Royal Marines and British Intelligence, Colonel White was also Spectrum's chief architect. From an English family with a military tradition much the same as the Svensons', his military career was marked by several awards for bravery, before he was recruited by MI6 (British Military Intelligence). After ten years, culminating in the role as director, he was knighted for service to the Nation. Sir Charles, as he was by then, then prepared for another career move into the diplomatic service. It was then that the United Nations asked him to become a member of its Security Development Committee, who would be the creators of Spectrum.
Colonel White is a dedicated man who will not allow personal feelings to influence his strategic judgment. Oxford and Sandhurst educated and fiercely intelligent, he rarely leaves the Spectrum nerve centre of Central Control onboard Skybase, but when he does relax (given that he can't indulge in his love of fishing from the heights of Skybase), Colonel White spends his time playing chess, often with Scarlet, who is his only equal in the game there. A specialist in Ancient Military History, he also likes passing time in researches in that field, and collects ancient weapons (as seen in the episode 'Contact'). A champion swordsman ('Homecoming'), he also likes to keep fit by fencing in the gym, where his preferred partner is Destiny Angel.
Although dedicated to defending Earth from the Mysterons, White also feels the loneliness of command on Skybase and hates being separated for months from his wife and family and their estate in Gloucestershire.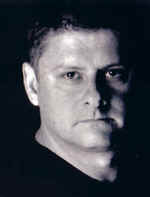 Mike Hayley
ADDITIONAL DETAILS:
The features of the CGI Colonel White character were based on those of the original Colonel White puppet. Scans of the head of the original character were made and dozens of screen-grabs from the original 'Captain Scarlet and the Mysterons' TV shows were also used, combined with other elements from a variety of references that helped refine the CGI character's features.
The voice for the character was provided by Mike Hayley.