CAPTAIN SCARLET | CAPTAIN BLUE | CAPTAIN OCHRE | CAPTAIN MAGENTA | CAPTAIN GREY |
COLONEL WHITE | LIEUTENANT GREEN | CAPTAIN BLACK | DOCTOR GOLD
DESTINY ANGEL | HARMONY ANGEL | SYMPHONY ANGEL | MELODY ANGEL | RHAPSODY ANGEL
SPECTRUM ANGELS SQUADRON

NAME:
Esther Jackson
CURRENT AGE:
25
PLACE OF BIRTH:
Unknown - speaks with a mid-Atlantic accent
CITIZENSHIP:
American
MARITAL STATUS:
Single
EYES:
Dark brown
HAIR:
Black
RACE:
Caucasian (or pale-skinned Black)
ADDITIONAL DETAILS: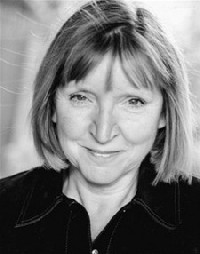 Heather Tobias
White Falcon Pilot, Melody Angel's background gives her as a former Olympic athlete, though there is no indications of what was or were the disciplines she performed in, nor if she had won any kind of medals. She displays formidable fighting skills in the episode 'Fallen Angels' which might suggest that her Olympic discipline might be related to martial arts.
The character's features were based on singer/actress Jennifer Lopez, as she appeared in the 2001 movie The Wedding Planner, and the character appears to be a light black-skinned woman. Melody was a little more used in the series than Rhapsody and Symphony, and was prominently featured in the episode 'Fallen Angel', where she was voiced by Heather Tobias, who also re-recorded the dialogues for the character's earlier appearances of the character in 'Virus' and 'Enigma', replacing material which had been previously performed by Emma Tate. In the early episode 'Swarm', however, Melody remained voiced by Emma Tate.
CAPTAIN SCARLET | CAPTAIN BLUE | CAPTAIN OCHRE | CAPTAIN MAGENTA | CAPTAIN GREY |
COLONEL WHITE | LIEUTENANT GREEN | CAPTAIN BLACK | DOCTOR GOLD
DESTINY ANGEL | HARMONY ANGEL | SYMPHONY ANGEL | MELODY ANGEL | RHAPSODY ANGEL
SKYBASE CENTRAL HOME | WORLD OF NEW CAPTAIN SCARLET | CAST OF CHARACTERS | CRAFT & EQUIPMENT |
EPISODE GUIDE | MERCHANDISING | FAN FICTION | MISCELLANEOUS
OTHER WORLDS OF GERRY ANDERSON | LINKS | SID DATABASE | SITE MAP
SPECTRUM HEADQUARTERS HOME | SPECTRUM HQ FORUM | UPDATES | NEWS PAGE
You can send your comments to:
Copyright © of all trademarked material ('Gerry Anderson's New Captain Scarlet, Hypermarionation, Gradana, CITV, 'and als, 'Captain Scarlet and the Mysterons', 'Supermarionation', and all other series titles, their characters, vehicles, crafts, etc.) owned by Anderson Entertainment Ltd/GAP plc, and/or ' ITC/Polygram and/or Carlton International and/or other owners.

Information of the series mentioned on this fan site are all being taken from copyrighted © material (books magazines, DVDs, TV medias, comics etc.) property of their rightful owners, official organisations and/or artists depending of ownership rights.

This site is meant as a fan site, with respect and tribute to the work of those artists.

No profit is been made from the use of those copyrighted © materials.