BACKGROUND DETAILS:
Destiny is the leader of Spectrum's air defence squadron, the Angels. Born to French parents, but raised in California where her mother and father were leading Silicon Valley researchers in nano-technologies, Destiny's life has always been dictated by her sense of adventure.
Happier in hiking boots than high heels in her teens, the devastatingly attractive Simone was more at home paragliding from a mountain top than hanging out listening to pop music. Her academic life at Princeton University was torture, but one she endured for social life/nightlife. At the end of it, however, she delighted her parents with a first class mathematics degree - then horrified them by using it to join the US Air Force and became a top gun fighter pilot. She went on to spend two years as an astronaut flying shuttle missions, for the International Space Agency, but playing nursemaid to a craft flown by computers wasn't her kind of thrill ride so she became one of the first to volunteer for Spectrum.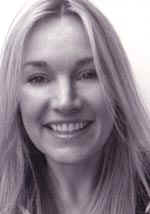 Emma Tate
Destiny is as tough as she is sexy. In her fighter cockpit or in unarmed combat, she's a force to be reckoned with. She has excellent hand-to-hand combat skills, as well as superior flight combat strategy. She's also a good communicator and a fierce and capable flight leader. But she is devastated by the death of her boyfriend Captain Black, and is struggling to deal with his reincarnation as an evil Mysteron agent. Although she finds strength in the comfort offered by Black's best friend, Scarlet, she is frightened by her growing feelings for him and feels perpetually haunted by the ghost of Black.
ADDITIONAL DETAILS:
The features of the CGI Destiny character were based on those of the original Destiny puppet. Scans of the head of the original character were made and dozens of screen-grabs from the original 'Captain Scarlet and the Mysterons' TV shows were also used, combined with other elements from a variety of references that helped refine the CGI character's features.
The character's voice is provided by Emma Tate.