BACKGROUND DETAILS:

With Scandinavian family roots that can be traced all the way back to the Vikings, Blue's family has a long and glorious military tradition with the American armed forces. The Svensons fought for the Union in the American Civil War, were decorated in World War II and have played their valiant part in every theatre of conflict since.

Adam's father is a 3-Star General, a military advisor to the U.S. President, and Blue feels the weight of family expectation. Family, honour and duty are the Svenson family creed, and Blue has no intention of betraying them.

Growing up at Fort Hood in Texas, there was never any question of any career but the military, and Adam was soon recognised as a distinguished West Point student. He was awarded the Purple Heart for bravery, during the Global Terrorist Conflict. Adam was a natural choice for Spectrum but refused the initial invitation to join, concerned that his father's influence had played a part, as General Svenson and Colonel White are old friends . Finally convinced that Spectrum's interest in him was based solely on his ability, Adam accepted, and was designated Captain Blue.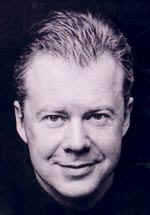 Robbie Stevens
Blue fights hard, but parties harder. A first class sportsman, he likes to have a good time, especially with the ladies! His cool sense of humour helps keep an aura of calm on board Skybase as well as on the battlefield. He often can be regarded as 'gung-ho'.
ADDITIONAL DETAILS:

Although scans of the original Captain Blue puppet were made to create the CGI character, the designers of the series instead used as template American actor Casper Van Dien as he appeared in the role of Johnny Rico in the 1997 movie Starship Troopers.

The voice of the character is provided by Robbie Stevens.