BACKGROUND DETAILS:

Chief medical officer of Spectrum, based on Skybase, Mason Frost possesses numerous doctorates from the University of Vienna, Austria, and the George Washington School of Medicine, in Washington DC. He specialises in surgery, astro-medicine and psychology. He taught at Washington D.C. Medical University, before joining the International Space Agency Corps (I.S.A.), where he became a uniquely technical surgeon and physician. This past job with the I.S.A. serves him well for missions requiring for him to go into space ('Rat Trap').

While vainly attempting to save the life of Captain Scarlet - who had been taken over by the Mysterons - Doctor Gold was astonished to see him return to life after he died on the operating table. Gold supervised Scarlet's interrogation and through his examination, was the one to confirm that this man was the real Scarlet, and that he was now free of Mysterons' control. Following these events, Doctor Gold had other opportunities to witness Scarlet's unique powers, and to study them, although it remains for him an unknown science, as seen in episode 'Chiller' where he declares Scarlet dead for good.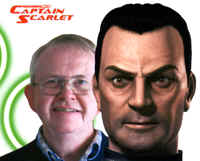 Nigel Plaskitt
He goes about his work with a dry sense of humour, though from outside observation, it would appear he lacks good bedside manners with his patients.

Doctor Gold is an accomplished scuba-diver (as revealed in the episode 'Rain of Terror').
ADDITIONAL DETAILS:

Swedish Football manager Sven-Göran Erikson was the basis for Doctor Gold's features. The voice of the character was provided by Nigel Plaskitt, who also provided the voice of Captain Black. As the Austrian-American Doctor Gold, Plaskitt took a German-like accent.