BACKGROUND DETAILS:
Captain Black was with Scarlet on his mission to investigate the alien signals on Mars. It was his mistaken interpretation of a Mysteron sensor sweep as an attack that led him to fire on the ghostly Mysteron city they both had just discovered. The subsequent destruction - and then miraculous 'retrometabilisation' before the eyes of the two men - triggered the war between Earth and the Mysterons.

Black was killed along with Scarlet, and when the Mysterons lose control of their Scarlet replica they re-animate Black and he becomes their spearhead in the war against Earth.
Born in Brooklyn, New Jersey, Black's family roots lie among the Greek Islands and stretch back to the Byzantine Empire. Conrad's father was an eighth generation American presiding over a sleazy empire of crime. Conrad wanted more from life than providing muscle for his father's racketeering and the only escape was the US Army. In the military, Conrad found a new family, and a girlfriend – the gorgeous, tough Simone Giraudoux. He also befriended Paul Metcalfe, who was his commander in the Elite Unit Command of the U.S. Special Forces.
The three of them will become agents of Spectrum - Conrad being assigned with the code name Captain Black, Paul, Captain Scarlet, and Simone becoming Destiny Angel, the leader of the Spectrum Angels. The street-wise skills that had been a part of his upbringing in tough Brooklyn served Conrad well during his time on Skybase, turning him into a skilled and ruthless killer.
As described in the episode 'Instrument of Destruction, Part 1', Scarlet and Black were sent on Mars to investigate the source of unexplained signal. Upon discovering the Mysterons' city, Black fired a destructive shot against it, believing they were under attack. The two men watched in astonishment as the city rebuilt itself, and tried to flee to escape their fate, only to be killed afterwards.
Both Scarlet and Black were replicated by the Mysterons, but while Scarlet escaped that fate and regained his own persona, Black remained an agent to his alien masters, with all of his killer instincts. The only thing he has left behind is his love for Destiny Angel - although it can be disputed that he might still care for her in his own way, as suggested in a few episodes.
ADDITIONAL DETAILS: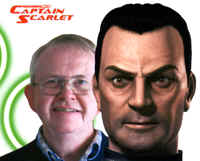 Nigel Plaskitt
The features of the CGI Captain Black were based on those of the original Captain Black puppet. Scans of the head of the original character were made and dozens of screen-grabs from the original 'Captain Scarlet and the Mysterons' TV shows were also used, combined with other elements from a variety of references that helped refine the CGI character's features. Additionally, the CGI Captain Black was given a much more murky characterisation. Still as cold and calculating as the original character while under Mysteron control, he also displays a chilling and cruel sense of humour and shows distorted human emotions. He still seems attracted to Destiny Angel, albeit in a very warped way, and threatened to make her his personal slave in 'Skin Deeps'. He is also not averted in playing on his ex-colleagues' feelings, by manipulating them into believing he is the same man as before, in order to escape capture (as in 'Instrument of Destruction, Part 2').
The voice of Captain Black is provided by Nigel Plaskitt, and although he does a perfect job for the characterisation, the voice doesn't fit well with the background proposed by the official biography. If Conrad Lefkon was brought up in Brooklyn, of Greek lineage, he would probably not talk with cut-glass English accent.