CAPTAIN SCARLET | CAPTAIN BLUE | CAPTAIN OCHRE | CAPTAIN MAGENTA | CAPTAIN GREY |
COLONEL WHITE | LIEUTENANT GREEN | CAPTAIN BLACK | DOCTOR GOLD
DESTINY ANGEL | HARMONY ANGEL | SYMPHONY ANGEL | MELODY ANGEL | RHAPSODY ANGEL
SPECTRUM CAPTAINS

NAME:

Mario Moro

CURRENT AGE:

28

PLACE OF BIRTH:

Not specified

CITIZENSHIP:

Italian American

MARITAL STATUS:

Single

EYES:

Grey

HAIR:

Black

HEIGHT:

Approx. 6ft

WEIGHT:

Approx. 160lbs

RACE:

Caucasian
ADDITIONAL DETAILS: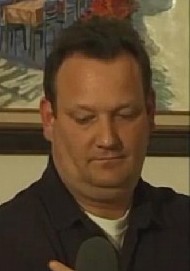 Jeremy Hitchen
A former military police officer, Captain Magenta is one of the 'colour Captains' forming the team of Spectrum field agents. The few times the characters is seen in the TV series, he demonstrates an annoying habit of chasing after anything wearing a skirt. He seems to consider himself a woman's man, but he doesn't seem to have much success with the female staff of Cloudbase - at least the female officers - who don't seem to take him very seriously. As seen in the episode Virus, he likes to keep himself in top physical shape.
Magenta's real name of Mario Moro and the accent in which he speaks with suggests that he is an Italian American; that might have been seen as some kind of a nod to the original Captain Magenta, if the CGI character had been made as a former gangster, but possibly with the concern not to stereotype the character more than he was (with his habits of chasing women), the designers of the series gave Magenta the background of a military police officer.
Although a very interesting character, Captain Magenta unfortunately wasn't much used in the new series. His voice was provided by Jeremy Hitchen. Hitchen already was associated in the past with Gerry Anderson productions, when he performed Dr. Tiger Ninestein and multiple other voices in the 'Terrahawks' TV series.
CAPTAIN SCARLET | CAPTAIN BLUE | CAPTAIN OCHRE | CAPTAIN MAGENTA | CAPTAIN GREY |
COLONEL WHITE | LIEUTENANT GREEN | CAPTAIN BLACK | DOCTOR GOLD
DESTINY ANGEL | HARMONY ANGEL | SYMPHONY ANGEL | MELODY ANGEL | RHAPSODY ANGEL
SKYBASE CENTRAL HOME | WORLD OF NEW CAPTAIN SCARLET | CAST OF CHARACTERS | CRAFT & EQUIPMENT |
EPISODE GUIDE | MERCHANDISING | FAN FICTION | MISCELLANEOUS
OTHER WORLDS OF GERRY ANDERSON | LINKS | SID DATABASE | SITE MAP
SPECTRUM HEADQUARTERS HOME | SPECTRUM HQ FORUM | UPDATES | NEWS PAGE
You can send your comments to:
Copyright © of all trademarked material ('Gerry Anderson's New Captain Scarlet, Hypermarionation, Gradana, CITV, 'and als, 'Captain Scarlet and the Mysterons', 'Supermarionation', and all other series titles, their characters, vehicles, crafts, etc.) owned by Anderson Entertainment Ltd/GAP plc, and/or ' ITC/Polygram and/or Carlton International and/or other owners.

Information of the series mentioned on this fan site are all being taken from copyrighted © material (books magazines, DVDs, TV medias, comics etc.) property of their rightful owners, official organisations and/or artists depending of ownership rights.

This site is meant as a fan site, with respect and tribute to the work of those artists.

No profit is been made from the use of those copyrighted © materials.