BACKGROUND DETAILS:
Lieutenant Green is Colonel White's executive officer and is an absolutely crucial part of Spectrum. With a razor sharp mind, this mixed-race beauty is knowledgeable about all aspects of Spectrum and its operations. She is so finely attuned to Colonel White that she is almost an extension of him, and he would certainly be lost without her.
Serena's mother was a singer from Trinidad, her late father an American astronaut who was part of the ill-fated long-haul mission to Jupiter. Mission Control lost all contact with the craft on Serena's 12th birthday. She has never celebrated a birthday since.
Determined to follow her father into a career in space, she studied cosmology and computer technology at the University of Pennsylvania where she was an outstanding student, but failed the Space Agency's physical for the astronaut program due to a minor heart condition. Her dream shattered, she took a computer systems development job with the United Nations in New York and became attached to the Security Development Committee where she worked for Sir Charles Grey - who would later become Colonel White. She was the technological designer of Spectrum Communications and Logistics, developing Spectrum's own computer and entire communications system. Seeing her excellent natural communication skills and how she could remain calm through adversity, Sir Charles took her with him as his assistant when he assumed control of Spectrum.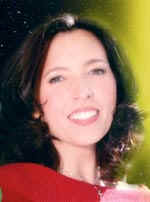 Jules De Jongh
In the episode 'Contact', Green displays knowledge of martial arts and self-defence, when she comes to the rescue of Colonel White and saves his life against a assassination attempt by the Mysterons.
Green is a stunning, dazzlingly intelligent woman who has inherited her mother's voice and love of music. Off-duty, she has a great sense of fun, but is cool and efficient in Spectrum's Central Control. She carries a torch for Captain Blue.
ADDITIONAL DETAILS:
Lieutenant Green's features are loosely based on actress Halle Berry, as she appeared in her role of Jinx Johnson in the 2002 James Bond movie, Die Another Day.
The voice for the character is provided by Jules De Jongh, who also performed the voice of Harmony Angel.