| | |
| --- | --- |
| | Craft and Equipment: SPECTRUM SALOON CAR |
CAPTAIN SCARLET and the MYSTERONS UNOFFICIAL WEBSITE

Maintained by Chris Bishop
Information in the following has been taken from many sources, especially from "CENTURY 21" No.15, Winter 1993, Special Captain Scarlet Issue
Captain Scarlet Annual 1967 and Annual 1968, Captain Scarlet comic No. 6, 1991, and various other sources, have provided additional information, such as cutaways.
SPECTRUM SALOON CARS (SSC)
SPECTRUM PATROL CARS (SPC)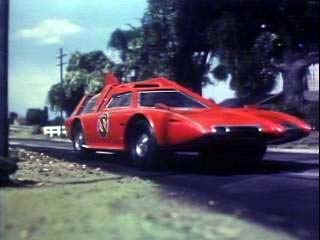 Designed especially for the Spectrum organisation (2065), the Spectrum saloon cars are armed with twin rapid fire machine guns (in the front wheel arches), Infra-red detectors, telescopic scanners, etc. These SSCs are powered by compressed gas turbines driving all four wheels independently of each other (giving 4 X 4, four-wheeled drive to the poly-silicate racing tyres). The saloons are 20 feet long, weigh 3,248 Lbs and have a top speed of 150 MPH. The SSC is a five seater vehicle (possibly six, with three in the front and back), with yellow seatbelts, constructed at an unknown location (with designs by the World Motor Manufacturers Ltd). Saloons are powered by a special form of fuel distilled from the ultra-sonic refinery at Bensheba, with electro-magnetic, reverse-thrust braking. These saloons are made from hardened Fleetonium allow (with internal "roll-cage" and bracing) and are bright red in colour. Spectrum saloon cars also possess ejector seats.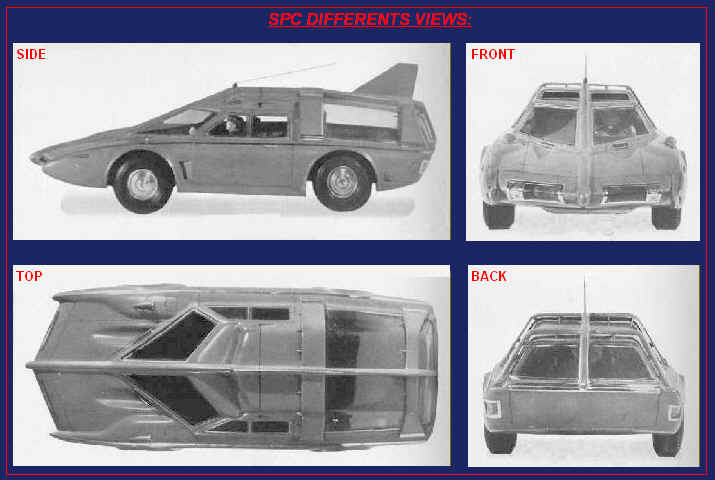 CLOUDBASE - ANGEL AIRCRAFT - SPECTRUM PURSUIT VEHICLE (SPV) -
MAXIMUM SECURITY VEHICLE (MSV) - SPECTRUM PASSENGER JET (SPJ) - SPECTRUM HELICOPTER -
SPECTRUM SALOON CAR (SSC) - YELLOW FOX, GASOLENE TANKER - SPECTRUM DETECTOR VAN -
SPECTRUM HOVERCRAFT - SPECTRUM CLAM SUB - MAGNACOPTER
HOME | THE WORLD OF CAPTAIN SCARLET | CAST OF CHARACTERS | CRAFT AND EQUIPMENT | EPISODE GUIDE |
MERCHANDISING & TRADING | CAPTAIN SCARLET FAN FICTION | MISCELLANEOUS |
THE OTHER WORLDS OF GERRY ANDERSON | LINKS | SID DATABASE |
COMIC STRIPS PETITION | GUESTBOOK |
SKYBASE CENTRAL (CGI SERIES) | SPECTRUM HQ FORUM | UPDATES | NEWS PAGE
You can send your comments to:
scarlet1bishop@hotmail.com