Information in the following has been taken from many sources, especially from "CENTURY 21" No.15, Winter 1993, Special Captain Scarlet Issue".

Various other sources have provided additional information, such as blueprints and cutaways.

Click on the link to follow up on the detailed information

ANGEL INTERCEPTOR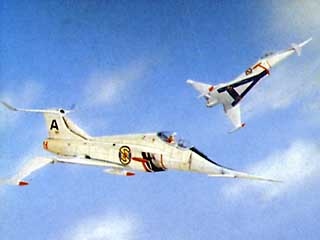 The aircraft itself is actually based on the World Army Air Force "Viper" jets of 2065. The angel's Interceptors are armed with air-to-air and air-to-ground rocket-launchers, as well as a main machine-gun cannon (firing heat seeker and armour-piercing shells, etc). These Vertical Take-Off and Landing (VTOL)/Very-Short Take-Off and Landing (VSTOL) jet-fighter combat craft are powered by twin, turbo-jet compressors feeding twin Spectra-Fan air ramjets. The Angels Interceptors are 60 feet long, have a 35 foot wide wing-span, weigh 35,643 Lbs (15.91 Tons), have a flight ceiling of 40,000 feet (height of Cloudbase) and a top speed of 3,000 MPH. They are a single-seater vehicle, with yellow safety belt harness, constructed at International engineering (main fuselage), the Fairfax Engine Company (for engines) and various other locations. The angel's jets are powered by a special form of fuel from the ultra-sonic refinery at Bensheba, with a 500+ gallons fuel capacity and 51.35 MPG, giving an Interceptor a range of 25,675 miles, without refuelling, with the electronics powered by back-up batteries. The main body's made from hardened Fleetonium alloy, with a cockpit made from transparent Cahelium extract alloy and are white in colouration. Angel Interceptors also have red smoke signal ejectors, high-powered smoke radar and parachute ejector seats. The flight helmets for the angel's Interceptor jets are made of some unknown clear material (possibly Cahelium) and are fitted with internal communications gear, with a microphone on the right-side of the face (see ANGEL UNIFORM).