FRANK BELLAMY
(Frank Alfred Bellamy 1917 - 1976)
(Text and all pictures courtesy of Graeme Walker)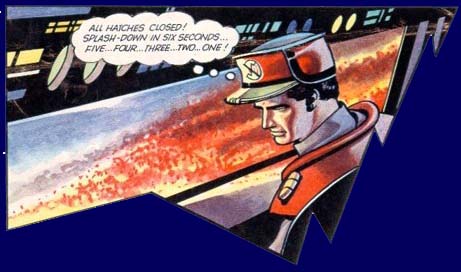 Although filmed in colour, the initial 1960's broadcasts of Gerry Anderson's TV series in the UK were to viewers with black & white TV sets. This was rectified within the pages of TV21 comic, where British youngsters could see representations of their favourite Supermarionation series in full colour, painted by some of England's finest artists. Undeniably, the most famous of these artists was Frank Bellamy, who was born in 1917 in Kettering, Northamptonshire. Bellamy began his professional career immediately upon leaving school at the age of 16, when he acquired a job at a local Kettering Graphic Studio. His main focus there was to produce posters and display boards for the region's cinemas. After serving in the British Army during wartime, he resumed his tenure at the Kettering Studio until he was employed by Norfolk Studios of Fleet Street in 1948. From here his work was given national exposure and caught the attention of International Artists agency, who offered to represent him, providing regular, high profile commissions. His entry into comic strip illustration seemed fated, as his innovative advertising pieces for Gibb's Dentifrice Toothpaste, done in black & white comic strip panel format, were a perfect fit for the nation's comic industry which was hungry for new talent.

By 1953, Bellamy had turned freelance and (working from his home), began work for 'Mickey Mouse Weekly' on such strips as 'Monty Carstairs' and 'The Living Desert'. 1954 saw him move to 'Swift', where he refined his talents on 'Robin Hood', 'Swiss Family Robinson' and 'The Knights of the Round Table'.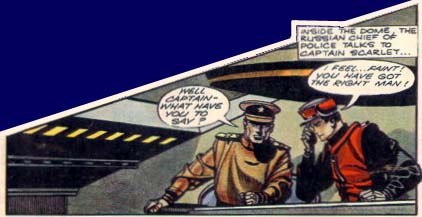 Bellamy's most prestigious move occurred in '57, when he joined the ranks of 'Eagle' and produced the life story of Sir Winston Churchill, 'The Happy Warrior' for them. This strip-panel interpretation of the (then) living legend's life story can be attributed to establishing Bellamy's name as an artist of note. His thorough research of actual military ephemera and the beginnings of his attempts to improve the dynamic composition of the page layouts are clearly in evidence throughout the story.

Bellamy continued freelancing for Eagle into the mid 1960's with such notable strips as 'The Shepherd King', 'The Travels of Marco Polo', and a brief, unhappy association with 'Dan Dare'. His love and fascination of Africa can be seen in 'Fraser of Africa' and the success of his Churchill life-story was repeated with 'Montgomery of Almein', the biography of Field Marshall Montgomery, while an original Bellamy concept, 'Heros the Spartan' is a revered favourite which allowed him virtually unlimited creative freedom.

Bellamy was approached by the editors of TV21 long before the premier issue hit the newsstands to draw the adaptation of Stingray. (Anderson had told his editors to 'poach' England's best artists for what would be a unique, top quality entry into the comic market). However, Bellamy honourably decided to see his commitments to Eagle Comic through 'till his contract's end. Subsequently, his first artwork for TV21 came with the inclusion of Thunderbirds, (issue 52 printed in April of '66). He exclusively painted all the colour artwork for T'Birds, with the exception of issues 93 to 98, during which he took a much needed vacation. He is most fondly remembered for his stylized, graphic approach to the subject matter and his innovative use of 'breaking the panel frame' with the central character or vehicle bursting out of the confines of the panel outline.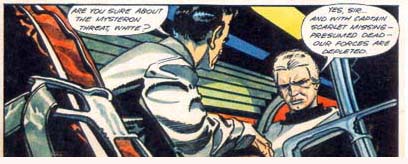 The delivery deadlines for each major series strip were highly demanding, and in the case of those occupying 3 full colour pages per issue - sometimes the assigned artist fell behind. Other artists who were on schedule would be asked to pitch in to keep a constant supply of artwork on hand and alleviate any production delays. In this situation, Bellamy was asked to supply opening story pages only for Captain Scarlet for 5 different issues, all of which appear on the front cover. Unfortunately, due to the space required for the comic Masthead, Spectrum logo & Corgi advertising ad, his work appears a little cramped and doesn't represent him at his best. There doesn't even appear to be room for his full, trademark signature which consistently adorned his interior Thunderbirds artwork - only a hurried 'FB' or none at all. Still, it is undeniably Bellamy's colourful interpretation that still shines through, with issue 186's image of cloudbase hurtling towards imminent disaster being a fine example of his talent.

By late 1969, TV21's popularity was declining rapidly and Bellamy had decided to exit the comic book industry completely. His last Anderson related strip, (an uninspired black & white Thunderbirds story), appears in issue 4 of the new merger between TV21 and Joe 90 comics. The artist moved on to provide illustrations for such notable publications as 'The Sunday Times Magazine' and 'Radio Times' until finally settling in to a strip-format series called 'Garth' for the 'Daily Mirror' newspaper in 1971. Bellamy was still drawing 'Garth' until he passed away in 1976 from a sudden heart attack.
The comic world had lost one of its brightest and talented visionaries, who can most certainly be attributed to elevating the comic strip from its pedestrian, square panel format to conceptual high art. In his creative hands, the comic strip was no longer kids stuff, but thought provoking artwork worthy of being displayed in an art gallery.

To view a sample of Frank Bellamy's drawings, just click on the following miniatures. Those are just some samples I have put to demonstrate the extend of Bellamy's art. If you have other such samples and want to share them with people - I am actually looking for arts from Mike Noble - feel free to communicate with me. Be aware, though, that I WON'T PUBLISH entire comic strips... It would not be fair for writers, artists, publishers, merchants, etc. This is just an information page.