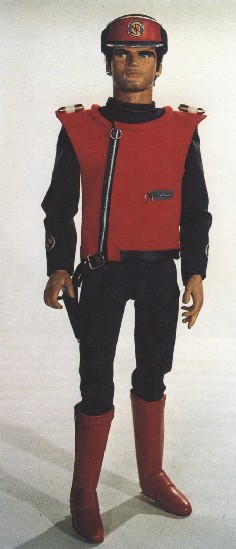 Welcome to SPECTRUM HEADQUARTERS, the unofficial website for fans of all ages of "Captain Scarlet and the Mysterons".

This British television series was created and produced in 1967, by Gerry and Sylvia Anderson, the same genius minds behind the worldwide success of "Thunderbirds", the direct predecessor of "Captain Scarlet", in a long line of Supermarionation shows - which also included "Supercar", "Fireball XL5" and "Stingray" (All created by the Andersons).

"Captain Scarlet" was very different from these other series. It was the first to use the real proportions of the human body, instead of the caricatured proportions and features used by its predecessors. Its gloomy atmosphere was also a far cry from the lighter and often humorous tone generally displayed in the other shows (such as in "Thunderbirds"). "Captain Scarlet" was a more serious show - Humour, although present in some episodes, was rare.

Those two aspects served to give more much depths and realism to the series - something that was somewhat lacking in other Supermarionation series. The models and special effects used in this series were now even better than those which had already made "Thunderbirds" famous - and which were created by the same man: Derek Meddings, whose wonderful craft would become famous worldwide in a series of James Bond's movies and in Christopher Reeve's Superman films.

The subject of "Captain Scarlet" - a secret organisation's fight against the attack of enemies from another world - would be used again, some years later by Gerry Anderson in another of his famous shows - but this time using real actors. "UFO", which starred the late Ed Bishop, who provided the voice of Captain Blue in the original "Captain Scarlet" series.

There's already a great number of websites dedicated to Gerry Anderson and the many series and worlds he created, and a lot of those sites have full pages featuring "Captain Scarlet". My goal with this site: to give fans all kinds of information about the series, such as its history, the people who where behind it, episodes guide, characters, voices-over work, craft, vehicles, merchandising, etc. You can also find, on the Links page, a number of links to other websites which provide lots of interesting stuff about the "Captain Scarlet" series, or other series from Gerry Anderson. If you feel there's an interesting link that should be added to this page, you're welcomed to contact me.

The "Skybase Central" section is totally dedicated to the "New Captain Scarlet" series. At the moment, this section is constantly in construction, and already offers much information about the new show - including a list of available merchandising - with more data to be added in the following months.

The popular Fan Fiction pages will bring you the further adventures of Captain Scarlet, and other Spectrum Agents. Many authors have joined me and have sent stories for you to read, and enjoy, and, hopefully, make comments about! A lot of interesting stories have been posted over the years - with different views from each author of how the series might have evolved. Links to other such stories, on other sites, have also been added. Please take note that those authors are only writing these stories for the fun of it, and, we believe, out of respect for the creators of this series and its wonderful world and characters. No copyright infringement is meant to the rightful owners of "Captain Scarlet and the Mysterons", or any other series, or other copyrighted and trademarked material (See the disclaimer at the bottom of this page.)

Also please take note that I am only working on this website for personal fun. I'm not a professional of any kind, I'm just somebody who wants to do something special about a series that I liked very much, and still do after all these years. I'm trying to do it with all due respect to the show, and to all the talented people responsible for its long time success.

This site is dedicated to them.