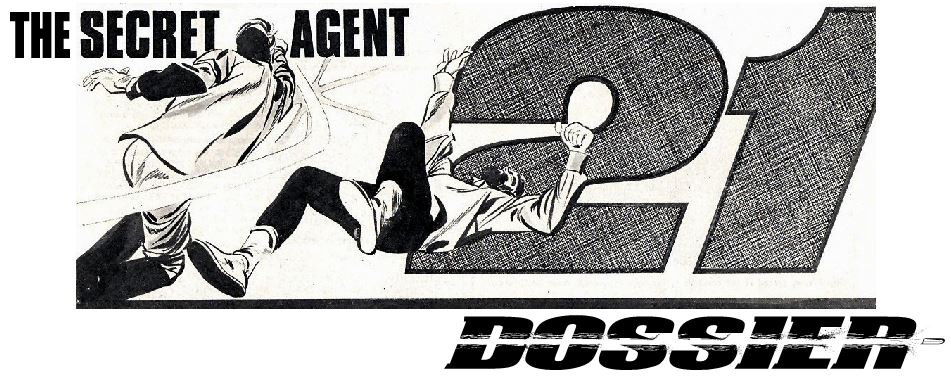 by Keith Ansell

Scripts by Alan Fennell (1965)
Tod Sullivan (1965-1968)
Howard Elson (1968-1969)
Art by Rab Hamilton unless stated otherwise

Contact 21. 1 page strip shares heading with letters / competition page opposite.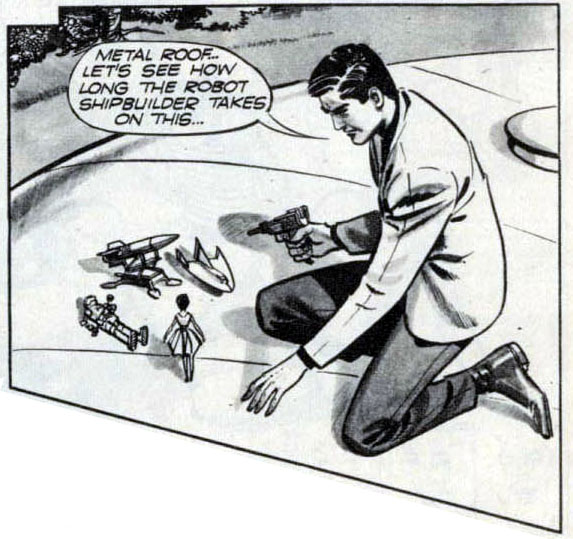 All in the Mind
TV21 issues 21 - 30 (12/6/65 to 14/8/65)
2046: The USS loses contact with its Jupiter stations. Brent Cleever journeys to Daraville, capital of Jupiter where he confronts Dr Zalizka, a mad genius planning to take over the USS by mind control.

Break-In
TV21 Extra (Summer 1965)
The names of all USS agents are stolen from Century 21 Toys. Brent Cleever and Agent 23,Tina Palamac use a toy bloodhound to pursue the spies.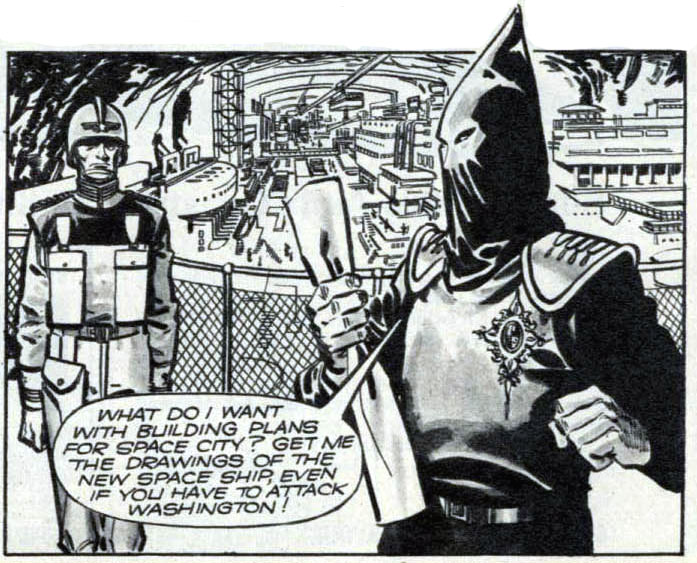 Enter SOFRAM
TV21 31 - 41 (21/8/65 to 30/10/65)
Still under construction, Space City (which will become base of Fireball XL5) is raided. SOFRAM, the Solar Organisation For Revenge and Murder is behind the attack, and Agent 21 infiltrates the mob. Unmasked on their home base of Triton, 21 is rescued by Tina and her sample case of Deadly Toys. In this story we learn that S is General Zodiac.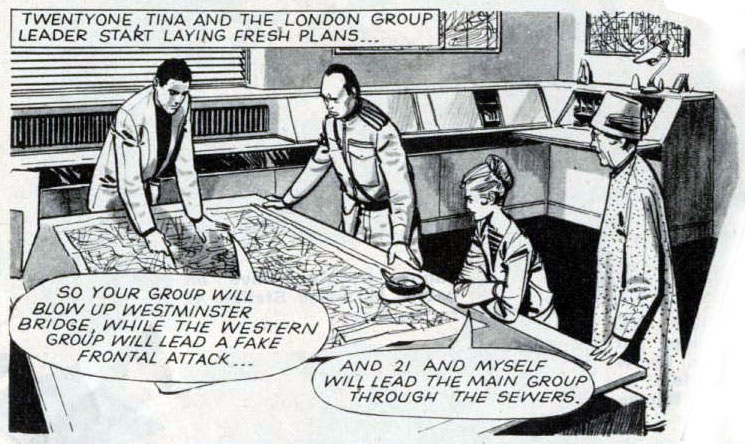 Sabotage
TV21 Extra (Autumn 1965)
SOFRAM sabotages the power plant at the construction site of Marineville.

Down With The Director
TV21 42 - 51 (6/11/65 to 8/1/66)
Tina and Cleever help revolutionaries overthrow the Military Dictatorship which has ruled Britain since 2028. After a nightmare journey through the rat infested sewers of London, Agent 21 blows up Buckingham Palace with two high explosive golf balls.

Promoted to a double page spread, the strip becomes 21 Special Agent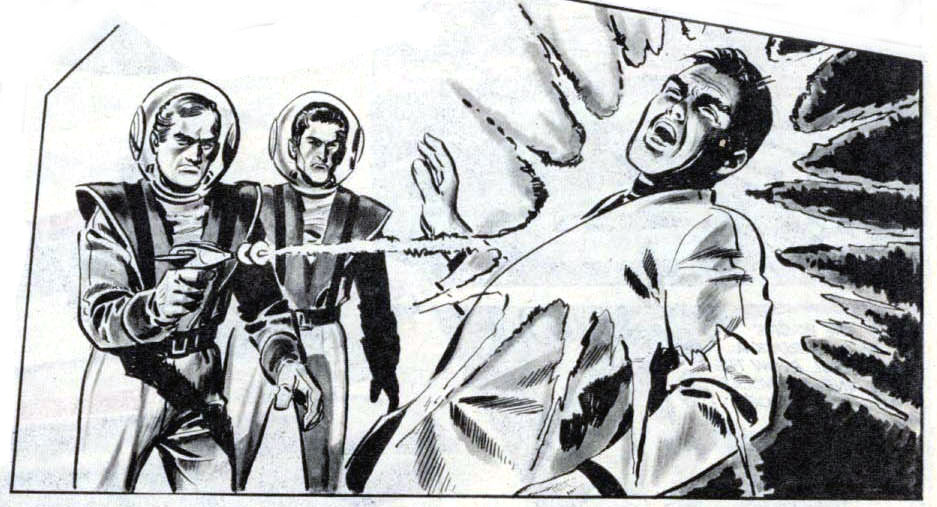 If You Can't Stand the Heat
TV21 52-57 (15/1/66 to 19/2/66).
2047: Cleever investigates mysterious deaths at the Melong Cahelium mine on Venus.

Heigler's Last Stand
TV21 Annual (Autumn 1966)
Although published around August, material for annuals was prepared much earlier. For continuity this story is placed close to the era it represents rather than date of publication. Tina and Agent 21 pursue Professor Heigler, who has developed a "Doomsday Ray". Determined to stop anyone using the ray, Heigler defiantly dies .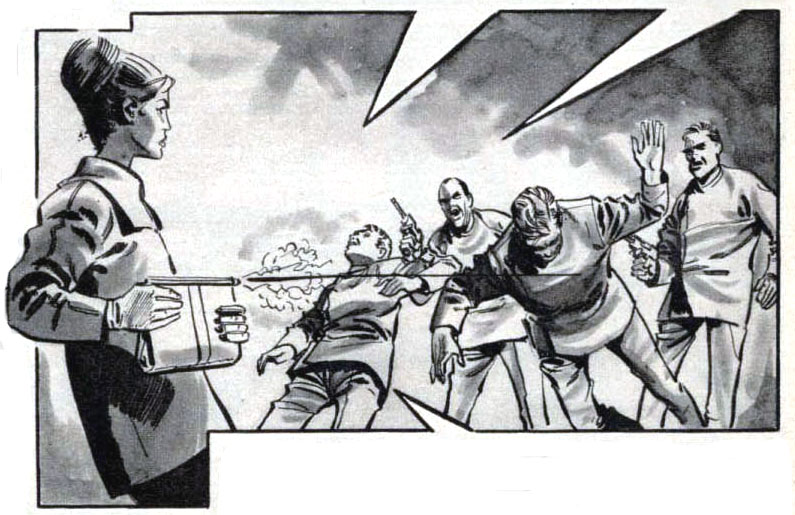 Andromeda Or Die
TV21 58-66 (26/2/66 to 23/4/66)
Sabotaging the Bereznik missile base at Mikhal, 21 discovers a plot to ssassinate the World President and Astran Kaplan (alien leader of our nearest neighbours outside the Solar System). Cleever is wounded and an assassination squad is dispatched to Kiel where Cleever is undergoing emergency surgery. Tina Palamac is dispatched to guard 21, but she is killed saving his life.

Three weeks later, superdrugs have healed Cleever's wounds and he is sent to Astra to take charge of security for the Andromeda Probe. The joint venture between the two races will send a manned ship to the Andromeda Galaxy. But it is also at the heart of the plot to kill the two planetary leaders. 21 captures the Bereznik agent, but when S denies him vengeance for Tina's death, Cleever resigns from the service.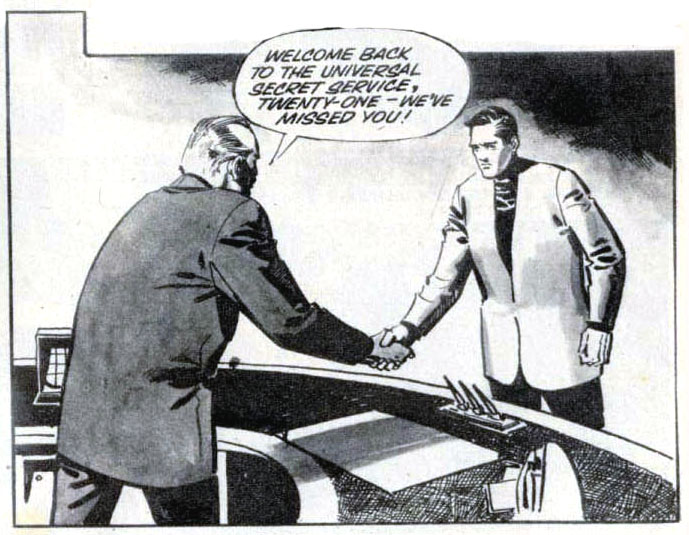 The Bitter Cold Dish
TV21 67-75 (30/4/66 to 25/6/66)
Brent evades his former colleagues and reaches Earth. The new British Government helps Cleever enter Bereznik where he plans to kill Colonel Paternik, controller of the squad which killed Tina. Cleever surrenders to the Secret Police, reasoning that Paternik will handle his interrogation. However, Colonel Tobolski informs him that Paternik has been sentenced to death for incompetence. In the end, this turns out to be part of a deeper plan to corrupt Cleever. Brent captures Paternik and hands him over to World Government forces in Berlin.

The Long Road Back
TV21 76 - 80 (2/7/66 to 30/7/66)
Friendless and alone, Brent Cleever walks the streets of Berlin, with a head full of secrets too dangerous to let loose. A Bereznik agent struggles to capture Cleever before a USS assassin can finish him off. Brent defeats both men before rejoining the USS.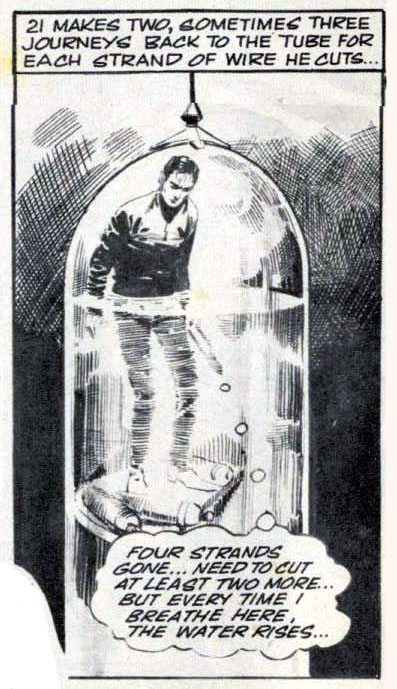 Blood Over Unity City
TV21 Extra (Summer 1966)
Agent Twenty One saves a visiting alien president from SOFRAM's kidnap attempt.

Spy Bait
TV21 Annual (Autumn 1966) Text Story
SOFRAM send a robot duplicate of 21 to blow up World President Nikita Bandranaik.

New Blood
TV21 81 - 89 (6/8/66 to 1/10/66)
2047: 21 hunts a double agent at the USS Spy School. During astronaut training, the computer in 21's ship explodes and he is marooned in space. Trainee agent Jack Reed locates Cleever on Venus, helping him to defeat his kidnappers.

Deadly Fly
TV21 90 - 93 (8/10/66 to 29/10/66)
Now qualified as Agent 72, Jack Reed helps Brent Cleever destroy a rogue deadly toy - a robot fly programmed to kill the World President.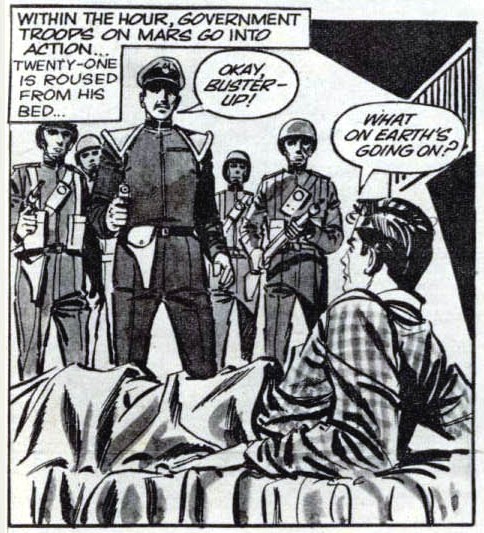 An Eye For An Eye
TV21 94 to 104 (5/11/66 to 14/1/67)
2047:Construction of Space City continues. SOFRAM steals four Planatomic Missiles and threatens to destroy London. Jack Reed uses the test sub for Marineville's Stingray engines to trace the SOFRAM sub carrying the missiles. Jack and 21 escort a captured SOFRAM leader from Camp David in Canada to the World Security Building in Washington. After failed rescue attempts, SOFRAM guns down the prisoner to protect their secrets.

The second half of the plot is reminiscent of the Man From Uncle episode, The Deadly Decoy Affair, although the initial set-up reinforces 21's importance to TV21 continuity. It is possible that 21's value to the comic was being assessed at this point. If the decision had been made to replace 21 with another feature in the January relaunch period, the story could have ended with the final defeat of SOFRAM.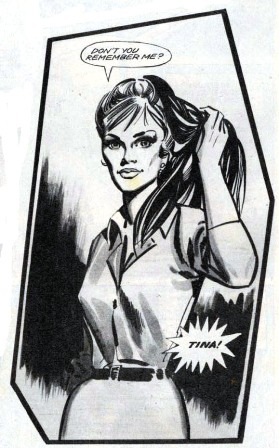 Attack of the Giant Leaves
TV21 105 - 113 (21/1/67 to 18/3/67)
SOFRAM uses giant mechanical leaves to attack Mars.

Back From the Dead!
TV21 114 - 117 (23/3/67 to 15/4/67)
Brent wants to believe it when Tina Palamac returns saying her death was faked by SOFRAM But this aint Marvel Comics. When you're dead you're dead.Tina is an imposter. A clever bit of foreshadowing for the next story.

Communication Breakdown
TV21 118 - 124 (22/4/67 to 3/6/67)
2048: Jack Reed is killed on Neptune, buying time for 21 to defeat a plot to take over the Solar System in the chaos following the disruption of all communications.

Revolution
TV21 125 - 131 (10/6/67 to 22/7/67)
Brent thwarts a Military Police plan to overthrow the US Government and withdraw America from the World Government. The World President drafts S onto his advisory staff, and promotes 21 to head of the Universal Secret Service.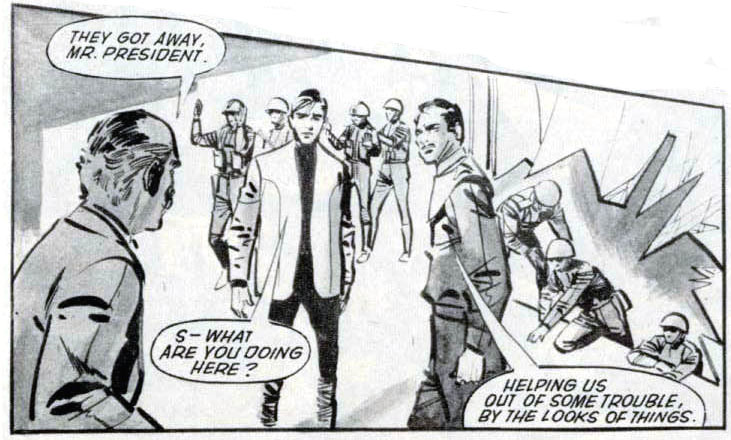 Tough at the Top
TV21 132 - 135 (29/7/67 to 19/8/67)
Brent Cleever orders USS commandos to attack all known SOFRAM bases in the Solar System. SOFRAM retaliates by kidnapping the World President. S rescues 21 from the mess of his own making and agrees to return to his old job. It is only fair to point out that this storyline was later mirrored in Thames TV's CALLAN, when the top assassin took over Hunter's job, only to mess up and be replaced by his former boss.

The Killer Robots
TV21 Annual (Autumn 1967)
Art by Jon Davis
21 discovers that industrial robots have been programmed to attack when alone with a human.

Assignment Destroy - USS
TV21 Annual (Autumn 1967)
Text story. Art by Jon Davis.
A twist on the Thunderbirds episode Security Hazard, and the Stingray episode which inspired it. Sentiment goes out of the window when a deadly robot disguised as a 10 year old orphan gets itself invited back to Century 21 Toys Inc.

Double Cross
TV21 136 - 140 (26/8/67 to 23/9/67)
Cleever is assigned to hand over master spy Soberge in exchange for young scientists captured by SOFRAM.
Special Guest Artist Jon Davis.

T
he Assassin
TV21 141-145 (30/9/67 to 28/10/67)
Cleever is hired as bodyguard for his target, Swedish ass assin Thor Jonason. This is the basic plot for Ian Fleming's last novel, The Man With The Golden Gun, which also inspired the opening sequence for the story in the 1968 TV21 Annual.

Perpetual Conflict
TV21 146-151 (4/11/67 to 9/12/67)
2048:The World Space Patrol helps 21 launch a rescue bid for a scientist captured by SOFRAM.

A Matter of Honour
TV21 152 - 154 (16/12/67 to 30/12/67)
The yearly appraisal of 21's value to the comic is mirrored by a space-filling trial for treason. Brent's honourable behaviour leads to the surrender of the Planetary Piracy Union.

Mission Impossible
TV21 Annual (Autumn 1968)
2049?:21 is shot down on Neptune and presumed dead. Months later, he returns to USS headquarters and, brainwashed, tries to kill S.
Art by John Cooper See The Assassin, above.


Title changes to Mister Magnet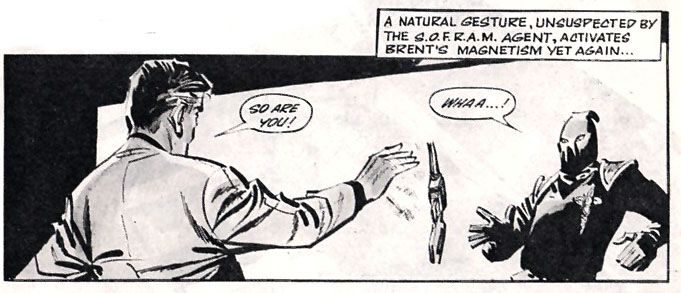 Captain Scarlet and the Mysterons premiered in the Autumn of 1967. TV21 was relaunched at the same time, and Spectrum Shades replaced USS agents as the comics' audience participation feature. Rather than drop Brent Cleever, he was revamped as a superhero (albeit the rather prosaic British superhero in the style of The Steel Claw). He was also updated to the 2060's as part of the comics' regular continuity.

Rebirth; Mr Magnet
TV21 155 - 162 (6/1/68 to 24/2/68)
December 2067. Brent Cleever has retired to a farm in Gloucestershire to develop his engineering skills. A lab accident gives him magnetic powers Brent designs a depolarising device which he installs in his shoes, enabling him to switch his amazing powers on or off at the touch of a button. The World President (drawn as Bandranaik) appoints Clever as his unofficial secret agent.

The Man and the Challenge
TV21 163 - 168 (2/3/68 to 6/4/68)
The World President challenges Cleever to break into a secure secret establishment. Cleever accepts and uncovers a Bereznik spy, before making his escape magnetised to the chassis of a laundry truck.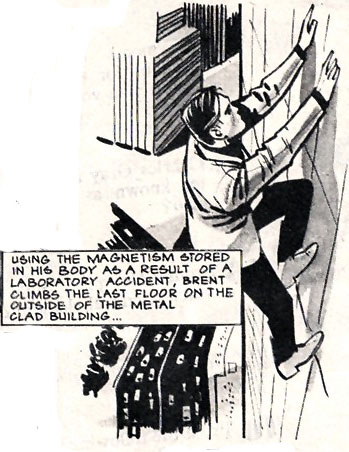 The Lemming Therapy
TV21 169 - 174 (13/4/68 to 18/5/68)
A member of the World Government deliberately blows up himself and a Nuclear Power Complex. Cleever books into Trimlands Health Clinic where the Minister spent a fortnight before his death. He discovers that Dr Joffrin has developed a hypnotic impulse transplanter.

Sharper than the Serpent's Tooth
TV21 175 - 180 (25/5/68 to 29/6/68)
Danny Younger, 14 year old son of the World President, is kidnapped in Australia. Cleever traces the kidnap ring back to Unity City and the Vice President.

Cold Comfort Camp
TV21 181 - 185 (6/7/68 to 3/8/68)
Cleever is sent to Camp Lenin, the Siberian World Army base, after troops mutiny.The World President is finally drawn correctly as TJ Younger (rather than Bandranaik) in the final part of this story. Colonel White, Commander Zero and Sam Shore make cameo appearances.

The Defector
TV21 Annual (1968)
Brent is asked to bring back a top World Government scientist who has defected to Bereznik.
Art by John Cooper

Full Circle
TV21 186 - 191 (10/8/68 to 14/9/68)
Cleever loses his magnetic powers and is asked to rejoin the USS as its chief.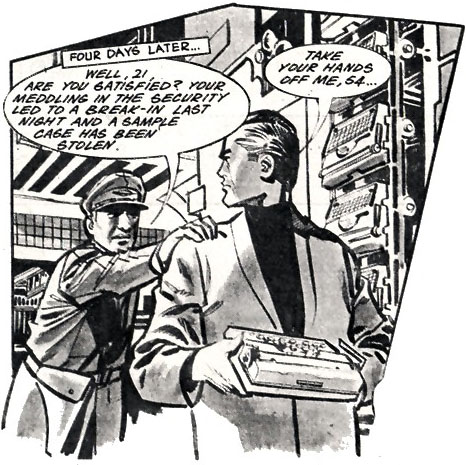 Feature becomes Secret Agent 21
In an attempt to give Cleever a new direction, powerful new villains were introduced.

Back in the USS
TV21 192 - 197 (21/9/68 to 26/10/68)
Mars 2068; 21 discovers that deadly humanoid robots called Titans have infiltrated Earth.

Terror of the Titans
TV21 198 - 205 (2/11/68 to 21/12/68)
21 is joined by the World Space Patrol and WASP in his hunt for the Titans. Eventually the Bereznik president is exposed as a Titan robot. With his destruction, the first thaw in the Second Cold War is detected.

The Titans
TV21 Annual (Autumn 1969)
Art by Jon Davis
A Titan saboteur leads the USS to his base and a spectacular battle ensues.

The Hypnotist
TV21 206 - 211 (28/12/68 to 1/2/69)
The Great Hypnotist is stealing secrets and almost steals 21's life.

SOFRAM'S Revenge
TV21 212 - 216 (8/2/69 to 8/3/69)
Sofram tries to assassinate 21 but ends up being destroyed.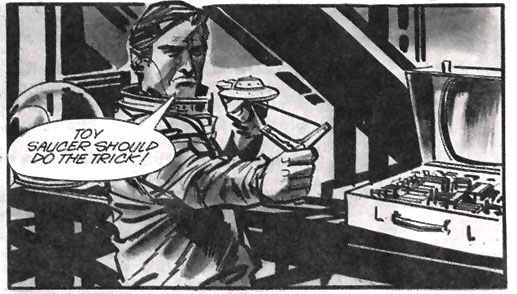 Journey to the Centre of the Red Planet
TV21 217 - 225 (15/3/69 to 10/5/69)
21 joins an expedition to Mars' centre where he encounters two ancient civilisations which sought sanctuary from the Mysterons below ground.

Space Pirates
TV21 226 -230 (17/5/69 to 14/6/69)
The USS take on Space Pirates.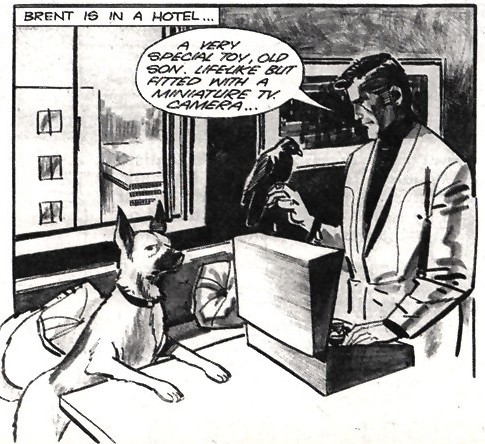 The Syndicate of the Faceless Ones
TV21 231 - 237 (21/6/69 to 2/8/69)
Accompanied by Kingdom, a robot dog, 21 takes on the International Crime Syndicate.

On The Trail of Zirgon
TV21 238 to 242 (9/8/69 to 6/9/69)
Brent pursues the escaped Syndicate leader.
Although two other stories, "Day of the Fog" and "The Mirage Makers" appeared in the 1971 Thunderbirds Annual, (published 1970) the conclusion of "On the Trail of Zirgon" marks the final issue of TV21.

Learn more about the U.S.S. and the World of Agent 21.