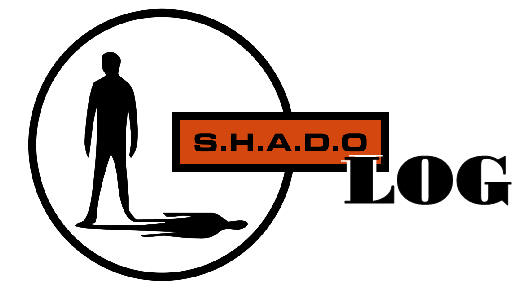 A UFO short story by Andrew Kear
This story first appeared in Issue 111 of the Power Star Fanzine, June 1997, published by the team of Jerry Seward And Kimberly Murphy-Smith (Editors), Walter M. Scott III, (Graphics Editor), J. Calvin Smith (Manuscript Editor) and Anthony Van Pyre (News Editor). Text taken from the fanzine. Story by Andrew Kear. In the paper version of the fanzine, this is a comic story.
This story is posted without the author's permission - with due acknowledgment - hoping to attract her attention. If you wish it to be removed, please contact the webmaster without any delay.
UFOs fly over the Great pyramids of Egypt as an Arab rides by on a mule.
STRAKER
(narration)
Log entry:  February 20, 2011.  Recent historical files at SHADO have talked of the possibility of UFO/alien involvement in developing Egyptian society.  Evidence points to alien interaction with top leaders of Egyptian society.  Did the aliesn make a deal with these Egytian leaders so they could share in the leadership of the then civilized world?  Were Egyptian slaves in turn used in alien medical procedures (e.g. dissections)?
An alien watches Egyptian slaves building the Pyramids.
STRAKER (CONTINUED)
(narration)
Aliens may have also been involved in slave labor.  Did they play an integral role in building the Pyramids?
A UFO can clearly be seen in line art in an example of Egyptians hieroglyphics.
STRAKER (CONTINUED)
(narration)
Evidence of alien involvement in Egyptian culture can be seen in ancient renderings showing UFOs with Egyptian icon symbols.  In the following rendering notice the UFO in the background behind the Pyramid.
A pyramidal-shaped UFO orbits the earth.
STRAKER (CONTINUED)
(narration)
Recent myths state that large alien mother ships shaped as pyramids dispatched UFOs to earth.  There is no real concrete evidence to support this claim.
A UFO leaves the pyramidal-shaped mother ship.
STRAKER (CONTINUED)
(narration)
This is an illustration of a UFO leaving its mother ship.
A UFO-shaped object is on display in an Egyptian tomb.
STRAKER (CONTINUED)
(narration)
All these theses--wild claims--are backed up by the strongest evidence yet that UFOs were involved in Egyptian culture.  Several years ago a UFO was found in a pyramid tomb in almost perfect condition.  It only differs slightly from the UFOs we know today.  The big question now is why did the aliens leave Egypt.
Straker closes his log entry.
STRAKER (CONTINUED)
(narration)
Log entry closed, February 20, 2011, 9:30 p.m.
THE END
Any comments? Send an E-MAIL to the SPECTRUM HEADQUARTERS site