Tyrian was invaluable in helping them through the tunnels.  Although Scarlet and Blue could remember the way, Blue was still weak and Scarlet tired after his recovery.  They went slowly once they were sure they were not being followed, and took frequent rests.  The food and water they'd brought assisted Scarlet's recovery, so that by the time they reached the slope leading to the entrance in their own dimension, he was able to support Blue and progress was quicker. 
They rested for the last time before the final climb.  Blue gulped the water and leaned back against the rock, his face was pale and he closed his eyes, breathing heavily.  
"You okay?" Scarlet asked, concerned to see the strain on his friend's face.
"Yeah."
"We're nearly there," Tyrian said, coming to sit beside Blue.  "I'm sure your medical staff will take good care of you and you'll be right as rain in no time."
"Fawn'll do his nut," Scarlet said gloomily.  "Heaven knows how long we've been away from Cloudbase for, and then we roll up looking like something the cat dragged in…"
"He?" Tyrian asked, his dark eyebrows rising in surprise.
Scarlet grinned.  "You'll have to get used to surprises like that, Mike.  Our Doctor Fawn is an Australian guy – a bloody good doctor, mind you.  Lieutenant Green's name is Seymour Griffiths and he's the executive officer for the commander of our Cloudbase – Colonel White."
"And the Angels are all guys?" Tyrian asked.
Scarlet shook his head.  "Thankfully, no.  They are five young women of exceptional beauty and charm – with the hand-to-hand combat skills to flatten any male who steps out of line."
"I shall be careful to remain in line then," Tyrian said earnestly. 
"They won't hurt you," Scarlet replied, "they were very fond of Gabriel…" He stopped speaking suddenly and laid a hand on Tyrian's knee.  "Sorry, Mike."
"It's okay," the youngster said, shifting his position so that Scarlet's hand slipped away.  "I'm used to it."
Blue opened his eyes and glanced at Tyrian, who looked away when he saw the captain's eyes on him. 
"Let's go, shall we?" the American said.  "Sooner we get out of here the better I will like it." 
They helped him to his feet and Scarlet shouldered the pack that Tyrian had carried from the start of the trip. 
"Let's go," Blue repeated, and started out up the steep climb to the mouth of the tunnel.
As they approached the exit, it grew noticeably colder. 
"With luck we'll hardly have been missed," Scarlet mused, as he followed the others up the slope.   "We might even make it back in time for the party…"
Blue staggered out into the light, squinting against the brightness of the low sun.  He drew in a deep breath and coughed.  "Well, it smells like home," he said ruefully.
"If you mean that it smells like sock washing night on Cloudbase - then I agree," Scarlet was saying, and as Tyrian grinned at him, a shot rang out.
"Not again!" Scarlet cried, and turned to see Tyrian stagger back, his hand to his chest and surprise on his face.
"Get down!" Scarlet ordered.
 Blue grabbed the boy and, as carefully as he could, helped him to crouch behind an outcrop of rock.  "He's alive, but he's losing a lot of blood," he reported.  "We need to get him to medical help soon, Paul."
Scarlet had jumped into the lee of a boulder and drawn his pistol.  He was scanning the rocky ground ahead of them, in the general direction he calculated he shot had come from. 
The sun glinted on something away to his left.  He aimed and fired a volley of shots, advancing towards the position until he could dodge behind another boulder. 
"Black," he shouted.  "Give it up, Black!  You've lost.  Together we were able to defeat the Mysterons and the whole show has made us even stronger!"
"YOU ARE WRONG, SCARLET, WE HAVE WON.  ALIZARIN IS DEAD, CADENZA ANGEL WILL BE NEUTRALISED BY HER OWN PEOPLE BECAUSE OF THEIR FEAR OF THE MYSTERONS.  WITHOUT HER THEY ARE POWERLESS AND WE WILL SOON DEFEAT THEM.  YOU HAVE THE LAST OF THE MISBEGOTTEN HYBRIDS WITH YOU.  THAT WILL MAKE YOU VULNERABLE.  WE HAVE WON."
"You can't frighten me into handing him over to you," Scarlet yelled back.  "I'm prepared to fight you in every, and any, way I have to."
Scarlet heard the thrum of an approaching helicopter in the distance.  He glanced into the grey, leaden sky and saw the lights of three machines.  "Hear that, Black?  That's reinforcements; my people are not afraid of me. They'll fight you and the Mysterons to the last man standing."
"YOU ARE A FOOL, SCARLET. YOU AND THEY WILL ALL DIE."
There was a blinding flash of green light and Scarlet sensed that his adversary was no longer there.  He called his name several times to make sure and then stepped out into the clear line of fire.  Nothing happened.  The Mysterons had removed their agent to safety once more. 
Scarlet ran back to his companions. 
"How is he?" he asked Blue.
"Unconscious.  I've done what I can to stem the blood.  It's nicked his lung, I think.  We need to get him to Sick Bay as soon as we can."
"You heard the helicopters?"
Blue nodded.  "Let's hope they are friendly.  We left Cloudbase rather precipitously, if you recall."
Scarlet grimaced and looked skywards.  "The colonel's used to us by now; he won't kick up that much of a stink," he said with more confidence than he felt.

Colonel White waited until the young man who had arrived with his wayward officers was safely installed in Sick Bay and Doctor Fawn was operating to remove the bullet and repair what damage he could, before he called Scarlet and Blue in for debriefing. 
He listened patiently as Scarlet told the story of what had happened in the other dimension and concluded his report with Black's comments in this.
As his officer's story came to a close, the colonel shifted in his seat slightly and asked, "Do you believe what Captain Black had to say?"
When Scarlet hesitated, Captain Blue answered.  "Yes sir, I do.  The way things have gone in the other society means they fear what they don't understand.  It was a mistake to make details of the Mysterons public-"
"-or possibly a cynical, politically-motivated move," the colonel amended. 
Blue nodded. "As you say, sir, but if it was done for political motives, I believe it has backfired badly. The population is engaged in a witch-hunt; it would appear that people who are perfectly innocent are being persecuted.  There aren't likely to be significantly more Mysteron agents there than there are here, or so I'd surmise, yet it seems that a large number of people are being denounced as Mysteron agents and imprisoned on an allegation alone.   In addition, the fact that Captain Black has said that Cadenza's incarceration will give the Mysterons the edge in her dimension, highlights how important to our continuing fight for survival Captain Scarlet is."
"How important secrecy about the Mysterons is, you mean," Scarlet corrected.  He was blushing slightly. 
"How important both are," White agreed.  "I can see why you felt the need to bring the young man with you, Captains, although it leaves us with the same dilemma we had before.  You say he is Alizarin's twin brother?  Therefore, we must assume he shares the same attributes as that young man did.  We cannot any more sure that he is not a Mysteron than we could be about Alizarin."
"Yes, sir," Scarlet said.  He decided to make a clean breast of everything and explained, "But, you see; they're not only Cadenza's sons, sir, they're mine.  It was the fact that they were born to two retrometabolic people what made them important to the Mysterons – or so we believe."
"Yours?  You mean, the Captain Scarlet in that world?"
"No, sir; I mean me."
White drew in a deep breath, opened his mouth to say something and shut it again.  Scarlet and Blue exchanged surreptitious glances: it wasn't often the Old Man was literally speechless. 
Finally the colonel said, "I see."
"Sir?" Scarlet asked.
"He cannot go back, that much is obvious.  The problem is: what do we do about him in this dimension?"
"He can join Spectrum," Scarlet said, "and work with us against the Mysterons."
White shook his head.  "Remember what Captain Black said: you have the last of the misbegotten hybrids with you.  That will make you vulnerable.  I am not prepared to run that risk, especially given what we've already agreed about the importance of your contribution to the War of Nerves, Captain Scarlet."
"I've been giving it some thought, sir," said Blue.  "I could get my family to look after Michael – after all, he is a Svenson."
"And risk putting them in danger from the Mysterons?" White reminded him.
"If he's not with Captain Scarlet, is there likely to be much risk?" Blue reasoned.
"How would you explain the sudden appearance of this teenage scion of the Svenson clan?" Scarlet asked rather sullenly.  He was disappointed at the direction things were going, even though he could see the validity of the rationale behind it.
Blue shrugged, a faint redness colouring his face.  "I'll say I got careless…"
"They'd never believe that!" Scarlet exclaimed. 
Colonel White smothered a chuckle of laughter and said, "Your offer is noted, Captain Blue, and appreciated; but I don't wish to put your family at greater risk than they are already.  Therefore, I think we need to explore other avenues before we accept it."
"There are other avenues?" Scarlet asked.
"That's what we need to explore," White said sharply.

A few days later, Colonel White called a meeting of his senior officers in the Conference Room.   Doctor Fawn wheeled Captain Magenta up to the meeting, and Captain Ochre, back from policing the Science Conference, went over to talk to his field partner.  Scarlet and Blue arrived together, just before the colonel. 
"Captain Grey is in command of Cloudbase," the colonel informed them, as he took his seat.  "I want this meeting to be undisturbed.  Now, gentlemen, I have called you here to listen to what Doctor Fawn has to say and to try to find a solution to the problem our young visitor has unwittingly created.  Doctor, over to you."
"Thank you, Colonel."  Fawn smiled at the men around the table.  "You all know about the young man, Michael Turner, I have been treating in Sick Bay?   You all know where he came from and why?  Good."
"How is he today, Doc?"  asked Scarlet.
"He's fine; making a recovery.  And, in a way, it is that recovery that's the topic I want to discuss with you all."
Although rather bemused, everyone made suitably agreeable noises in response to this.
Fawn continued, "You see, it is my professional opinion that Michael Turner does not have the ability to   retrometabolise."
"What?" Scarlet gasped.  "But he shows positive on a Mysteron detector, just as his brother did."
"Yes, I agree, he does, and that would suggest that he is – or was – somehow connected to the Mysterons.  But, I have been monitoring him carefully and there's nothing that makes me believe he is retrometabolic.   And you have to admit, I do know quite a bit about retrometabolism."
"I don't quite follow," Ochre said.  He'd been brought up to date with what had happened to Scarlet and Blue, but - as with all the captains – some things had been kept confidential.
Fawn spelt it out, carefully, "Michael is the son of Cadenza Angel, and we know from Captain Scarlet's past experience that she is virtually indestructible because of the actions of the Mysterons in her dimension.  She had twin sons, with - we are led to believe – a retrometabolic man.  I have no reason to doubt this is the case.  Yet, it would appear that whilst both children inherited aspects of Mysteronisation from their parents, they did not inherit retrometabolism."
"But – Alizarin recovered when he was wounded – I saw him," Scarlet said.
"So it would seem.  Regretfully, I did not get the chance to run any tests on Alizarin while he was here, but Michael has a most impressive constitution, including an immune system that is stronger than most I've seen; but that in itself, is not retrometabolism.  The wound and the operation incisions are healing at what is a normal rate – a quick one, but not overly exceptional for a young, healthy male.  I would expect any of the field operatives here to heal as almost as quickly."
Scarlet frowned as he struggled to make sense of this.  "Then Alizarin…?"
"…Must've been killed and retrometabolised by the Mysterons at some point.  It need not necessarily have been in the series of events that you witnessed, Captain.  Think: once they expected Alizarin and his brother to trigger positive responses to Mysteron detectors, they would not think to question it.  The Mysterons could have killed and retrometabolised him as a small child, and no one would be any the wiser," Fawn explained.  "I seriously doubt that he had retrometabolism if his identical twin brother doesn't."
"Then they might have done the same to Michael," Ochre remarked. 
Fawn nodded slowly.  "Yes, and that's something we may never know for sure.  However, I can only tell you what I have observed."
"But they were both watched 24 hours a day; if we're to believe what they tell us," Magenta said.  "When would the Mysterons have had the chance?"
Blue spoke into the thoughtful silence. 
"When Alizarin flew down to Etna to use the tunnels he was alone," he said slowly, as if he was thinking it through even as he spoke.  "Michael didn't go with him, and he was flying into bad weather.  We know it doesn't take long for the Mysterons to complete the take-over of their chosen target.  A blip on the radar, a loss of contact, static discharge even, would be put down to interference from the weather.  After all, no threat had been issued to them at that point."
Colonel White nodded.  "Yes, I can see that happening.  It is as good a theory as any."
"Why didn't I sense it then?" Scarlet snapped.  "I never felt Gabriel was a Mysteron."
"You never sensed anyone in a different dimension was a Mysteron," Blue reminded him.  "Even though Alizarin was here, he would have become a Mysteron in the other dimension."
"So, Michael Turner will live a normal lifespan?"  Colonel White looked at Doctor Fawn.  "He's vulnerable to every risk?"
Fawn nodded.  "I expect he'll live to a ripe old age and stay fit, by and large; but he is not indestructible and he will, eventually, die; as far as I can tell, anyway."
"Why would either of them inherit Mysteron characteristics and not retrometabolism which is the most obvious one of all?" Scarlet demanded.  He felt somehow resentful at the fact that his sons had not inherited their parents' ability to cheat death. 
"Consider," Fawn explained, "how many Mysteron agents have we seen exhibiting retrometabolism?  There was poor Captain Indigo and possibly one or two others over the years, but it is not a universal trait.  We don't even know if Captain Black has the ability to retrometabolise, do we?   We know so little about the whole process that it could well be that even the Mysterons don't know how or why Scarlet inherited the ability.   I feel it is still wise to assume the need to eliminate Mysteron agents with an electron rifle, in case they do possess the ability, but for most of them it isn't necessary. Retrometabolism is the exception, not the rule."
"This means Scarlet is even more unique than we thought," Ochre said, smiling across at the captain.  "How lucky is that?"
"Exactly," the colonel said.  "No wonder the Mysterons are so anxious to eliminate you from the fight, Captain."
Scarlet nodded, but he was still frowning. 
"What happens to the guy now?"  Ochre asked.  "Even if we agree he's not a Mysteron, he still doesn't exist in this dimension."
There was a deep silence until Fawn said, "He will need to stay here under observation for some time and I will do every test I can in the meantime to try and ascertain his status.  Personally, I feel the fact that he does not have retrometabolisation ought to be all the proof we need.  The Mysterons gave it to Alizarin – I'm convinced of that – if they'd killed both boys surely they'd have done the same to them both?"
"I think you have a valid point, Doctor," the colonel said.  "We need to watch the lad carefully while he is with us, but if there is nothing to suggest otherwise, I think we'll have to give him the benefit of the doubt.  Otherwise, we're no better than the dimension he left – suspicious and despotic."
"Agreed, sir." There was a murmur around the table. 
"So, what happens to him next?" Ochre repeated. 
There was silence as they wrestled with the quandary.
Then Captain Magenta said:
"If I may make a suggestion, sir?" 
"Go ahead," White replied.
"I've known men who didn't officially exist any more; there's one sitting at this table."  Everyone glanced at Captain Ochre.  "Couldn't we manufacture an identity for Michael Turner and set him up somewhere in a new life?"
"Like witness protection?" Ochre said.  "That's not a bad idea."
"He's too young for that," Scarlet protested.
"Not really," Blue reasoned.  "I went to Harvard at sixteen, Symphony went to Yale at the same age; Mike's almost sixteen, he could enrol for the next academic year… When you start college, everyone is from somewhere else, so he'd fit in."
"Yes," White said thoughtfully.  "Yes, I do believe that might be a solution, Captain.  I will speak to the Head of the Universal Secret Service and see what can be arranged."
"At least it means we'll be able to keep an eye on him," Scarlet said, brightening up.
"No, we won't, Captain," the colonel replied sharply.  "This will only work if no one knows who Michael Turner becomes.  I can't have anyone," he looked directly at his two premier field agents, "slipping off to pay visits or providing holiday homes on Nantucket.  Do I make myself clear?"
"Yes, sir," Scarlet and Blue replied glumly, in unison.
"Good.  Dismiss for now.  I'll inform you of what progress I make shortly."
As they left the room, Scarlet accosted Doctor Fawn. 
"Can we see him?  Before he becomes someone else, I mean?"
"Of course.  He's asked to see you both, as it happens.  Drop by this afternoon."
"S.I.G," Scarlet replied. 

Michael looked rather small and vulnerable in the hospital bed, wired up to various drips and monitors, such as a robotic nurse, the very same model as those that had caused such trouble in his home world.    Scarlet couldn't help feeling a little anxious at that, but he took care not to show it and remind the patient of the immediate past.
"Hi, Mike," he said cheerfully, and placed the bag of grapes he'd brought on the counterpane. 
"Hello, Captain Scarlet; thanks for the grapes."
Blue came in and stood by the door as Scarlet drew up two chairs.  Michael looked at him and said, "Come in… please."
Blue took a seat next to his friend, and listened while Scarlet chattered away.  The boy didn't respond much beyond an occasional nod.  His face was pale and beneath the dull, deep-blue eyes, there were dark smudges of grey.   He did not look at ease, or happy to see them.
As Scarlet came to a stuttering halt with his small talk, Michael said, "Everyone has been very kind.  I like your Doctor Fawn almost as much as I liked our Doctor Fawn.   I will miss her," he added, showing the first glimmer of emotion since they'd arrived.
"I'm sure everyone will," Scarlet said awkwardly.  "She was a great lady."
Michael gave a rueful smile.  "What has Colonel White decided to do with me?"
"What?"
"I know there was a meeting about me this morning.  Doctor Tan told me you'd been called to one when I first asked to see you.  Was anything decided?  What's going to happen to me?"
"You mustn't worry," Scarlet replied.
"I'm not, that is, I'm trying not to.  I just want to know.  If I have to lie here until I'm fit, I might as well get used to what will happen then as much as to what happened to bring me here."
Scarlet hesitated, unsure what he should say in reply.  Until the colonel had arranged something, he didn't feel it was wise to say too much. 
Blue saved him from his dilemma. "The colonel's speaking to the Universal Secret Service about creating a new identity for you in this world.  Then, if you want to, you can enrol in a college and finish your education.  After that, you may do as you please; although I think it is fair to say that returning home might not be an option, unless you are prepared to face the consequences."
Michael sat and thought for some time, not looking at either man, but rather down at his hands, which lay folded on the coverlet of the bed.  Scarlet was starting to get restless before the youngster asked:  "Do I have any money?"
"Oh yes," Blue said firmly.  "I guarantee you'll be financially secure."
Scarlet glanced at him, frowning, but Blue ignored him.  He was quite prepared to go up against the colonel in order to ensure the kid was amply provided for - if he had to - but he rather expected the colonel would have that covered too.
"Thank you," Michael said, glancing at them both.  "Will I be able to see you again?"
"Well… I guess that's an unknown," Scarlet replied cagily.
"Not unless you want to," Blue explained.  "We won't know anything about your new identity; but of course, you will know about us.  Maybe, in time, you will want to join Spectrum, or our paths will cross in some other way, but if it does and it isn't what you wanted to happen, it will be a pure twist of fate.  We will not seek you out, Michael.  To do so might put you and Spectrum at risk. "
"Are you trying to frighten him?" Scarlet hissed at Blue.  "It's no big deal, Mike.  I'm still your father, and, if you want, I don't see they could prevent us meeting."
"Yes they could - and they will," Blue muttered.  "Paul, I know you're worried and concerned, but I'm sure Michael will appreciate straight answers to his questions.  Am I right?" he asked the young man.
Michael nodded.  "Yes; I prefer to know the truth of things.  Gabriel was the exciting one – he was a fantasist and saw things as he wanted them to be, whereas I… I am the boring one – the pragmatist.  I appreciate your concerns, Captain Scarlet, but if I'm expected to make my own way in this world, then I want to know that from the start.  I rather expected you to understand that."
"Right," Scarlet said curtly.  "Here it is then – the bottom line: when you leave here you will be someone else.  Nothing that has happened to you can ever be revealed to any person."
"I see.  So I don't have to join Spectrum?"
"No," Scarlet agreed. 
The smile that twitched at the corner of Michael's mouth slowly spread into a grin.  "Thank God."
Scarlet was astonished.  "You don't want to?" he asked.
"No; I've spent all my life in this floating goldfish bowl – where every move I made was scrutinised and controlled.  If I never see Cloudbase again it won't break my heart."
"But what will you do?" Scarlet asked.
Michael shrugged and grimaced with the pain.  "Computers, maybe, or business; I have a good head for figures.  Maybe I'll teach?  Spend my life with the normal kids I never got to meet when I was growing up.  Maybe I'll be a truck driver, and spend my days driving across the country.   Or a sailor? Get to see the world a bit that way.  I don't know, but back home there was never any prospect that either of us would get a chance to do anything, except stay with Spectrum.  The fact that I can choose what I want to do is marvellous."
"Yeah, having the option is nice," Blue said, smiling.
"I can understand that," Scarlet said hesitantly.  "But don't you don't want to fight the Mysterons… for example?"
"I don't want to fight anybody." Mike's voice took on a hard edge.  "My brother wanted to be a hero, I don't.  He wanted to be famous, I don't.  Doctor Fawn tells me I don't have retrometabolism; whether I ever did is something I can't figure out.  No one was ever sure anyway.  But here, even if I can never have an x-ray, no one's going to lock me up for the rest of my life on suspicion that I'm dangerous."
He could see disappointment on Scarlet's face and added, "Maybe, in a few years I will feel differently, but now I have enough to come to terms with and I am certain that I don't want to fight."
"Sure," Scarlet said, "You have to do what's right for you, Mike."
Fawn came in as Scarlet was speaking.  "That's enough for today; you're looking tired, Mike.  You can have visitors again tomorrow, if you like, but now you need to rest."
"Yeah, we'll drop by," Scarlet said, getting to his feet.
"Thank you," Michael replied.  As Scarlet turned to leave he said, "Captain Blue, before you go, may I have a word, in private?"
"Just a few minutes," Fawn declared, hustling Scarlet from the room.
Blue came back to the bed.  "What is it, Michael?"
"I've disappointed him, haven't I; because I don't want to fight?"
"Paul?  No.  It's just that he comes from a long line of soldiers, to him that's the option any Metcalfe would consider first."
The boy nodded thoughtfully.  "It's what Gabriel wanted to do; I think they must've got on really well, don't you?"  
"Yes, I think they did; but Paul understands that it isn't the right way for everyone, don't doubt that.  Take pride in the fact that you can see it is not the way for you."
"And what about you, are you disappointed in me?"
Blue smiled reassuringly, and for a split second Michael was reminded of his mother.  "No; Paul was spot on, you must do what's right for you.  I did, and I don't regret it for a moment."
"That's not what you said to me, back home," Mike reminded him.
"I said I felt guilty that my brothers felt they had no choice because I'd made mine.  I didn't say I regretted making that choice," Blue corrected, with another smile.  "Michael, there's no point in spending years worrying that you made the wrong choice when every day you live confirms that you did the right thing.   Of course, if you find yourself in the wrong life, then you have no one to blame but yourself if you don't change it as best you can.  That's why I'll make sure you have the financial stability to change your mind.  I don't know how much resource the Svenson family had in your world; but here there is enough to go round and to spare."
"I don't want to take your money."
Blue laid a hand on the youngster's arm.  "I haven't got any for you to take," he teased.  "But I know a man who has.  Leave it to me.  You won't be able to sit on your ass doing nothing for life, but you'll be independent enough to do what you want.  I promise you that much, for your mom's sake."
Michael's eyes filled with tears and he looked away. 
"Now, get some rest, or you'll see the severe side of Doc Fawn – he's a real tyrant at times…"
"Get out of here," Fawn said jovially, realising Blue had seen him come back into the room, "before I ban you forever."

"Why can't we see him?" Symphony asked again.
"He's not a sideshow," Scarlet snapped.
"That's not what Karen meant, Paul," Rhapsody said, seeing her friend's temper starting to rise.  "If the boy's ill, we'd like to visit, that's all."
"Fawn's not letting visitors in."
"He is, now and again.  The poor guy must be bored stiff, all alone.  We want to cheer him up, that's all," Symphony said, with a sulky pout.  "I think it's just that you don't want us to."
"And why on earth would I do that?" Scarlet retorted.
"Because," Symphony said, "you – or someone close to you – has something to hide!"
 "Karen, you have an extraordinary imagination; you can dream things up out of thin air."  Scarlet tried to look nonchalant, and failed. 
"That boy isn't thin air, though," she said.  "Who is he, Paul? You can tell us."
"I told you; we brought him back with us from Cadenza's dimension.  He'd have been incarcerated for life if we hadn't.  They're much less tolerant there.   He's Gabriel's twin brother. His name is Michael Turner.  Now you know as much as me."
"That I doubt," Rhapsody said.  "But, if you don't want to tell us…" She glanced at Symphony who was looking vexed.  "Then we might have to ask Doctor Fawn… or Blue, perhaps?"
Scarlet was familiar with Symphony's ability to worm secrets out of her fiancé, eventually.  Although Blue was skilled in counter-interrogation techniques, in the face of her prolonged sulking, his resolve generally crumbled.  "Leave Blue out of it," he warned, unaware of Symphony's suspicions about the paternity of Gabriel, and now, Michael. 
"Why, what's he got to hide?" she demanded. 
"Nothing: nobody's got anything to hide." Scarlet frowned at them both.  "Don't bother the kid, okay?  He's been shot, he needs to rest!"
"Yes sir, Doctor Scarlet," Symphony said, rolling her eyes.  "I'd better go; I'm on the next tour of duty.  See you for lunch, Di?"
"Of course… 'Bye, Karen." Rhapsody waited until her friend had left and then said, "Well, you certainly handled that with every ounce of your usual tact, Paul.  She'll probably have a go at Adam as soon as she sees him.  You'd better warn him what to expect."
"Why will she have a go at him because I didn't answer her questions to her satisfaction?"
Rhapsody curled her feet up on the couch and rested her head against his shoulder.   "She's got some daft idea in her head about Gabriel.  She thought… well, she said she thought, which isn't always the same thing… she thought… that Adam was his father."  She felt him stiffen in surprise and hurried on to say, "You see, Gabriel told her he was a Svenson-"
"He was: they are!  Cadenza is their mother and she's a Svenson.  Okay, one from another dimension, but a Svenson, none the less.  Adam's nothing to do with them – believe me."
"And you say that Gabriel was killed when you got him back there?  It's such a shame, he was a nice lad."
"He was shot by the Mysterons.  Neither of the kids has retrometabolism.  He didn't make it.  It is a shame; he was… as you said, a nice lad."
"You and he got on famously, didn't you…? Paul?  Oh, Paul's what's the matter?"
Scarlet had bowed his head and closed his eyes.  Since Gabriel had died he'd refused to mourn; there had been no time and too much to do.  Now, with the comforting arms of the woman he loved around him, he couldn't prevent his emotions from spilling over.  
She cradled him against her breast and stroked his thick, black hair.  She had no real idea why he was taking the death so badly, except that he had liked the young man.  She knew that beneath the exterior shell of the professional soldier, Paul Metcalfe was a gentle and caring man, and the fact that it had affected him this way was endearing. 
When Paul became still and quiet, Dianne whispered, "I wish I'd known him; he must've been a super guy for you to feel so badly about his death.  After all, you hadn't known him long.   We can all mourn for the lost potential of a life cut so tragically short, but what happened while you were there, Paul?  I know you said you were there for much longer than you were away from here.  Did you spend much time with Gabriel?"
"Dianne, do you love me?" he asked, his face still hidden from her.
"Of course I do; you know that, don't you?  What's wrong, Paul?  I want to help if I can."
"Remember when I was swept away into the tunnels on Etna?"
"Yes; that was a worrying time for us all."
"How long ago was it?"
"About four years."
"Time doesn't seem to pass in the same way.  Walking through the tunnels could take you forward or back in time, as well as into different realities.  It made getting home a bit of a gamble."
"But you came home."
He nodded.  "But before I came home, Cadenza and I… well, we …I liked her very much."  He hesitated.  "Gabriel and Michael are my sons, Dianne."
He felt her stiffen in surprise and heard her sharp intake of breath.  "Yours?"
He nodded.  "I thought I might never see you again."
"Your sons?  With Eva Svenson?"
He nodded.  "Seems she couldn't have kids unless the father was also retrometabolic…"
There was a long silence, during which time Rhapsody struggled with wildly surging emotions.  When she finally spoke, her words surprised him.
"You have to tell Karen."
"What?  What's it got to do with Karen?"
"She'll accuse Adam of being their father if you don't, of course.  They'll fall out again – big time.  She's been fuming about the possibility ever since you both rushed off base with Gabriel.  Does Adam know?"
"Yes, he was there when Gabriel told us."
"But he won't speak about it, right?  He won't break your confidence?"
Paul shrugged.  "Probably not; I mean, it's not something I'd want broadcast to the world."
"Then, if you don't tell Karen, I will.  It isn't fair on Adam otherwise."
"Dianne…" he protested in a whine.  "Karen can't keep a secret to save her life."
"Don't be stupid; of course she can."  She got to her feet and looked down at him.  "When I've seen Karen, I'm going to see Michael."
"Are you mad at me?"
"I will be, if you don't tell Karen."
"I love you, Di."
"I know."  She bit her lip.  "If you want me to forgive you, I expect I will, in time.  Although I don't think it's something I have any reason to 'forgive' you for.  I'm not an idiot, Paul; nor, I hope, as unreasonable and possessive as Karen can be.  I've always accepted that men will be men when it comes to sex – and if something's on offer, they won't refuse it.  The poor bastards are wired that way, they tell me." 
He started to protest, but she waved an imperious hand to silence him, and continued, "Human nature doesn't change much over the millennia, so I suppose it'd be unreasonable of me to expect you to be any different.  However, I don't want to talk about it now."
"Dianne…"   He couldn't remember ever seeing her so angry, but she was good at disguising it: her face had set in a blank expression and her voice taken on a clipped tone that suppressed the emotion in it.   She met his gaze with apparent equanimity.  He surrendered.  "I'll go and find Karen; you go and see Mike, if Fawn'll let you.  Tell him I sent you; he'll understand."
"Fawn knows?"
He nodded.  "Impossible to fool him, he knows more about me than I do."  She turned to leave.  "See you later?" he prompted hopefully. 
  "It's a small base when you come to think about it; so there is every possibility that you will." 
As the door closed behind her, Scarlet cursed himself, long and hard. 

While everything was sweetness and light between Blue and Symphony – something for which their fellow officers were profoundly grateful – it was noticeable that Rhapsody's good humour was of the brittle variety that could shatter at any moment, while Scarlet stomped around the Officers' Lounge like a bear with a sore head.  
Under the circumstances, most people were rather grateful when a Mysteron threat took their minds off their problems and gave everyone something else to worry about for a day or two.

When Captain Blue walked into the Lounge, he was in a good mood, even though he was sporting an impressive bruise on his left cheek and had his left arm in a sling. 
"Hey, so you finally escaped from Stalag Von Fawn?" Ochre called, waving a hand in welcome.  "Welcome back, buddy.  What news from the medical front?"
Blue didn't answer immediately; he was struggling to make himself a cup of coffee with one hand until Captain Grey got up and did it for him, carrying it back to the nearest table.
"News is good, Ochre.  Scarlet's on the mend, getting fractious and eating like the proverbial horse.  Fawn's holding out for another 48 hours of incarceration, but I think Scarlet will make a break for it before then."
Melody Angel looked up from her magazine and asked, "Has Rhapsody been to see him?"
Blue hesitated and his answer was cautious even by his standards.  "Not that I'm aware; but then I was sedated myself for a time, while Fawn reset my collar bone."
"It isn't like Di to mope about.  What's upset her?" Ochre asked Blue.
Before he'd had a chance to formulate a reply, the door opened and Symphony bounced in.
"Hi, Adam!  They told me you were out and about again!  My shift finished five minutes ago, so I came straight up to see how you're doing."  She leant over the back of the couch and was about to kiss his cheek, but shied away seeing the bruise.  "Ooh, that looks painful."
"I'll live, nothing's broken," Blue answered, pleased that her boisterous entrance negated his need to reply to Ochre. 
Ochre grinned.  "Yeah, you get two boyfriends for the price of one today, Symph."
She looked questioningly at him.  "What're you on about, Oak?"
"You get Black and Blue," Ochre teased. 
Everyone groaned, but there was laughter in the air. 
Symphony threw a cushion at him, grinning.  "That'd be fine, if I had a boyfriend…"   This time, laughter erupted from everyone, with even Blue chuckling as she came and sat beside him.  "If you've nothing better to do, Captain, maybe you'd like to help me celebrate my birthday?  I'm twenty-one – again - today," she said to him. 
"Happy Birthday, Symphony," Blue said.  "I'm sure I can find time to help you celebrate."
"Are they talking in code?" Ochre asked Grey, as he stood and prepared to go on duty. 
"Quite possibly," his friend agreed.
"Hey, Nolie, how about you and me 'celebrate' sometime?" Ochre called. 
"In your dreams, Fraser," she replied, but not unkindly; they were close friends and banter between them came as naturally as breathing.  She closed her magazine and stood as well.  "If the cop's on duty now, how about you buying me lunch, Brad?"
"My pleasure." Grey stood as well and escorted Melody to the door in the wake of Ochre.  He paused as he waited to get through the door.  "Behave, you two," he called and left, grinning.
"Cheek," Symphony said, and turned to Blue.  "Are you okay, Sky?"
"I'm fine; but Paul isn't.  Is Di still mad at him?"
Symphony squirmed.  "I'm not sure.  She likes Mikey – we both do - and yet… I know I would've been devastated if you'd been his father, and, for all that Dianne keeps her feelings under wraps, I think she is upset."
Blue sighed.  "You know, when I discovered Paul was the father of Cadenza's sons, it made me uncomfortable; especially as he kept saying she was a kind of me, so I do understand what Dianne's thinking… but, it's no big deal really.  It's just one of those things."
"That's a man talking!  Of course it is more than 'just one of those things'. And, if it isn't – it ought to be!"
"It was a different reality, Karen, a whole different world."
"And that's supposed to make his betrayal of her okay, is it?"  She shook her head.  "Whatever you felt about it, you can never understand how a woman feels, Sky; not even if Cadenza was your real twin sister and was standing here with us.  Di has such faith in him.  I know I make a song and dance about things – as you tell me – but I'm not the only woman on this base who has built her hopes of future happiness on one man.  I'm lucky: I have you; Dianne has a man who will always be expected to put her second in his life.  For him to have any kind of relationship with another woman – especially to have kids with her when he's got cold feet about having a family with Di - is a real kick in the teeth!"
  "I realise that and so does Paul, I'm sure of it.  It wasn't something he set out to do.  He was as surprised as anyone to discover he had twin sons."
"And he'd have gone through his life never mentioning that he'd humped Eva Svenson if this hadn't happened - wouldn't he?  Well?  Maybe if he'd told her before he had to…?"
  "That was never going to happen.   The truth of it is that he needs Dianne."
"Yes, but has he told her that?  Some men tend to forget women aren't mind readers and that we have terrible short term memories when it comes to declarations of affection…"
He sighed.  "Okay, I admit it: I love you… satisfied?"
"Are you sure the romance gene wasn't bred out of your family?"
He chuckled and kissed her lips gently.  "We sold it to the devil for the ability to make money."
"You were short-changed then."
"I thought we were talking about Paul and Dianne?"
"Yes, we were, before you got side-tracked into telling me how much you love me, you mad, passionate fool, you…."  She kissed him back and sighed happily.  "I think it is time for me to have a chat with her-"
"Is that wise?"
She raised an arched eyebrow at him.  "Are you implying I might not be able to help sort this out?  I'm not as dumb as I pretend, you know?"
"I know; if you were as dumb as you pretend, I'd-a-been outa here a long time ago."
She punched his good arm playfully.  "But you love me really," she said, winking.
"I adore you, and you know it, so don't play cute with me, Älskling.  Just go easy with Dianne, huh?  We don't want to make things worse."
"O ye, of little faith…  Mind you, I could do with some more inspiration…" He laughed and kissed her again.  "And some of what you sold your romantic gene for…"

"Happy birthday, Karen."  Dianne handed her friend a small, ornately wrapped present.  "I meant to give it to you earlier."
"Thanks, that's really kind of you!  I'll open it later, Di.  Are you free right now?  Good, I'm buying."
"Buying what?"
"Tea, coffee, cake, ice cream, chocolate – whatever you like."
"You come into some money, all of a sudden?" Rhapsody teased.  Symphony was notorious for always being short of cash. 
"It's my birthday and guess who didn't have time to buy me anything?  So, I have cash from Mr Svenson.  As an earnest of better things to come… he says."
"He spoils you!"
"Yeah; ain't I a lucky girl? Come on, let's go before the technicians come on their break and pinch all the cream cakes…"
Rhapsody laughed and followed her friend to the canteen, where Symphony chose a large cream cake and a cappuccino; Rhapsody followed suit and they found an empty table by one of the small windows.   They giggled and toasted each other with their coffees, biting into the gooey cakes with guilty pleasure. 
After a few mouthfuls, Symphony said:
"How's Paul?"
Rhapsody looked a little embarrassed.  "I thought the daily bulletin said he was okay and recovering."
"Well, sure it did, but I thought you'd have been to see him."
Rhapsody shook her head.  "I've been too busy."
"Too busy to visit Paul?  Since when?"
"I'm not speaking to him at the moment," Rhapsody announced.  She saw the exaggerated surprise on her friend's face and added, "You ought to know all about not speaking to someone."
"I only don't speak to… someone, if he's done something to upset me," Symphony said. 
"Well, Paul's upset me."
Symphony licked cream off her fingers, stared at the ceiling for a moment with an air of intense thought and then said: "I seem to remember a conversation that went something like this: 'how would you feel if you discovered Paul had children?  I'd be cross that he didn't tell me about them, but I know he loves me and one day I hope that my children will be his.'"
"Well, I was wrong.  He did tell me and I am cross."
"Why?"
"He slept with another woman while he was engaged to me! Don't tell me you'd let Adam off if he did that, because I won't believe you."
"I wouldn't dream of telling you that.  But then I'm not supposed to be the reasonable one."
"Huh."
"Di, we're both sensible women, right?"  Rhapsody rolled her eyes.  "We're intelligent, right?" An emphatic nod.  "And we know that most men – bless their little cotton socks – are about as capable of eternal fidelity as a fish is of riding a bicycle, right?"
"We could hope they'd evolved into something at least capable of restraint," Rhapsody muttered. 
"My guess is Cadenza's an intelligent woman – she's a sort of Svenson, after all – and, just in case you've never met Blue's sister, that probably means she is tall, blonde, sexy and shaped like… this." She waved an outline with both hands.  "So, there she is, a long way from home and possibly destined never to see her loved ones again, or able to stay anywhere long enough to find new loves.  She meets a guy: a handsome, charming guy, with the deepest of sapphire-blue eyes – am I right? – and he's in the same predicament, missing the love of his life.  They hit it off.  He thinks she's 'one of the guys' and she thinks he's cute – and who wouldn't?   A little companionship, mutual admiration and comfort turns into something… a bit more physical.  That's human nature, right?"
Rhapsody glowered. 
"Right?" Symphony insisted.  Reluctantly, her friend nodded. "Right. So, you should be pleased Paul's human enough not to be capable of restraint."
Rhapsody snorted with amusement.  "That is about the most illogical piece of logical thought I've ever heard."
"Makes sense though, doesn't it?"
"In another universe it might."
"They were in another universe," Symphony reminded her.  "Look, I'm the last person to consider Paul doesn't deserve to suffer for playing away from home, but I also think he deserves a second chance.   Second chances are a whole lot of fun… believe me."  She winked.  "Besides, he loves you and you know it because you love him.  Don't argue with me, Di; you're walking round like the end of the world is nigh and that's not like you.   I know what I'd do, if I were you."
"You are not me and Adam isn't Paul.  You two play your mind games to suit yourselves, but I thought Paul and I had no secrets from each other."
"Secrets?  Oh, Adam has his secrets – by the bucketful - and so do I.  Secrets are what keeps a relationship interesting."
"I don't happen to think so."
"Neither did I, once upon a time – well, I thought my secrets were exempt but that Adam ought to reveal all… in more ways than one.  Mind you, I don't think I would like a… blow-by-blow account of his past 'amours'…  There is only so much jealousy my system can tolerate."
"It's okay for you," Rhapsody protested.  "You know he wouldn't look at another woman.  I thought Paul was the same, and now – this."
Symphony thought for a moment and said, "You two are far too concerned with appearances.  You pussy-foot about making sure no one guesses how much you'd like to be tearing the clothes off each other and wearing out some bed-springs.  Adam wouldn't look at another woman because he knows that'd be the end of him causing any wear and tear on my bedsprings… for a very long time."
Rhapsody chuckled.  "Poor guy, you have him right where you want him, don't you?"
"Not exactly, but I will do very shortly.   I'm off to find him and do a little celebrating… just the two of us.  We haven't done any celebrating since before Christmas."  She leant back in the chair and stretched, languorously: a perfect example of a happy and healthy young woman.  "I don't expect Fawn will let Paul do any celebrating until he's out of Sick Bay, but you could always drop by and give him a rain check."
 "You have the broadest vocabulary for innuendo of any woman I've ever met."
 Symphony grinned.  "Why, thanks, Di," she said.  "Give my love to Paul, when you drop by, won't you?"
"Oh… go and celebrate!"

Michael Turner's recovery was rapid, but it still took a few months before Fawn declared the youth totally fit and capable of leaving his care.  During his stay, the senior personnel, the only people let into any part of the secret about the youngster's origins, brought him up to date with the history and current affairs in the world he was now to call home.   They found him a quick study, quiet, a little reserved, but with a dry wit when he grew to know them. 
For himself, Michael was still most relaxed in Captain Blue's company, and, like his brother before him, he grew fond of Symphony Angel who treated him like an indulged younger brother.  Captain Scarlet accepted this with resignation and spent what time he could spare from a schedule that quickly became busy with duties and assignments, getting to know his son. 
Rhapsody's anger hadn't lasted long and with Symphony she undertook many of the so-called 'adaptation' briefings the colonel arranged for Michael.  No one knew details of the identity being created for him, but they tutored him in British and American culture and ironed out some of the differences between his home world and his new world.  In doing so, they learned about Cadenza's life and the constraints her Spectrum operated under, which gave them both a better understanding of the alternative reality the captains had experienced and – in Rhapsody's case especially - a new measure of acceptance. 
It was the week before Easter when the colonel summoned his elite officers to an early morning meeting and announced that Michael would be leaving Cloudbase to spend Easter in his new country of residence and begin the process of melting into the general populace. 
"Who'll look after him, sir?" Symphony asked. 
"He will be handed over to local social workers by the security service; but that won't last for long.  His application has been accepted by a respected university and he will have an interview to start there in September.  I don't foresee any problems."
He glanced around the table and could see the difficulties certain of his officers were having suppressing their questions, but he did not volunteer any further information. 
"It just remains for me to tell you that Michael Turner will leave Cloudbase at 1100 hours today, so I'd advise any of you that wish to, to make your farewells."
"So soon?" Scarlet murmured, dismayed. 
"He's been here since Christmas, Captain.  The USS are ready to set him up in his new identity, he is now well enough to leave us, and Cloudbase is a military facility, not a convalescence home," White replied.    "There is no reason for him to remain here any longer."
"Yes, sir," Scarlet replied unhappily.  He had been expecting this day for some weeks, but it didn't make the announcement any less of a shock. 
Colonel White was not as unsympathetic as his pronouncements made him sound, but he was only too aware that the ties between Michael and Spectrum had to be severed completely, in order for the scheme to be a success and allow the youngster the freedom and anonymity he craved.  
 "I will just remind you, although I am certain you're all well aware, that no one is to attempt to discover the new identity of Michael Turner once he leaves Cloudbase.  There's no point you asking him about it either, he won't be told the details until he's left here.  The time between now and his starting college will be used by the USS to help him become familiar with his new life history.  Michael knows he is about to leave and has asked me, on his behalf, to formally thank you all for your kindness and your help over the past, difficult months.  I want that minuted, Lieutenant Green, along with my commendation to all of you who have helped the young man adapt to this dimension."
"Thank you, sir," the seven voices around the table chorused.
When the colonel closed the meeting, Scarlet gathered his papers with some deliberation, thinking over what he wanted to do between now and 1100 hours.   Suddenly there hardly seemed enough time. 
He found himself included in the crowd of people heading for the Officers' Lounge, where Mike spent a lot of his time.  As they expected, he was there as they all walked in and he greeted them with a shy smile. 
Symphony flew to his side. "We've heard that you're to leave us!  That's so exciting for you!" she cried, hugging him. 
"I'm a little nervous," he admitted, as Captains Grey, Magenta and Ochre shook his hand and wished him well.
"You'll do fine," Ochre reassured him.  "I don't doubt it."
After a few more minutes, Magenta managed tactfully to coax Ochre and Grey out of the Lounge and give the quartet most closely involved with Mike time to be with him. 
"It's hard to know what to say," Symphony said, voicing everyone's inner thoughts.  "I mean, we can't ask you where you're going and all that, but we'd like to know – well, I would.  I guess I'm just incredibly nosy, though?"
"Not at all," Blue interjected.  "We'd all like to know, but for this to work we can't be told.  The colonel's ordered us not to try to find out; but you need to know that wherever you end up, Michael, and whatever you do, you know where we are and if we can help – we will.  I think I speak for all four of us when I say that?"
"Yes, of course," Scarlet agreed, and trying to reassure himself as much as Michael, he added,  "But I'm sure Mike won't need to ask for our help – he's going to be fine."
"Of course he is," Rhapsody said, putting an arm around the youngster's shoulders.  "He's a talented chap and I'm sure he'll succeed at anything he undertakes."
"I can't thank you all enough," Michael said, blushing slightly.  "It's been… difficult to get used to… to the way things are now, but without all of you, I'd have found it much, much harder."
"You've coped very well," Rhapsody assured him.  "You'll fit in without any problem, wherever you go."
"I'm sure it'll be hard getting used to not being on Cloudbase, but I'm looking forward to it.  I want to spend some time travelling, if I can, seeing all the places I've only ever read or heard about, and just being one of the crowd."
"Sounds like a fine ambition," Blue said, smiling.  "I envy you the pleasure of discovering all the wonderful places there are."
Having hit on a nicely neutral topic of conversation they spent some time discussing their favourite places and before they knew it, Colonel White came into the Lounge with an unknown man dressed in a dark suit. 
Everyone stood up.
"At ease," the colonel said.  "Michael, this is Major Opal, of Spectrum Intelligence.  He has come to escort you to your rendezvous with the USS operatives who will be responsible for your safety and teaching you all about your new identity."
"Hello, sir," Michael said politely.
Opal gave a friendly smile and said, "We'll have to leave pretty sharply to make the rendezvous; are you ready to go, Michael?"
"Yes sir.  All my gear – such as it is - was taken down to the hangar decks earlier. "
"Oh," Symphony whined excitedly and threw her arms around him.  "Take care, Mikey, and all the very best with everything!"
Rhapsody hugged and kissed him too, and the two women stood aside as he turned to the captains. 
Blue stepped forward and shook his hand formally and Scarlet did the same, placing a hand on the youngster's shoulder. 
"All the best, Mike," he said.  "I hope the future brings you everything you hope for."
"Thank you, Captain."  He hesitated, looked intently at Scarlet and then said, "Thank you for everything… Paul."
Scarlet smiled and patted his shoulder affectionately.  "Take care of yourself."
Michael turned to leave; he saw Opal smiling and the colonel opening the door from the Lounge.   He took two steps, hesitated and then suddenly panicked, turning to throw himself into Blue's startled embrace. 
"It's okay, Michael," the American reassured him.  "Everything will be fine." He hugged the boy, and added astutely, "Your mom would be proud of you."
Michael looked up at him, doubt in his eyes.  "Would she?  How can you be so sure?"
"Because I am proud of you.  Think about it, Michael: your father wanted you to have this chance, and I have no doubt that he knew – as I do – that Eva would want it to.  She's lost one son to the Mysterons; I'm sure she'd do anything necessary to save the other."
"She'll never know…"
"Don't be so sure," Blue replied.  "Stranger things have happened.  Four years ago we never thought we'd see her again."
Michael thought for a moment.  "I guess you're right… Adam."
Blue grinned at this first tentative use of his Christian name.  "Hey - you know I'm right.  Now, off you go; you can't keep the colonel waiting.  There's a whole lifetime of new experiences waiting for you… you don't want to be late."
Michael gave a shaky smile and turned to walk from the room again.  He clasped Scarlet's hand as he passed by and received a heartening squeeze in response. 
As the door closed behind the trio, the four friends avoided looking at each other and stood in silence for a while. 
"You think he'll be all right?" Scarlet asked eventually.
"Damn sure he will," Blue said firmly.  He looked at Scarlet and saw him blinking rapidly as if to hold back tears.   He knew how much Paul would hate to realise any one had noticed, so he gave a mischievous smile, adding, "If he's a little bit you and little bit me, Paul – how could he fail to be the best there is… sugar?"  
Scarlet looked at him with such an astonished expression that Blue averted his face to hide his snigger of amusement.  Scarlet watched him until his need to laugh grew too extreme and he started to chuckle too. 
"You know, you're right," he said.  "Come on, heartface, I'll buy you a cup of coffee and then we'll spend a little quality one-to-one time down at the poolside… I just love those new Speedos you got…" 
"For just one cup of coffee?" Blue quavered.  "What kind of a boy do you take me for?"
"One of the best, heartface," Scarlet replied.
 Watched by the open-mouthed Angels, Blue flicked back his long fringe and they both tossed back their heads, sucked in their cheeks and then, camping it up like troopers, they minced arm-in-arm out of the Officers' Lounge. 
As the door closed behind them Symphony muttered, "Crazy guys…"
"Stark, staring bonkers," Rhapsody agreed. 
They looked at each other and giggled. 
"I'm so glad they're back to normal," Symphony said.
"Yes; if anything those two ever do can be called normal," said Rhapsody. "Come on, if we hurry, we'll be in time for Paul to buy us coffee too."
"And to spend quality time at the pool… now that's what I call worth celebrating…"
Laughing, the two young women hurried to the door and raced after the two men.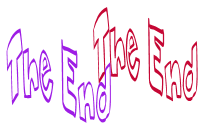 Author's notes
Wikipedia's definition of a tesseract:  A tesseract is used to imply the existence of a physical fourth dimension to the inhabitants of the third and as shorthand for something strange or unknown. And that's why I chose it as my title for this story.  I suppose in a way, it is a follow on from my story 'Synchronicity' although I have tried not to make it necessary to have read that story to follow this. 
The idea for creating the possibility for future repercussions (in the form of unexpected offspring) for Scarlet, following his adventures in alternative dimensions, was something that occurred to me while I was writing 'Sync', but it did not make the final cut, for various reasons.  Having decided that it might be fun to resurrect it, I hope it seems plausible.  This story began life as a 'short' birthday story last year (2008) and rapidly grew into something that I wasn't going to be able to finish in time.  It missed the 2008 Christmas deadline too, and has almost missed this one!  But, with the encouragement of my Beta-reader, the estimable Hazel Köhler, I managed to get it finished.  As usual, I owe Hazel a big vote of thanks for her help, tolerance and plot advice.   Any mistakes that you find lurking in the text are my fault. 
A further vote of thanks is due to Chris Bishop, the colonel of the Spectrum HQ website.  Chris devotes so much of her time to helping other authors and preparing stories for the site that she is in danger of neglecting her own writing!  While I appreciate all she does, such as the totally brilliant title artwork for this story, I also appreciate her marvellous stories – long may they continue to appear to entertain and delight us all! 
I will just add that while I, personally, do not subscribe to the idea that there is a 'gay' relationship between Scarlet and Blue, I am not averse to using the idea or allowing my characters to acknowledge that the possibility exists.   Indeed, it something I have made occasional reference to from as far back as my second Christmas Challenge story in December 2002.   In my writing, the two men have a close - even intense - relationship, built on what they've been through together and Scarlet's reliance on Blue's emotional support at times.  However, for my characters that stops well short of a physical or sexual relationship.  I know that others will disagree with me and I do not dispute their right to do so.   It is the myriad diversity of the characters in the Anderverse that keeps the fan fiction fresh and interesting. 
The rights to Captain Scarlet and the Mysterons ™ belong to Carlton Media, as far as I know.  They do not belong to me.  The credit for creating the characters from the show belongs to Gerry and Sylvia Anderson, the production team of the original shows and the writers of the annuals and comic books.   All the other characters in this story are mine.  The story is written with all due acknowledgement and respect to the rights of the creators and owners. 
I hope you enjoyed reading it. 
Marion Woods
January 2010
OTHER STORIES FROM MARION WOODS
Any comments? Send an E-MAIL to the SPECTRUM HEADQUARTERS site