<![if !vml]>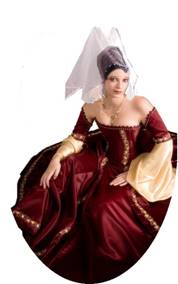 <![endif]> Katherine Svenson sighed and adjusted the veil of her hennin. Perched beside her on the bed, Seymour finished fastening the multicoloured, pointed-toes shoes and grinned at her reflection in the mirror opposite.
"Do you think anyone will have missed us?" he asked.
She shook her head. "These parties are always such a scrum, you can never find anyone. We'll say we went for a walk in the garden, if we're asked – which we won't be."
"I don't want to upset your folks, Kitty."
She turned to him, her face earnest with sincerity. "Sweetheart, nobody will mind. My mom adores you, my brothers like you, and my father… well, you can leave him to me – but he's never approved of any man I've dated since I was in junior high – but he likes you. Of course, I like you better than any of them…" She leant across and kissed him. "And I do what I want, with who I want, when I want. You'll have to get used to that, when we're married."
"And you'll have to get used to my being away … on base, I mean. Are you sure you're happy with that?"
"I know you're committed to your job, and I respect you for it. Although I know it isn't in the same league as saving the world, we all have a similar sort of concept of duty towards SvenCorp, even Adz - although he tries to pretend he doesn't care what happens - even he keeps an eye on things. So, I do understand. I can't say I like the thought of you putting yourself in danger-"
"Don't worry, that rarely happens. I'm stuck on Cloudbase more often than not, sending the other officers out to do the dangerous stuff," he complained.
"It's still dangerous. But… well, when you come home on leave, we'll have plenty to catch up on, won't we?" She kissed him again, long and passionately, until they toppled backwards onto the bed.
Reluctantly, he let her go and said, "Look at the time, Kitty. We'd better get back downstairs…"
"Yeah… we can always start again, later."
Giggling, they walked from the room hand in hand and down the few stairs that led to the main landing. Suddenly, Seymour pressed her back against the wall and put a finger to his lips. Kate peered over his shoulder and saw a man she didn't know, in the uniform of the WAAF officer, leaving one of the spare rooms with a young waitress following close behind.
"Cheek," she said huffily. "This isn't a bordello…"
"Do you know him?" he asked, and she shook her head. "I do; that's General Octavian Averescu – the commander of the Central European forces. What's he doing here?"
Kate thought for a moment. "The name rings a bell; I think that's the man General Perran asked Dad to talk to, about some arms deal he wanted financing. I guess Dad invited him to the party; it's no big deal, Seymour – except that he thinks it's okay to hump some trollop in our guest rooms…"
"I wonder if the others know he's here…"
"You think my father would countenance that? It's disgusting; he's gotta be old enough to be her father anyway!"
Seymour frowned and explained, "I meant Adam and Karen. He's met us all on base. He can identify us."
"I take it that's not good?"
He shook his head. "No."
"Then we'd better tell Adz and Kay then. Come on, I'm going to tell Dad as well... My guess is he'll rack up the commission charges…." She raced down the stairs with Seymour hurrying after her.
<![if !supportEmptyParas]> <![endif]>
"Adam!" John Svenson called peremptorily across the hallway, as he saw his son walking towards the kitchen.
Adam turned and looked enquiringly at his father and General Perran, who were both looking flustered. "Dad?"
"Have you see General Averescu?"
Adam shook his head. "Why? Have you lost him?" He tried to keep the question light-hearted, although he felt a jolt of concern at the news that the general was loose amongst the partygoers and Seymour still didn't know he was here.
Perran replied, sounding exasperated. "His aide went to the bathroom and when he came back the general had vanished. We've been searching for a considerable time."
"I haven't seen him; mind you, it's such a crush in there, that's not surprising. I was looking for Kate and Seymour and couldn't find them either."
"I saw them in the marquee, talking to your mother, a few minutes ago," John said.
"You did? Thanks, I'll go and catch them."
But he didn't have to leave as he saw his sister and friend hurrying across the walkway back to the house. Seymour raised a hand to attract his attention and Kate shouted for her father.
"I've been looking for you," Adam said, as they drew close.
"We've been looking for you and Dad," Kate responded. "You'll never guess who we saw creeping out of one of the bedrooms with a waitress in tow?"
"I'm not interested in gossip," John said disapprovingly – although whether of his daughter or the actions of his unnamed guest wasn't clear.
"You'll be interested in this. Tell them, Seymour."
Griffiths looked at Adam rather than John Svenson. "General Octavian Averescu," he said, with a significant expression.
"Averescu? But we're looking for him? The randy old man," Perran chuckled. "No wonder we couldn't find him, John."
"Where did he go?" John asked his daughter.
"He went towards the garage. Probably needed a cigarette…" she said, disgust colouring her voice and expression.
"I'll go and bring him back," Adam said, and set off at a brisk pace across the hall and out towards the integral garages.
He hadn't gone far before he met Hewitt, the family's chauffeur/ handyman, walking towards the house.
"Mr Adam," Hewitt acknowledged the younger man with a brief smile. "Have you seen your father?"
"He's in the hall. Hewitt, has anyone come into the garages recently, apart from new arrivals, I mean?"
Hewitt nodded, looking surprised. "Yes; I was on the way to tell your father. A military gentleman just came down and commandeered a car. I had to give him Miss Kate's; it was the easiest one to get out. He said he had permission to use one and would return it, but it was an emergency."
"He said that in English?"
"Sure, I don't speak anything else, sir."
"And General Averescu doesn't speak any English…" Adam's voice faded to a whisper, "unless of course, it wasn't Averescu…" he added to himself.
He described the general and Hewitt agreed that it was the same man who had taken the car.
"Did I do wrong, sir?" he asked.
"No – don't worry. Thanks, Hewitt, I'll tell my father."
He turned and ran back to the hallway. His father and General Perran were still there talking to Kate and Seymour, who had been joined by Karen. All of them looked around when he ran through the door.
"Did you find him?" Seymour called.
"No; Hewitt says he's taken Kate's car-"
"He's what?" Kate exploded.
"Averescu demanded a car, so Hewitt gave him yours," he explained to her, much as one would to a child. "You'll get it back later, I don't doubt."
"Taken it where?" Karen snapped.
"Not sure. Maybe we'll find a clue back in the room."
"A clue to what?" Karen asked as she followed him up the stairs, with Seymour close behind them.
"How come Averescu could speak perfect English to Hewitt." There was a harshness in his voice that spoke volumes to her.
"You don't say…" she responded genially, all the time fearing the worst.
They reached the door of the room Seymour indicated, and Adam gently pushed Karen to one side. She grimaced in protest, but realised this was not the time or situation to complain. Adam drew a gun from the inside pocket of his jacket, but it was not the kind Clyde Barrow would have used; it was his Spectrum-issue pistol, with the pale-blue hand guard. She was only mildly surprised that he was carrying it, but then she knew Spectrum's elite captains were rarely – if ever – truly off duty.
She gazed at him as he slowly pushed the door open wary of what might lurk within, and was suddenly aware of how much she loved him and how often he went unselfishly into almost inconceivable danger, so that to him it was almost a commonplace. It was clear to her that he expected to find proof that Averescu had been Mysteronised, and that proof would be his dead body, because, in order to recreate a person or a thing as their weapon against humanity in this chilling war of nerves, their alien adversaries had to destroy the originals first. Somehow the realisation that they would strike anywhere, at any time, made that all the more disheartening. These few days had been intended as a break from the punishing schedule of duty rotas and missions, and yet even here, in the heart of Adam's family home, the Mysterons pursued them.
She shivered and waited impatiently for the men to come out.
Seymour was the first to emerge, looking slightly green around the gills and definitely shocked.
"He's dead?" she asked rhetorically.
He nodded. "It wasn't and easy death from the look of it either. There's…there's a lot of blood."
She laid a hand on his arm, but looked towards the partly open door and said, "Poor Adam; what an awful thing to happen in your home."
Seymour nodded. "He's sent me to call the police. There will have to be a murder enquiry, even though Averescu's been Mysteronised." He pressed his hands against his eyes. "I was really looking forward to a quiet Christmas with Kate and just forgetting about all of this."
"Hey, we're Spectrum, remember? If the Mysterons won't stop, neither can we," she said kindly.
"I'm okay, Symphony."
She gave him a gentle smile at the way he has slipped back into using her operational codename. "Go dial 911…"
He nodded and slipped away down the stairs to where John, Kate and their guest were waiting, they were all looking up to the first landing as if they sensed something dreadful had happened.
Karen watched him go and then pushed open the door to the bedroom. She could smell the blood and in a full length wardrobe mirror saw Adam looking down at something that had obviously slipped off the bed onto the floor.
He heard her footstep and turned.
"No! No, älskling; stay where you are."
"I'm not squeamish-"
"The fewer people who contaminate the murder scene the better," he snapped angrily.
Abashed, she nodded. "Are you okay?"
He came to her then, holding out his hand. She slipped hers into his grasp and allowed him to raise it to his lips.
"As long as you're here with me, I'm fine," he murmured, as if she was the one needing comfort.
"We need to track Averescu," she said, hating to drag him back to his responsibilities.
Instantly, his mood changed and he said briskly, "My communicator's in my room. Would you fetch it for me? I'll stay here for now – make sure no one enters." They could hear the hubbub as John and General Perran expostulated with Seymour and tried to come upstairs.
She nodded and he followed her out of the room, closing the door and planting his considerable bulk in front of it.
No one was getting into that room unless he chose to let them in.
<![if !supportEmptyParas]> <![endif]>
By the time the wail of police sirens was heard, Karen was guarding the bedroom door and Adam was reporting the situation to Colonel White, on Cloudbase.
"You say Averescu was seen leaving the murder scene and your house after he must've been dead?"
"Yes, sir. Hewitt was quite sure who it was and I can identify the body in the bedroom; I saw quite a lot of General Averescu when he came to Cloudbase."
"Did he recognise you?"
"I'm not sure. If he did, neither he nor his Mysteronised self made any use of the knowledge. Whatever the Mysterons have planned for Averescu, it doesn't seem to involve me – or my family," he added thankfully.
"There's been no threat, so far," the colonel said thoughtfully, "but I agree, events would suggest the Mysterons are planning something." He paused and, in a rare expression of empathy, added, "I'm glad you – and your family – are not the targets, Adam."
"So am I, sir; all the more because we have Symphony and her mother staying with us, not to mention Lieutenant Green."
He thought he heard the colonel give a sharp intake of breath. The relationship between Amanda Wainwright and Charles Gray – the colonel's real name – was not one that was widely known, but not long ago Symphony and Captain Blue had become involved in a Mysteron threat to an important company in Symphony's home town, and, while recovering from wounds received on the mission, the two agents had discovered that the colonel was staying with Amanda Wainwright for the Christmas holiday.
Since then the two men had grown closer, united by their love for the two women, although neither expected, or allowed, it to affect their working relationship.
"I will alert Spectrum Boston, order them to provide you with an SSC, and set up road blocks. We need to apprehend Averescu before he does any damage. Keep me informed, Captain Blue."
"S.I.G, Colonel."
Lieutenant Green was struggling to keep General Perran from rushing after the waitress, the prime candidate for having committed the murder. Of course, he was well aware that the woman was also likely to be a Mysteron, and, if she hadn't already left the house, she'd be indifferent to whatever fate befell her, but he couldn't explain that to Perran without revealing who he and Adam Svenson worked for. Therefore, he was relieved to see Captain Blue striding down the stairs, closely followed by Symphony Angel.
"What the hell?" Perran gasped. "This is no time to be indulging in fancy-dress games, Svenson!"
Green suppressed his desire to grin, and waited to see what his superior officer would say to this accusation.
<![if !vml]>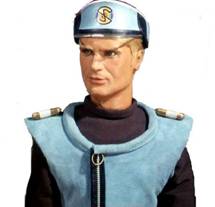 <![endif]>Captain Blue saluted the general and said, "I'm afraid it's for real, General."
"You are a Spectrum colour-captain?"
"And I'm sure I don't need to remind you, that information is classified," Blue said smoothly.
"Don't you go anywhere without that blessed uniform?" John Svenson growled.
Blue ignored him. "I'm leaving now, before the police arrive. Seymour and Kate will show them the body and explain what they saw. They can question Hewitt for themselves; they will anyway whether they'd questioned me or not."
"Where are you going?" Kate asked.
"After Averescu – or at least, after the man pretending to be Averescu."
"Of course," Perran exclaimed, "the man Hewitt saw must've been an impostor!"
"Exactly. Now tell me quickly, General, why were you and Averescu really in Boston?"
"To arrange finance for an arms deal with an American company. We'd thought to finance it with a credit guarantee from a Central European consortium, but at the last minute the company here baulked and demanded we use what they called 'a good, solid American company' they could trust. Xenophobes – you'd think they'd never heard of the World Government."
"Naturally, you came to SvenCorp," John said, preening slightly.
"Naturally."
"Were you going on to collect the weapons?" Blue asked.
"Eh, no…Captain. We'd need a fleet of trucks for that."
"Right; I'm trying to think what was so special about Averescu that … anyone would want to kill him and impersonate him. That suggests he has access to something they want."
At that moment the epaulettes on Blue's shoulders flashed a deep red and the microphone attached to his cap swung down to his mouth.
"Go ahead, Lieutenant Claret."
"Captain Blue, one of the terrestrial units reports that the car being driven by General Averescu has crashed a roadblock on the road to the Atlantic airport."
"The airport?"
"Yes, sir."
"Thank you, Lieutenant." The microphone swung back to the Perspex peak of the cap as the connection closed.
"Averescu's heading for Atlantic airport," Blue relayed.
"I'll come with you," Green said.
"No, Lieutenant; someone has to deal with the police, ensure that matters don't go too far and prevent undue alarm amongst the other guests. Besides, I want you to find the general's aide, and the waitress, if she's still alive; see if you can get any information concerning the intended target. There must be some purpose behind Averescu's death; we have a chance to be one step ahead of the Mysterons – for once – I don't want to waste it."
"S.I.G., Captain Blue."
"Besides, I need you here keeping the lid on things," Blue added with a significant glance towards their companions and then across at the crowded marquee. Green nodded.
"I'll suit up," he said.
"No need," Blue said quickly. "My father and General Perran already know you're a member of Spectrum, there's no need to broadcast the fact." He turned to the general. "Lieutenant Green will be the field commander in my absence; you will take your lead from him."
"The Mysterons? You really think they're behind this?" Perran asked, shocked. "I've heard they're utterly ruthless."
"They are, believe me. I'm sure they've killed General Averescu in the furtherance of some plot they're hatching. Ruthless they may be, but it is always with a purpose in mind," Blue explained.
Perran nodded. "Okay, Captain Blue; you have my full co-operation."
"Thank you, sir," Blue said politely, although he knew the general really had no option; he could, if he'd chosen to, have pulled rank. Spectrum's colour-captains had the authority to take command of any mission, regardless of the rank of the senior officer present. However, it was always easier to work with other service personnel rather than against them, and he wasn't entirely sure Lieutenant Green had the self-confidence to contradict a far more experienced officer.
"I'll go with you," Karen said.
"Don't be silly," Perran snapped at her. "He's trailing a murdering terrorist, not taking a moonlight drive, missy. You better stay here and keep out of the way."
John Svenson's eyebrows rocketed upwards and Kate looked at him in amused alarm as he finished speaking.
"Thank you for your concern, General Perran; but Spectrum agents don't operate without backup," she said, disarmingly.
"What?" Perran looked from one to the other in bewilderment.
Blue smiled. "S.I.G., Symphony Angel. Are you armed?"
She drew her pistol from her skirt pocket. "And dangerous," she replied.
"Never knew you when you weren't," he teased, as they started towards the front door.
<![if !supportEmptyParas]> <![endif]>
Police cars were blocking the drive, and the officers had already fanned out across the grounds when they walked out. An officer approached them.
"Where do you think you're going? No one is allowed to leave until we say so."
"I'm Captain Blue of Spectrum-"
<![if !vml]>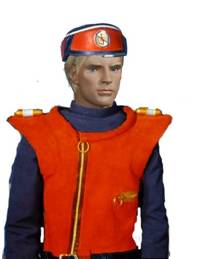 <![endif]>"And I'm Mickey Mouse. Go back in the house, sir, before we run you in for obstructing the police."
"I'm telling you -"
"- And I'm telling you! Get inside or you'll end up in as much trouble as your friend…"
The man gestured to where a young man stood hemmed in by two uniformed officers. He was dressed in a bright-orange tunic that mimicked the Spectrum uniform Captain Blue wore. He raised a hand and waved, bemused by this turn of events.
"Davy…." Blue groaned.
"So that was the costume he was being so cagey about," Karen murmured. "Boy, is he in trouble…"
"I don't have time for this," Blue snarled. "I'm a Spectrum officer in lawful pursuit of a suspect; you have no right prevent me leaving."
The policeman lashed out as Blue tried to move past him, catching the taller man a glancing blow on his chin. Instinctively, Blue retaliated, decking the officer with a fierce right hook.
The sound of guns being cocked echoed around the garden. Symphony laid a hand on his arm.
"Be careful, they're not joking, Adam."
The policeman got to his feet, rubbing his jaw. "You rich men all think you're above the law. Book 'em – all of 'em. Assaulting an officer."
Blue was about to protest, but he suddenly closed his mouth and swallowed his temper, even allowing one officer to grab his arm and lead him towards a police car. David was already inside the car at the end of the drive when Karen was pushed in, a hand pressing her head down to avoid the doorframe. There was obviously not enough room for Blue in the back as well as the other two, so the officer shoved him into the front seat and turned to get his cuffs out.
Blue's fierce kick flung the door open, knocking the man down. Slamming the door behind him, Blue slithered across to the driving seat and slipped the Spectrum pass key into the ignition, locking the doors internally a second later. The engine purred into life and he drove the car away at speed.
"Wow," David breathed.
"Assaulting two officers, avoiding arrest and stealing a police vehicle," Symphony said, amusement obvious in her voice. "You're determined to spend Christmas in jail, aren't you, Sky?"
"Could you think of another way to get out of there?"
She shook her head and squirmed around to look through the back window. "They're not following."
"They'll expect to pick us up easily enough." Blue brought the car to an abrupt stop, having driven around the block. "Everyone out." He released the locks.
Across the broad street was an SSC and Symphony ran towards it. David made to follow her, but his brother's arm stopped him.
"You - go home! I will deal with you later."
"Go home to be arrested?"
"If that's what happens."
"And interrogated about where you both are?" David asked innocently. "I'd have to tell them the truth, Adz; my principles wouldn't let me lie to the police."
Blue rolled his eyes. "You don't have any principles, Davy! But, I don't have time for this; just get in the car. Don't touch anything and keep your mouth shut. If I speak to you, I want you to do what I tell you, without question or hesitation. Okay?"
David beamed. "S.I.G."
"Shut up and move it!"
<![if !supportEmptyParas]> <![endif]>
En route to the airport, Lieutenant Claret called through.
"We've done a thorough search on Averescu's records."   His deep voice reverberated around the car.  "It seems that he, and General de Losada, the Commander of the South American forces, are currently the reserve holders of the nuclear keys."
"What are they?" David hissed. 
Symphony frowned at him, placing her finger against her lips.  Claret was continuing:
"Colonel White has ordered Captain Magenta to fly immediately to Santiago to ascertain the welfare of General de Losada.  There has been no report of any attack on the general, but that's no certainty."
"Averescu might be the danger," Blue responded, swerving through the traffic at speed.
"The colonel concurs with that analysis, Captain Blue.  Captain Scarlet is on emergency standby to intercept Averescu, if he takes off from the airport."
"S.I.G., Claret.  Thanks."  Blue closed the link.  "I'd say we have the reason the Mysterons killed Averescu," he said to Symphony. 
"Yes, it sounds the most plausible reason," she replied.  Then she turned to David and explained: "The codes for the launching of the World Government's tactical nuclear strike are held by the World President and the Vice-President.   As reserves, in case anything happened to those two, there is a random rotation of the codes amongst the senior staff of the World Government's military forces.   Averescu and de Losada are the current holders of the codes – the 'nuclear keys', as they're called."
"So anyone getting the codes from Averescu could use them to launch missiles?"
"Yes, if they convinced de Losada to use his codes too."
"And that's what's happening?" David asked excitedly.
"That's what we think may be happening," Symphony agreed.  "No one has any proof that's what's happening."
"And these terrorists killed the Averescu guy at our house?"  Symphony nodded.  "Then I want to help capture the killer," David announced.
"You will stay in the car and leave it to the people trained to deal with such situations," his brother said sternly, as he swung the car onto the slip road to the airport. 
"I never get to do anything exciting," David protested, slumping back in the car seat. 
"Look, David, this isn't one of your fantasy games.  Averescu is really dead; there really is a distinct possibility that a world-wide catastrophe could be imminent if we don't prevent it.  I can't keep one eye on you and do my job effectively as well.  Please, stay put!" Captain Blue pleaded.
Grumpily, David Svenson nodded, and with that his brother had to be satisfied.
<![if !supportEmptyParas]> <![endif]>
They'd made such good time that they reached the airport only a minute or so after General Averescu's car broke through the security barriers.   Captain Blue slowed long enough for a captain of the security guards to jump aboard and give directions, so that they could follow Averescu.   The general seemed to be heading for the hangars where the WAAF kept its transport planes. 
"He won't get far in one of those," Symphony said. "They're built for capacity, not speed.  Even if he gets it airborne, he's a sitting duck for any fighter plane.  We could alert Cloudbase and the Angels would pick him off with ease."
"That's true, ma'am," said the corporal, "but yesterday we took delivery of five Viper jets – for the air show we give at New Year."
"Great," Blue remarked and opened a channel to Cloudbase to report the situation.
"Launch all Angels!" Colonel White's order was clearly audible over the car radio.  "And tell Captain Scarlet to get airborne too.  I don't want Averescu leaving American airspace."
"S.I.G," Claret said, and gave the orders.
"Look!" David exclaimed, "There is a fighter coming out of the hangar over there!"
He was right; on the far side of the hangar a camouflaged Viper Jet was emerging and taxiing to the nearby VTOL pad. 
"The Angels won't get here in time!" Symphony cried.  "Let me out, Adam; I'm taking one of the other planes up – Averescu won't escape."
"No – wait," Blue replied, but as he slowed to negotiate a barrier, she jumped from the car and sprinted towards the hangar. 
He cursed; making an emergency stop to watch her racing away.   "Why doesn't she ever listen?" he asked rhetorically, but without hesitation he switched off the engine and removed the ignition key. 
"Stay here!" he ordered David, then sprang from the car and followed Symphony, calling for her to wait.  He had almost caught her up when she slipped into the hangar and slammed the door behind her.  He stopped to yank it open and a moment later followed her inside. 
David heaved a deep sigh and turned to the security guard with a rueful smile.  "I wish I could help," he said.
"You under his orders, sir?" the guard asked.
David smiled at the realisation that the man thought he was also a Spectrum officer.  "Yes," he admitted.
"I don't know how you do it," the guard continued.  "We only hear the rumours and the basic reports down here, but it seems to me you colour-captains – well, you never rest!  Seems like every week we're hearing that Captain Scarlet and Captain Blue, or one of the others, sir, have been rushing about and escaped certain death by the skin of their teeth.  My buddy over at airport security, he says it's better than 'Captain Starlight'!"
David gave a thoughtful nod.  "Yeah, it is, much better – because this is for real."
"You know those two…?"
David nodded.  "The woman's Symphony Angel and the man… the man is Captain Blue." And he's MY brother… he added to himself. 
"You're kidding me?  That's the Captain Blue?"
"The one and only."
"Jeez… I'd like to shake his hand."
"I hope you'll get the chance," David said sadly.  "Anything could happen up there…"
The man, some years older than his companion and a kind-hearted soul, responded with a nod.  "It's Christmas, sir.  All sorts of miracles happen at Christmas.  Maybe we should just wish hard."
"Can't hurt," David agreed.  "But somehow, I have a feeling that we should pin our faith on those two, and their colleagues from Cloudbase."
The airport technicians cried out in alarm as Symphony clambered into the cockpit of the closest Viper.   She realised they could have no idea who she was, because she was still dressed in her costume, and so she slammed the cockpit closed, in case they tried to stop her.
She strapped herself into the Viper and checked the control panels – the gauges all showed green – the plane was ready to fly.  She fired the engines and started to turn towards the open hangar door and the runways beyond.
When Captain Blue was spotted, he was immediately surrounded by technicians and was forced to try and calm the situation.  Eventually, he convinced them that they were both Spectrum agents, and they allowed him access to another of the remaining planes.
Symphony was ready to take off when she saw another plane, piloted by Captain Blue, begin to taxi out of the hangar.   Her intercom crackled into life, but before he could say anything she took off and banked right to follow the distant lights of the Viper jet Averescu had appropriated.  Moments later she saw Blue's plane do the same. 
"Angel Leader to Blue Angel," she said over the plane's communication link.  "I'm setting course, one-five-three-mark-two, and speed ultimate."
"Copy that, Angel Leader. We'll keep the suspect under observation, but don't get too close.  You already know how dangerous Mysteron-controlled planes can be.  Oh, and we'll talk about what an excellent idea it is to listen to someone else's good advice later."
She grinned, but then sighed out a long breath as she brought her concentration to focus on the chase.  It was odd to be flying without wearing her Angel uniform; she was cut off from Cloudbase, for a start.   Her only communication link with the world beyond her cockpit was through to the sister plane being flown by Captain Blue.  Other than that and the fact that there were a few subtle differences in the dashboard layout, which took a few moments to familiarise herself with, the overall experience was familiar and trouble-free. 
She heard Blue's voice over the intercom, as he relayed their expected flight paths to Atlantic Flight Control and smiled. 
There flies an ex-WAS pilot; some habits die hard...
"Angel Leader, I have a fix on Averescu's position, from the Control Tower."
"Go ahead, Blue Angel."  She listened to the co-ordinates and made the necessary course and speed adjustments, noting with approval how his plane's movements mirrored hers. 
"I've informed Cloudbase.  They report the Angel Pack and Captain Scarlet in SPJ05 should rendezvous with us in about fifteen minutes."
"S.I.G, Blue Angel." She squinted into the distance.  "Target sighted – two o'clock, high."
"S.I.G., Cloudbase reports Colonel White wants us to observe and leave any engagement to the Angel Pack," Blue's voice relayed over the intercom.
"I am part of the Angel Pack!"
"These planes are not armed, Symphony."
"What?"
"Weapon status is negative… we're unarmed."
"Then so is Averescu's plane," she reasoned.
"Yes, but we can't force him down without putting our own planes in jeopardy."
"Huh; I bet I could."
"Symphony, don't be silly."
She heard the slight groan he gave as he realised, the moment he'd said it, that it was the wrong thing to say.
She increased speed, pulling ahead of his plane, and banked across his flight path, striking out after their quarry. 
Blue's plane dropped back slightly to avoid a collision and he yelled: "Symphony Angel, abort mission!  Symphony!  Karen, please…"
She killed the intercom and carried on, glancing behind her after a few minutes, oddly comforted to see that he was following her, matching her speed and trajectory.
It took her some time to catch Averescu's plane as the Mysteron presumably saw their approach and increased his own speed.  Finally, she came up alongside it and flew slightly ahead of him so that he couldn't avoid seeing her, then she slowed, closing the gap between them, until the distance between their wing tips was the minimum for safety. 
She could see Blue's jet keeping pace behind them.
She opened the communication link, so that all Vipers were now in communication.  "Angel Leader to General Averescu; you are making an unauthorised flight.  You must return to Atlantic Airport and land.  There you will be arrested and questioned over the murder of… which took place this evening at the Svenson house in Boston."
There was no reply.
"Angel Leader to Averescu; do you copy, over?"
In response the renegade jet moved across further away, widening the gap between them and increasing speed slightly.
Symphony adjusted her own course to compensate and made several feints towards the plane, swerving away just before it was too late, but Averescu didn't react; his plane continued on its way without deviation.  Captain Blue's plane maintained its distance, merely monitoring the course.   She bit her lip, wondering what to do.
"Angel Leader; Angel pack approaching," Blue's voice said over the plane's communication system, quickly followed by Melody's voice.  She realised that he'd probably been working to patch the links through and felt a surge of guilt; once again she'd struck out on her own without giving due consideration to the team effort. 
I'm still having trouble balancing using my initiative with military discipline.  The unwelcome thought went through her mind as she listened to what Melody was saying:
"Angel Leader to Symphony Angel and Captain Blue, please withdraw; we will deal with this now."
Yet, if I can pull this off, they'll have to admit I was right to follow Averescu…  She replied resolutely, "Negative, Melody Angel; I am shadowing suspect's course.  Stand by."
A new voice crackled across the intercom.  "Scarlet One to Symphony Angel, stand down.  That is a direct order from the mission field commander.  Stand down, Symphony."
She swivelled round and saw the distinctive lights of an SPJ approaching them at maximum speed from below. 
"Symphony to Scarlet One, I'm dealing with it."
"This is a direct order, Symphony.  Stand down!"  Captain Scarlet's voice bristled with angry authority. 
"Blue to Symphony, let's get these birds back to their nests…"
Frowning angrily with frustration, she made another feint at Averescu's plane.  "One more for good measure," she murmured, noticing that Angel One had moved to the other wing of the Mysteron's plane and Angel Two was flying above them, while Angel Three was coming up behind her to take her place. 
"We have him surrounded, Symphony," Melody reported. "You can withdraw now."
Scarlet's SPJ was changing course to take a line in front of the Mysteron plane and close down Averescu's options.  Once he was in place the plane would effectively be hemmed in.
At least I've played my part… she thought, realising with a sigh that there was nothing she could do any more.    "Symphony Angel to Scarlet One, Blue Angel and Angel Pack, I'm standing down."
There was a chorus of acknowledging 'SIG's.
Symphony was plotting the careful manoeuvre necessary to leave her station without colliding with Angel Three, when suddenly Averescu's plane swerved.  The wings of the two Vipers collided and there was a spurt of flame. 
"Are you okay, Symphony?  Please acknowledge," Harmony, astern of her in Angel Three, asked.
"I'm unhurt, but the planes are wedged together… the wings seem to have become jammed.  I'm going to try and break away."
"Be careful, or you could rip the wing off…" Blue cautioned.
"S.I.G."
Symphony tried to move away as the plane started to buck and shudder.  Averescu was continuing to push sideways, forcing her out of the formation, and she could not stop him.
"This is Spectrum Angel Leader to General Averescu, disengage plane immediately or we will be forced to shoot."
"I've lost control," Symphony announced.  "The plane is not responding."
"Prepare to eject, Symphony Angel," Captain Scarlet's voice ordered.
"There is no need for that yet; let me see what I can do first, Captain Scarlet."
She tried repeatedly to break free of the general's plane, but without success.  The others watched as Averescu gained as much height as he could, dragging Symphony's plane along with him.  Scarlet backed away, unwilling to engage with the enemy while Symphony was still aboard her stricken jet.
Then, with the engines at full throttle, Averescu threw his plane into a steep dive.   The strain caused part of the damaged wing to snap off from Symphony's plane and another burst of flame erupted along the wing and across the fuselage as fuel sprayed out from the damaged engines.  Averescu's plane ripped free, and continued diving, gaining speed.
Over the jumble of voices on the intercom, she picked out Blue's voice sounding agitated.
"Karen, are you okay?"
"I'm fine; but I've got no engine control, I think the system's been damaged by the collision."
"At least you aren't being pulled down with him; he's going to ditch in the ocean…"  Scarlet said.
"We can't stop that – and I'm more concerned about Symphony's plane.  We have to find a way to get it down safely…" As Blue spoke there was a small explosion at the rear of the Viper and flames started to lick along the fuselage; he drew a sharp breath.  "Too late – it's on fire! Eject now, Symphony. Everyone move away, give her room!"
Immediately the Angel Interceptors spread out from the burning Viper and there was clear sky around her.
 "S.I.G.," she said, "Ejecting now," and she pulled back the levers that released the ejector seat.  Nothing happened.  She tried again several times as the voices over the intercom all urged her to get a move on.  "Ejector malfunction!  It's not working…" she exclaimed.
"Are you sure?"  Melody asked, in the commonly dismissive tone of someone not wishing to believe bad news.
"I've been flying planes long enough to recognise when an ejector seat isn't working," Symphony snapped back, her normal calm demeanour starting to fray slightly at this unexpected turn of events.
"Then you'll have to use the parachute, won't you?" Melody said, calmly enough. 
"There's a parachute?" Symphony asked hopefully. 
"There's no parachute stored aboard a Viper jet," Blue's voice cut in.  "The pilot's regulation flight gear includes an emergency parachute."
 "Then what am I going to do?" Symphony asked.
There was - what seemed to her – a long, deathly silence until Blue responded:
"You're going to have to jump for it."
"I'm not dressed for free-falling and I don't have a parachute," she reminded him, the first signs of fear cracking her voice. "And now you want me to jump out of this plane?"
Blue sounded remarkably calm as he replied, "Remember you told me how the colonel set you a similar exercise in your training days?  You jumped out of an Angel Jet without a parachute – and you're still very much alive, aren't you?  Well, that's what we'll do now."
"Angel Leader to Captain Blue," Melody interjected, "on that occasion I threw Symphony a spare parachute we'd taken on board for the exercise.  Angel Jets don't have spare parachutes, any more than Viper Jets do, and the SPJ isn't manoeuvrable enough to get that close."
"I know; but she must get out of that plane, or she will die. It's either going to explode or ditch in the sea… "
"I'll die anyway if I jump," Symphony exclaimed.
"Not if I can help it," he reassured her vehemently.
 "What do you propose, Blue?" Scarlet asked brusquely; there wasn't time for a lengthy discussion and besides, he thought he could hear panic starting in Symphony's voice.
"I will bring my jet under her and she can catch on to the wing…"
"You're joking-" Symphony murmured. 
"Trust me, älskling; I won't let you fall…"
She looked out of the cockpit and knew she had no choice.  The plane was doomed.   "Okay… what do you want me to do?"
"Release the manual cockpit control," he replied, giving her concise instructions of how to locate and operate the emergency switch.   "Then release the seatbelt, climb onto the seat and out onto the wing, if you can - then jump as far away from the plane as you're able… I'll come from below and get as close as I can.  When you get onto the wing of my plane – there are maintenance hand grips along the leading edge. Hold tight and leave the rest to me."
Putting all of her faith in him, she obeyed.  With shaking hands she operated the manual control and the cockpit deadbolts blew open, taking her Bonnie Parker beret with it and whipping her hair across her face.   At the same moment the Angel jets switched on their powerful searchlights, pointing them at the stricken Viper.
They watched her scramble onto the seat; hampered by her tight mid-calf length skirt, it soon became apparent she wasn't going to be able to climb onto the wing. 
More importantly, Symphony realised that the skirt was too fitted to enable her to assume the free-fall position once she was out of the plane, so she slithered back into the seat and squirmed about to remove it – now was not the time to be unduly modest – and then she made another unsuccessful attempt to leave the cockpit.   Deciding that was too dangerous, and that there wasn't enough time to make a third attempt anyway,  she let go of her handhold, and stood precariously on the pilot's chair, before launching herself into the void.  
The wind speed hammered her backwards into the darkness beyond the Angels' searchlights, knocking the breath from her body.  She closed her eyes and struggled to manoeuvre into the correct freefall posture, trying to calm her fears by reminding herself how the girls had saved her life when the colonel had set the exercise – only this time she knew it was for real. 
Free from the slipstream of the Viper, she was able to concentrate on maintaining her position and trying to regulate her erratic breathing.
I have to trust Adam; he won't fail me, she thought.   Although she knew what he proposed to do was going to be difficult to achieve, she reassured herself that if anyone could do it – he could.
She opened her eyes and in the brilliant glare of the Angels' searchlights, saw his Viper jet steadily rising in vertical flight towards her, edging slowly forward as it tried to match her downward trajectory.  
Ahead of her the two twisted Vipers sped downwards in a race to meet the darkness of the freezing Atlantic waters, while above her the Angel jets circled, training their searchlights on the insignificant speck that was the falling Angel. 
After that, Symphony kept her eyes focused on Adam's plane – gauging its distance and preparing for the inevitable collision. 
Suddenly, sooner than she'd expected, the wing was beneath her, although a little too far forward.  She swung her legs round and tried to land feet first, making wild grabs for something to prevent her falling out of control, but her stockinged feet could get no purchase and slithered off the smooth surface.   The plane dipped away, dropping vertically, so she had chance to get into the freefall position again. 
Once she was stable, it rose towards her, slightly behind her this time, and then, as she got close, it started to fall away again, edging back and forth as she fell.  This phase of adjusting position lasted for agonising moments, and then – all of a sudden - she crashed onto the wing.  
Every atom of breath was knocked from her lungs and a razor-sharp pain made her cry out, even as she frantically grasped at the edge with all her strength, sobbing with relief as her fingers found the maintenance hand holds.   She bit into her bottom lip, as the agonising pain in her ribs made drawing any breath torture.  
The most dangerous part's over, she told herself, all I have to do now is hold on….
The plane went into a dizzying drop, as Blue continued to lose height.   He had already identified an emergency landing site and, flying low and as slowly as he could to reduce the wind drag, he changed course towards it. 
Symphony felt along the wing for a better handhold, and squirmed to get as secure a grip as possible, while Scarlet's SPJ came alongside, almost as if it was offering support.   Her chest hurt so much that she was afraid of blacking out, and her arms were feeling as if they'd been ripped out of the sockets while her fingers were getting numb.  She knew she couldn't hold on much longer.  
She closed her eyes and tried to shut out the pain. 
The Viper reached a strand of derelict waterfront, and hovered.   Changing to vertical landing, it descended slowly, almost inch by inch, landing with such precision it took Symphony a moment to realise all movement had stopped and the engines had cut out. 
She sobbed with relief.
The next thing she knew was the feel of two familiar strong arms surrounding her, lifting her gently from the wing and encircling her, as the man she loved held her close. 
"You stupid, impulsive, little cow," he murmured with infinite tenderness, "if you ever do anything this idiotic or scare me this much again, I will personally break your neck…"
She was already crying, half in shock and half in relief, and at those words she began to sob uncontrollably against his chest, while he stroked her hair and murmured far more conventional terms of endearment. 
"Is she okay?" Captain Scarlet asked, running over from where he'd landed his SPJ.   He'd brought a blanket from the SPJ's medical kit, and handed it to Blue so that he could wrap it around the less-than-suitably dressed Symphony. 
"I think so, but I won't be happy until Fawn's given her a once over – I did my best, but she hit the wing with some force.  I'm not sure she hasn't got some broken bones," Blue said, undisguised anguish in his voice.
"Hey," Scarlet said reassuringly, "she hit the wing with considerably less force than she'd have hit the ground.  That was superb flying, Adam.   If it helps you rationalise the risks you both took, I can tell you that both Vipers were blown to pieces when they hit the water; not even a Mysteron would have survived that.  Whatever Averescu was intending to do, and we'll never know for sure, he won't be doing it now.  I think we've foiled this threat before it even got off the ground, if you'll excuse the pun, and that was due to some quick thinking and smart work by you and Karen."
"Thanks, Paul," Blue murmured, gently squeezing her a little tighter.
"I'll contact Cloudbase and get Fawn ready to receive a patient who isn't me - for once!"
As she heard his footsteps moving away, Symphony drew a ragged breath and raised her tear-swollen eyes to her lover's fear-drained face. 
"How are you?" he asked.  "Are you okay?"
She sniffed and gave a brave little smile.  "As long as you're here with me, I'm fine," she quoted. 
He smiled - the most wonderful smile she'd ever seen – and gently bent down to touch his lips to hers.
"I intend for us to be together for a very long time," he reassured her.
<![if !supportEmptyParas]> <![endif]>