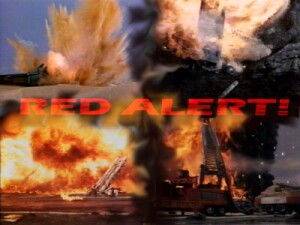 ESSAY
Previously
presented on the
RED ALERT!
website
Published on the
Spectrum Headquarters
website
with the gracious
permission of
Mike Adamson


GENDER ROLES IN SPECTRUM

Hi all,

Thunderbird 9 here with more thoughts on the Scarlet revamp...
WOMEN!
Women's issues were coming into focus in 1967, Gerry and Sylvia pushed the envelope with the Angels, they were the cream of the cream in those days. There again, the Supermarionation shows always did look ahead in that way, Venus, Marina & Atlanta, Tin-Tin and Her Ladyship were all female characters that stepped outside the mould in some way. Tin-Tin is a real Danger-Girl on the quiet — jet pilot, crewed TB3 in Sunprobe, she's into cross-country skiing, scuba diving, the works, she's Brain's laboratory assistant, is degree qualified — that's a major list of accomplishments for anyone. She was a very special character in 1964.
Women have achieved status in the intervening decades, however, and in the new Scarlet, I want to see FEMALE SPECTRUM CAPTAINS — and not ones with gag shades, like Captain Pink. I want to see them as equal, serving members of the organization, flying the planes, driving the vehicles, doing the job, boots and all (with or without heels, if you'll pardon that sexist remark, though a Spectrum uniform with heeled boots is a very racy image to conjure with!)
Why not, in this day and age? I'd call it a prerequisite, like female WASP sub crews would be, and female Space Patrol Colonels flying other ships of the XL line. I've often wondered how it would have been if Jeff Tracy had had five DAUGHTERS instead... There'd have been no show forty years ago, but now, well — it could happen! Hmmmm... Imagine casting the Thunder-girls!
FEMALE SPECTRUM CAPTAINS please — and in uniforms standardized with the men...
Cheers,

Thunderbird 9

5 October 02
READ OTHER TEXTS FROM THUNDERBIRD 9