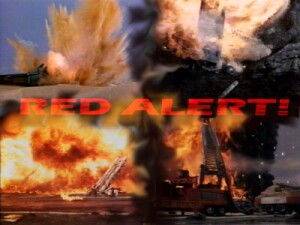 ESSAY
Previously
presented on the
RED ALERT!
website
Published on the
Spectrum Headquarters
website
with the gracious
permission of
Mike Adamson


THE 2001 CONNECTION

By Mike Adamson
In the mid-1960s Gerry Anderson's organisation was the most sophisticated and forward-moving producer of special effects, arguably, in the world.

The effects team for Star Trek, originated in 1964, was struggling with complex bluescreen process work, enormous models (Enterprise was built at various scales, one 11.2 feet long, see Sides (1996) for the mammoth reconditioning of this classic model; the largest was 14 feet), glass paintings and rotoscope to create comparitively minimal effects (huge for their day!), in fact in the very early planning days Paramount had budgeted on one new bluescreen process shot recorded per episode!I have no reference on this, but Whitfield (1968, p371) mentions 20 optical shots in an episode (being viewscreen, trasporter, phaserfire, ships and planets) as a fantastically heavy load that almst crippled the show. Compare this with the complex effects-based sequences Derrek Meddings was creating as early as Stingray and maturing in Thunderbirds, with episodes of the latter often exceeding 100 FX shots required. Perhaps the different approaches are not comparable, but the results tend to speak for themselves: in one the effects are a secondary (though crucial) supporting element in a live-action, usually closed-sets, drama, while in the other the effects sequences often comprise functional story units.

Thus it is not surprising that when in 1965 MGM commissioned the late Stanley Kubrick to produce a radical new science fiction film (then-working-titled Journey Beyond The Stars (Agel, 1970, p1)) the great director looked around for the most competent effects production unit in the world. Given that the project was mounted in the UK, using the Elstree and Shepperton stages (the first day of filming (December 29th, 1965) was on Shepperton H Stage, at the TMA-1 excavation, the same stage which just over a decade later was to host the Rebel fighter hanger for Star Wars and the Mothership exterior for Close Encouters,) there is also no surprise that Gerry Anderson was consulted early as a possible effects contracting source.
| | |
| --- | --- |
| <![if !vml]><![endif]> | <![if !vml]><![endif]> |
| <![if !vml]><![endif]> | <![if !vml]><![endif]> |
READ OTHER TEXTS FROM MIKE ADAMSON