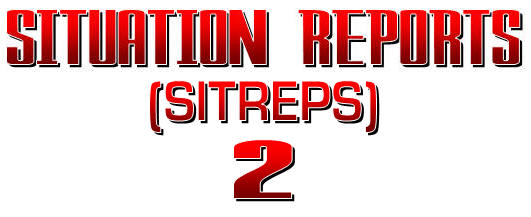 For the 'Captain Scarlet and The Mysterons' End Credits Challenge
By Keryn
The Swamp

You think this is serious? Actually I'm standing on an SPV!
Falling

I know I've forgotten something…but what?

Oh yes…the jetpack.
Cobra

Well there goes my idea of masquerading as a snake charmer. I don't think it likes me - and frankly I don't like it much either.
Car

That's it – I'm putting in a submission for Spectrum to get some crash test dummies.
Dynamite

There's something I really like about that colour…
Sharks

That reminds me, if I ever manage to get out of this I mustn't put off that dental checkup.
Spiked Room

Too bad I've only got retrometabolism. I could really do with being able to vanish into thin air right now
Falling Crates

So I'm not too hot at driving a forklift either…
Tank

I see Spectrum is still having a few problems with General Ward from the Frost Line Outer Space Defence System.
Fire

So this is the basement of Century 21 Productions special effects department. That explains all the big explosions. Damn - the Mysterons have got nothing on these guys.
T H E E N D
All characters created by Gerry And Sylvia Anderson for the TV series "Captain Scarlet and the Mysterons" Some events and characters Copyright © of all trademarks materials (Captain Scarlet & the Mysterons and all other series titles, all their characters, vehicles, crafts, etc.), owned by ITC/Polygram. Artwork by Ron Embleton. Information of the series are all been taken from copyright © materials (books, magazines, videos, TV medias, comics, etc) owned by ITC/Polygram/Carlton.
BACK TO FAN FICTION PAGE
BACK TO "FAN FICTION ARCHIVES" PAGE
Any comments? Send an E-MAIL to the SPECTRUM HEADQUARTERS site