<![if !vml]>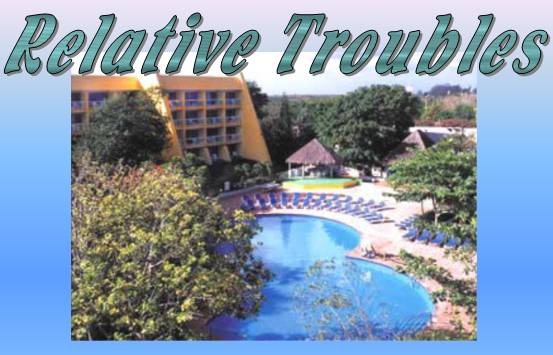 <![endif]>
<![if !supportEmptyParas]> <![endif]>

<![if !supportEmptyParas]> <![endif]>
<![if !supportEmptyParas]> <![endif]>
<![if !supportEmptyParas]> <![endif]>
Fae
<![if !supportEmptyParas]> <![endif]>
In his previous career, Rick Fraser had been a cop, and always had an excellent memory for names, faces and the like. But here he was a few years older, possibly wiser, frowning slightly as he tried to recall my name.
"You're not gonna believe this," I'd said, by way of an introduction. Far as I can recall he was the right side of forty and he should've recognised me.
"Fae," he said, hesitantly. "Fae Donaghue?"
I nodded and smiled, relieved that he remembered me; we'd only really met a few times, when he'd come to stay for a weekend with Pat. I'd always liked him, he's a fun guy, and bought me a drink even though I'm not going to be twenty one until next fall.
I sat down and tried not to feel awkward as he looked over the scratches on my exposed limbs; if it wasn't for those I'd probably look like any other girl in the resort.
"Jesus Christ, what happened to you?"
"I, uh, had a run in with a… prickly plant of some kind. Climbing down one of the trellises," I explained.
"Ah, the plot thickens," he replied. "You gonna explain why?"
I didn't need to strain to remember what had happened before I'd climbed down from the rooms.
<![if !supportEmptyParas]> <![endif]>
"Shut up!" The guy in the balaclava – although actually they were all wearing those, but this one was obviously the leader – marched past, toward the bed.
I held my breath, hoping he wouldn't notice me. Scolding myself for being so selfish, I decided my only possible atonement would be to seek help.
"What's going on?" a male voice, the New England drawl more pronounced with his drowsiness, came from the direction of the adjoining room.
"Who are you?"
"Michael Svenson," he said, unused to using his given name. Stepping into the room and taking in the scene, he added, "Look, this is absurd. Just let my Mom go, please. Take me if you insist, but let her go."
I bit my lip, watching as my best friend – Michael Svenson to the world, but 'Cal' to his family and to me – offered himself for such a sacrifice without any hesitation.
Cal might not have been a child genius, or as handsome or as charming, and as able to garner friends and lovers as effortlessly as his eldest brother, but in that moment there was no doubting he was as courageous and capable.
"We're taking both of you," the leader stated, giving no room for any discussion. "Now you can either go willing, or we'll have to be… persuasive."
"We'll co-operate."
'Just do it, please, keep quiet, do whatever they want. Then you won't get hurt, right? That's what they said in that survival book thingy Uncle Pat sent me. He figured it was for a laugh, we all did. But who's laughing now?' I bit my lip again, only just preventing the words from being spoken.
<![if !supportEmptyParas]> <![endif]>
"That was pretty much the last time I saw them," I concluded, gratefully sipping the iced soda water Rick's friend had brought over for me. She seemed nice, this friend; a petite Asian-type chick. I didn't know her name, didn't really know anyone from Uncle Pat's work; except Rick, because they're best friends as well as working partners. Oh, and Adam, of course, but he's Cal's brother so that's a kind of coincidence really.
"And they did not see you?" she asked, once we'd made our introductions. Apparently her name in Chan, which is a pretty name.
I shook my head. "Well, I don't think so, I was in the bathroom at the time. Guess if they had, well…" I shuddered at the thought.
She nodded, and rested her hand on my shoulder as a comfort. I was grateful for that, but didn't want to show it too much. They had enough to do without me coming over all 'damsel in distress'.
"So there's just the two of them, as hostages," Rick clarified, "and three kidnappers."
I nodded in response to both statements.
"You've no idea where they went?"
He sighed when I said no. Obviously they could be anywhere: in the resort, on the island… hell, they could be long gone from both by now.
I tried a show of optimism. The task might seem to be daunting, but these were professionals. Part of an elite team, and if Uncle Pat could trust them and their efficiency, then I would too.
<![if !supportEmptyParas]> <![endif]>
<![if !supportEmptyParas]> <![endif]>
Ochre
<![if !supportEmptyParas]> <![endif]>
About one of the first things you learn in this job is, if in doubt, just make like it happens all the time. I swear, we've been at it nearly three years now and I honestly couldn't tell you what had come from the training manuals, or what we'd figured out in the field. You like to think that with our collective pool of experience from our jobs before Spectrum that we'd get it right; but you can't anticipate everything.
Things like, oh, I don't know, getting ambushed by your best friend's niece telling you that her friend and his mother have been taken hostage. Which obviously only ever happens to me, while I'm happily sunning myself on a Mexican beach thinking about how great it is to finally get a break from work. I mean, is it really too unreasonable to have an uneventful vacation?
<![if !supportEmptyParas]> <![endif]>
They looked to me, both of them - Chan and Fae - under some strange illusions that I'd know what to do, seeing as I was the one who had most experience in something vaguely related to this kind of thing. I didn't have the heart to tell them that all the police psychology books in the world meant nothing in the face of a real life crisis. What good would that do to admit it, anyway?
<![if !supportEmptyParas]> <![endif]>
We'd gone to the Svensons' room by then. There's no point in risking upsetting the other guests – although they didn't seem interested in eavesdropping, all of them too wrapped up in their ultimately trivial pleasures. Which must be real nice for them; hopefully, I'll get to join them sometime.
<![if !supportEmptyParas]> <![endif]>
Jesus Christ, I've lived in apartments smaller than this place! Damn sight less fancy too. You're almost scared to breathe in case it messes up all the glass and chrome fittings. The décor is in a kind of hyper modern style with neutral colours; I've never quite seen the appeal of that. Too cold and impersonal, like you're permanently living in a style magazine; but hey, what do I know about interior decorating?
The kidnappers trashed the place good, which seems a bit pointless in practical terms, but I guess they gotta look like they mean business. Forced entry through the main door, somebody must have seen something. Well, hopefully, if they weren't all round the pool.
"Think we should go talk to the neighbours; find out if they know anything," I suggested.
Chan half-nodded, as she rifled through the papers on the table.
"They had booked to water-ski today," she said absently, then smiled at me. "I am sure this will be grounds to get the deposit back."
"I think you're right, Harmony." I laughed a little. She was one of those people that you just have to get to know; shy or something, though I don't really think there's anything shy about her really… Grey is kinda like that too.
<![if !supportEmptyParas]> <![endif]>
<![if !supportEmptyParas]> <![endif]>
Grey
<![if !supportEmptyParas]> <![endif]>
It was going to be one of those days.
I could sense it from the minute I walked into the control room that morning. Colonel White had only been gone a day of his leave; according to him it was strictly business, with perhaps some sightseeing. But judging by the way he was whistling as he boarded the passenger jet to London, it wouldn't have taken Ochre's detective skills to figure out there was some pleasure on his itinerary too. We didn't bother asking because he'd never answer. All he did say was not to disturb him unless the Mysterons came calling, or any equivalent international emergency.
So I strolled on in, sipping a coffee from the officers' mess – the organisation would probably grind to halt without caffeine - just as Captain Magenta was in the middle of taking a call through the video communications system. From his tone, I knew it was business.
He flashed me a huge grin of relief, and announced into the speaker,
"Yes, sir, he has just arrived. Certainly, sir. I will just put you through." Magenta flicked a switch. "Mr Bjorn Svenson, of Boston, Massachusetts, wishes to speak to you, as you're our acting commander, about a very urgent matter."
Blue's father… calling us.
I nodded to Magenta as I sat down at the control desk, bracing myself a little as I turned to face the screen.
"This is Captain Grey," I began, in as authoritive official tone as could be mustered considering my confusion. "How can we …"
"Well it's about time! I thought you were running a military base not a health spa," Svenson grumbled.
I couldn't help but smile; that sounded so like White.
"Yes, sir… how may we be of service?"
"It's about my wife and son… they've been kidnapped."
"Have you notified the police?"
"Yes, for all the good that will do. So now I am notifying you."
"Well, with all due respect, sir, this is police business. Spectrum is an anti-terrorist organisation, we're not really set up for these kind of incidents."
"I see."  He took a deep breath, and exhaled with care as a vent to his rapidly rising temper, glaring at me the whole time. "So sorry to have troubled you. I had just imagined that Spectrum would take care of its own, or perhaps be interetested in a potential terrorist plot. But obviously..."
"Wait, that isn't what I meant at all," I quickly put in, realising we were going to have to see this through.  "Spectrum will do its best to assist you… So, what happened?"
"I was contacted, by these kidnappers," Mr Svenson explained, as if I were a simpleton, "to be told they have my wife and youngest son. I was allowed to speak to them. They seem so… helpless."
For a moment his bravado seemed to fall away, and beneath it, I could see the anxious desperate husband and father that he was.
"I was supposed to fly out there this afternoon, to join them," he continued. "I just had to tie up some business at work, you know how it is."
"Where were they staying?"
"Golden Palms, it's a hotel resort, on Cozumel."
"I'm on it," Magenta muttered to me, tapping away at the computer. "Scarlet's still out of it, but do you want me to get Blue?"
I nodded, then turned back to Mr Svenson.
"Sir, I understand you are very 'high-ranking' in the financial world, other than what you've told me, could there be reasons why someone would do this? Have you received any threats? Can you think of a rival with a  big enough grudge, a disgruntled high-power client? Or anyone else with a particular motive?"
"I deal with so many contracts, most of the competitors could, I suppose, have the means and motivation… but I honestly cannot think of anything. Which is why I had imagined terrorists may be involved, that they may use this to get to Adam."
"I see.  I'll send our best men out to Cozumel right away to invesigate… We'll do all we can."
 "Yes, I'm sure you will," Svenson said with utmost sincerity. "Is there anything I can do?"
"The best thing would be to stay put, for now at least. We will keep you informed via Spectrum Headquarters, Boston."
"Thank you, Captain," he said, with palpable relief. "Oh, there's something else. My son, Michael, was travelling with a friend of his, but I don't know what's happened to her."
"We'll look into that too. What's her name?"
"Fae Donaghue."
<![if !supportEmptyParas]> <![endif]>
<![if !supportEmptyParas]> <![endif]>
Harmony
<![if !supportEmptyParas]> <![endif]>
I watched as Captain Ochre stalked around the room, looking for any sort of clue. It did not seem to be progressing very well, but I could not say that. He would probably not have listened; captains get very single-minded on missions.
"Is it OK if I go change?" Fae asked, probably just wanting to do something. "I must look a sight; won't be long."
"Yeah, sure, just don't destroy any evidence," Ochre answered. 
"I won't, don't worry."
I was getting to like Fae a lot; she is much like Captain Magenta, in looks and character. She is only young but I can see she was trying to be brave and capable.
Just then, the maid came in; she seemed very shaken up by what had happened and how the room now looked. Then she started to try and clean up.
<![if !supportEmptyParas]> <![endif]>
"No," Ochre demanded.
"No?"
"The evidence cannot be disturbed," he explained slowly, the way Americans do with people foreign to them. They think we must not understand at all, even though we may learn English for a long time. "No tampering with the evidence, understand?"
She stared in utter incomprehension, uttering only 'que?'
Then Fae stepped forward, giving a moment's thought then uttering something in Spanish. The maid nodded, now understanding.
"Ask her if she saw anything," Ochre instructed. I could tell he was not happy; frustrated at not being able to communicate himself, but relieved someone else could. I think he may have learnt some Spanish in school, but that was many years ago and he has enough trouble with English sometimes.
Fae obliged, and listened carefully to the answers.
"She says, there were three men, with a lady and boy…"
"We know that already," Ochre grumbled.
"She was cleaning the corridor, hid in a room, but could see a little. They went in the elevator, up… If they had moved she would know, having been here all the time." Fae thought for a moment. "It must be in one of the penthouse suites, that's the only thing above here, and that elevator is the only way up."
"That's great." Ochre grinned. "Gracia, señorita," he said to the maid, and thus probably exhausted his entire non-food related Spanish vocabulary.
<![if !supportEmptyParas]> <![endif]>
"We should call base," I said, once Fae had gone off to freshen up.
Ochre concurred. "If they don't know about this then they need to, and if they do, then we'll need to receive instructions."
"What are we to do about Fae?" I asked.
"Let her tag along with us. She's shaken but, if I was in her position, I'd want to be doing something productive."
"But she is civilian, and only young. It would not be right."
"You just heard her with the maid. We could use that kinda help, until the others get here, anyway. At least if she sticks around we can keep an eye on her, not risk her going alone and pulling any amateur heroics. That and she's a witness; they might go after her. Especially if this is a plot against Spectrum by attacking their families. Pat would kill me if anything happened to her."
I agreed, but was still reluctant.
<![if !supportEmptyParas]> <![endif]>
"Told you I wouldn't be long."
She wore a plain fitted T-shirt, cropped jeans and tennis shoes. It was still a tourist outfit but rather more practical than a dress. She is a bright girl.
"So, what now?" Fae asked. "Oh, and just for the record, I'm in this for the long haul. Cal is my best friend, I can't bail on him. Besides, this is sort of fun, sure beats sunbathing at least."
I couldn't help but smile.
"Said like a true Spectrum agent," Ochre noted. "In that case, do you promise to act with honour, commitment, teamwork, courage and integrity? Thus upholding the ethos of Spectrum?"
"I promise."
"And just so you're clear," Ochre added, "no heroics, you stay close, keep quiet, and go to the safehouse as soon as we get back up. OK?"
She was not too impressed by that, but agreed to it.  
<![if !supportEmptyParas]> <![endif]>
<![if !supportEmptyParas]> <![endif]>
Blue
<![if !supportEmptyParas]> <![endif]>
It's quite ironic, don't you think? That my father can spend so long hating and virtually disowning me for taking a job with Spectrum, and then, the minute he gets in a situation he can't handle, we're the first ones he calls.
I get to the control room and Magenta gives me a sympathetic look; he knows what's going on, can understand a bit of how I feel. But now wasn't the time for pity. We had a job to do.
We sat around the colonel's desk for a briefing - of sorts. Magenta and I, with Green at the comm. desk, doing his shift.
"Should we call Colonel White?" Green asked.
"I don't think so," Grey answered. "He's meeting with the World President, then going on vacation. So he said not to disturb him unless it was the Mysterons or something really big, which at this stage it isn't. So I don't see that we can't handle this situation ourselves. Anyway, we don't even know where he is right now, so by the time he gets back, it might be over."
We all agreed on that.
"Have Research come up with any leads?" Magenta asked.
"Not yet," Green answered. "We'll have to give them some more time, sir."
"Aren't Ochre and Harmony vacationing in Cozumel?" I asked, remembering Ochre mentioning the fact at least a couple of dozen times. I had thought he made a curious travelling companion for her, and vice versa, but it's not my business to pry.
"They'd better be; if they lied on the leave application ..." Grey was interrupted by an insistent bleeping from his desk. "Go ahead, Captain Ochre."
"We have a hostage situation to report," he declared, via the videophone.
"Don't tell me," Grey replied. "Mrs Bjorn Svenson and her youngest son have been kidnapped from their hotel room at the Golden Palms Resort, Cozumel. Around 10:30 AM local time. Suspects and motives so far unknown."
"Wow …  Are you psychic or something?"
"No, it's just that Mr Svenson has been telling that to everyone in Spectrum who'll listen," Magenta answered. "Oh, and you missed your standard check in, again. So go on, wow me with an excuse."
"I got all distracted by the situation at hand."
"And a pretty girl, no doubt."
"Oh, yeah, that too… It was actually in a professional capacity though, she's our main witness right now.  Gentlemen, allow me to introduce Ms Donaghue, who will be liaising with us during this assignment." Ochre ushered her forward. "Fae, come say hi."
At the sight of his niece alive and well, Magenta's relief was palpable. Then he glanced at me and sobered, presumably feeling guilty that my family were still in danger.
"Umm, hi," Fae said. "I guess we're awaiting further instruction, please advise."
To his credit, Grey didn't even blink. He did however give Ochre a pointed glare whilst addressing him.
"The local SHQ should be sending someone to you…"
"Captain Morado," Lieutenant Green chipped in.
"Thank you, Lieutenant. Yes, Morado should be with you shortly. He's been briefed, so you'll be pretty much ready to go. Until then, I guess, you'll have to sit tight."
Ochre nodded.  "Spectrum is Green."
<![if !supportEmptyParas]> <![endif]>
<![if !supportEmptyParas]> <![endif]>
Magenta
<![if !supportEmptyParas]> <![endif]>
There is an unofficial mantra in Spectrum; that as diverse a group of people as we are, no matter what happens, somebody will have shared your experiences.
For Grey and Ochre, they've both lived in Chicago, and like comparing notes on delis there.
For me and Blue, well, in a weird way, we go way back.
<![if !supportEmptyParas]> <![endif]>
We had been born a literal ocean apart, and metaphorically, that distance has always remained. He's the dashing son of parents so wealthy that they can cater to almost any feasible whim, raised in a nice neighbourhood - or five -  a model law-abiding citizen... whilst I – well, er... I wasn't. Yet somehow our lives did overlap for a time, before Spectrum obviously.
<![if !supportEmptyParas]> <![endif]>
Once upon a time, my family was quite normal; mother (Mam), father (Pappy), son (me, obviously), daughter (my sister Caitlin). It's fair to say we lived in a pretty rough neighbourhood; but we got by, kept our heads down, did well in school. Of course, when things are going so well, something has to come like a wrecking ball to ruin it; and suprisingly, for once it wasn't actually my doing.
As my great-grandparents would say: Caitlin 'got herself into trouble', assisted in this endeavour by a rather obnoxious, acne-ridden specimen named Aidan. Father-to-be naturally high-tailed it when the responsiblity started to loom large, leaving my, at the time, teenage sister in the lurch. As a solution, my mother proposed that she and Pa should adopt the baby. It was win-win all around; Cait could see her child grow without the burden of single motherhood weighing on her ambitions, and Ma could, in a round about way, have the third child she had always wanted. Pa and I just went along with it, desperate for the anguish to lift.
The baby made her way into the world on a crisp late November morning. My sister had chosen a name, but quickly decided it wouldn't suit the baby, and as acknowledgement of my support over those last months, allowed me the honour. So I named her Fae Roisin, for the tiny, otherworldly creatures she so vividly reminded me of, and a nod to our Gaelic heritage.
From the outset, Fae showed a marked preference for me, so I was naturally chosen to be her Godfather. Not sure how good a job I made of raising her to be a Catholic, but I have taught her to be skilled with computers (she's almost as good as me). We always seemed to be happy and come out of life's trials unscathed; as if we were each other's talisman.
<![if !supportEmptyParas]> <![endif]>
The Svensons came on the scene around the time when Fae was thirteen and had won a scholarship to 'genius school' (her term for it, always punctuated with an eye roll). I had offered to pay for her to go myself, but for some reason my parents had a problem with the whole 'sending grandkid to school on mob money' aspect of that suggestion. Fae, however, took a certain perverse delight in that fact, and, probably in the interest of trying to keep up with all the other Mafia kids, allowed a certain degree of embellishment regarding my actual contribution.
She was always a grade ahead for her age. My parents had decided that starting school aged six, instead of five, was an oversight of the American education system and they set to personally rectify it - with a doctored birth certificate.
<![if !supportEmptyParas]> <![endif]>
"How was school?"
"It was OK, I met a boy today," Fae told me, from inside my refrigerator, a pistachio-green hunk, handsome as it was absurd. I'm not that different from 'real people'; I lust after these luxury items too. The only difference is, while they had to make do with the paltry white things, I paid cash for the top of the range model and made a mini-party piece out of having an Aladdin's cave of chilled beverages in my apartment.
For a moment I didn't know what to say. Not because Fae didn't confide in me; she did frequently and at length, even about things like 'feminine hygiene products' which surely she must have realised I'd know even less about than her. It was more the realisation she was truly growing up; and for all my ability with computers and crime syndicates, I was woefully unprepared to deal with that.
"He's just a friend though," she insisted and I was so grateful for that reprieve; for her to be a girl just a while longer.
"It's OK, I believe you."
She turned around, pot of hummus in hand. Smiling because, yet again, I'd said the right thing.
"He's called Cal, it's short for Michael." The fridge door shut with a rubbery clap as she sat down at the table opposite me.  "You'd like him, Pat," she said with the certainty only teenagers possess, as she dunked breadsticks into the hummus.
<![if !supportEmptyParas]> <![endif]>
As it happened, I did like this kid. He ended up a regular visitor to my apartment, invited along by Fae. They'd mostly sit and watch movies together.
I've never really bought the whole 'soul mates' jig; but they did make me wonder, fitting together so effortlessly. It was as if they really were made as a pair, unlikely though the aesthetics were. He never talked about his family; I think ours was a respite from his. I only realised his father was the head of Svencorp when he let slip his dad was pissed about how the company had been stung for $2,000,000… by me, as it happened - a very small fraction of which had gone towards the very couch he was sitting on.
<![if !supportEmptyParas]> <![endif]>
When Fae was small, we used to sit together during thunderstorms, counting the seconds between lightning and thunder, feeling like we were something greater, untouchable. Maybe I was, running the city's largest crime syndicate and to all intents and purposes getting away with it. Things seemed so much simpler back then; easier, clearer, an adventure, yet there was also a sense of safety. I seriously believed the law could never touch us.
See, I never regret having all that; my only regret is trading it in for the mess we have now.
<![if !supportEmptyParas]> <![endif]>
<![if !supportEmptyParas]> <![endif]>
~oo0oo~
<![if !supportEmptyParas]> <![endif]>
<![if !supportEmptyParas]> <![endif]>
When we arrived at the resort, one of the ground-crew showed us to the hotel suite. We didn't get the chance to go inside the Svensons' rooms; they were being combed through by the Spectrum forensics team. Instead, we were lead to the side room Captain Morado had commandeered as an office.
I'd read up a little on Morado whilst on the plane. Dakota Garcia, born in Guatemala but adopted at five months and raised by American parents. Throughout his life, he'd maintained links with his heritage, so after a spell in the FBI, he was selected to liaise between Spectrum units in the Americas.
"Captains Blue and Magenta reporting," Blue stated, his tension and distress apparent in his voice.
"Ah, yes, of course, good to meet you. It's certainly something for us to see so much action and garner the attentions of Cloudbase."
Morado was dressed identically to us, aside from his uniform being aubergine-hued in all the relevant places. As quickly as he established I was fluent in Spanish, I realised that, when speaking English, he had a Michigan accent. It was a subtle thing most people overlooked, but I'd come to be quite familiar with the nuances of that particular dialect. For a very specific reason – an often infuriating and usually ochre-clad reason.
<![if !supportEmptyParas]> <![endif]>
"Nice of you guys to finally show up," Ochre declared, making his entrance and tramping toward us. "Where's Scarlet?"
"Out of it," I replied, deliberately vague, seeing as we aren't allowed to discuss the intricacies of retrometabolism with anyone except senior staff.
"Yeah, of course." Then he turned to Morado, to provide an explanation. "Captain Scarlet is usually our field commander, he also moonlights as Blue's field partner. Just like Magenta does for me. I guess he'll be here too, at some point. He's just, uh, busy with a prior engagement."
"You must have been very bad in a previous life," Morado muttered to me in Spanish.
"Oh, you have no idea."
I do often wonder if being stuck with Ochre is some form of divine punishment; he does serve the purpose rather well, though he has been slacking off this past year or so.
After an appraising look, Ochre noted, "You're not exactly dressed for the climate."
"Someone has to keep the standards up," I bristled.
Obviously he had been off duty, and allowed to wear what he likes, but I really don't see that anyone who apparently hadn't realised his shorts and shirt clashed was in a position to give us fashion tips.
"Well, I was gonna get changed, but things have been kinda busy." 
Blue shot a warning look to the pair of us. Whatever petty squabbles we wanted to indulge in could wait. For now we all had to pull together for the sake of the mission.
<![if !supportEmptyParas]> <![endif]>
I honestly hadn't realised Morado was gone until he approached us with Fae.
It was almost a reflex, me pulling her into a tight embrace; I just needed to know beyond any doubt she was here and safe.
"He's my uncle," Fae stated, for Morado's benefit.
"Let's get you home, baby," I said, full of concern.
She pulled away, eyes blazing, and I knew for once I'd got it horribly wrong.
<![if !supportEmptyParas]> <![endif]>
For a moment, it seemed things stopped, I felt the world rattle to a halt, as it must have done for Blue during the Cloudbase briefing. Then she composed herself.
"No way. I'm seeing this one through," she stated.
"It's too dangerous," I insisted.
"They need me here. I can help."
"No, you need to be safe."
"Safe?" she demanded, composure cracking a little. "Oh sure, like there's no chance I could get mugged on the subway, or hit by a truck, or a million other disasters. Shit happens, Pat, and you can't save me from every little thing."
She turned to Ochre; we both did. Both expecting his support despite our utterly opposing views. I was relying on some ingrained instinct to win through, so that surely he'd understand my duty to protect and care for Fae, that by extension it was his duty too as a Spectrum officer. I don't know quite what she was expecting.
Ochre sighed, realising the importance of his verdict: in a few words he could tear a family apart.
"Magenta, why don't you and Blue go get started tracing that call?" he suggested.
We'd been briefed that the kidnappers had made contact with Mr Svenson to make their ransom demands.
"Harmony, would you please take Ms. Donague home," Blue said. 
<![if !supportEmptyParas]> <![endif]>
"You've been a great help, seriously," Ochre began, pacifying Fae, "but Pat's right, things are going to be getting complicated and dangerous from now on. There isn't really much you can do. So it would be best if you went."
"I could probably help trace the call, Pat's taught me stuff like that. Couldn't you use an extra hand?"
Ochre turned to me, asked for verification with just a look.
"It's true, about the computers," I grudgingly admitted, "but obviously she doesn't have the clearance, so that'll be my job."
"You don't need an assistant?" I realised Ochre was trying to soften the blow for Fae, for her to see there was nothing she could do. 
"No, I'll manage."
Blue had found the nearest Spectrum safehouse, written down the address, and handed that over. I knew that he had always quite liked Fae, and found her enthusiasm to plunge into the task, which must surely be out of her depth, something admirable. Maybe one day she'll join Spectrum too, she'd be more than capable. Though I doubt Mam will be best pleased; she's generally a very nice lady, but when it comes to the potential endangerment of her 'babies', she is an adversary almost as terrifying as the Mysterons. It really wouldn't be fair to take that risk with Fae at this time, for either of their sakes.
Fae sighed, realising it was pointless to argue. She gathered together her things and left with Chan.  
<![if !supportEmptyParas]> <![endif]>
Having seen her off, I turned to Ochre. "I can't remember the last time you were field commander." 
He nodded. "Yeah, it has been a while. Especially since the Brit got his super-powers and snagged all the good assignments."
"Would you really want to trade?"
"He can keep the getting killed. But you have to admit, this is better than the glorified babysitting we normally get stuck with."
Rick did have a point. With his previous experience in the police corps, he'd made a niche for himself, specialising in personal protection. And as his field partner, I more often than not got roped into it too.
"It'll look good on your resume, shows you can play well with others or something."
He grinned. "You're probably right... anyway I'm going to go slip into something uncomfortable, and leave you to go do your geek thing. So, come on, let's get to work. Hostages don't usually free themselves."
<![if !supportEmptyParas]> <![endif]>
<![if !supportEmptyParas]> <![endif]>
Cal
<![if !supportEmptyParas]> <![endif]>
I read this thing once, about how 'birth order' shapes your life, and figured maybe they have a point.
Take me: I'm the youngest, my brothers and sister are 14, 12 and 8 years older than me, respectively. Which meant that by the time I was born, Dad had already got his 'heir and a spare' and Mom had got a daughter to - I dunno - go shopping with, or whatever they do all day - which left me to be, and do, pretty much whatever I wanted, 'cause they'd already used up most of their 'giving-a-damn' quota on my siblings.
For the record: I don't have a problem with that. It actually makes life pretty damn sweet, most of the time. OK, Dad wasn't exactly ecstatic about me taking journalism in college, but he's got over it - unlike Ad's career choice. There are downsides, though; like they've seen it all before, so it's harder to outsmart them, or even for them to be all that interested in what I do - and you're years behind on the family secrets.
<![if !supportEmptyParas]> <![endif]>
You see, you need to know that Adam got kidnapped when he was eight. It's high on the list of 'that which we do not speak of', which is almost of encyclopaedia length. Anyway, it made the whole family totally paranoid about safety, which is a total bummer when you're a kid. They made up all these rules that seemed way too much, so I yelled and fought over it. I used to spend most of my time hanging out with Fae; we practically had squatters' rights at her uncle's apartment. Mom used to go to pieces over that, worrying and all (about me being in another state, that is – back then they didn't know Pat was a mobster, but I guess that wouldn't have helped). I might have only been fourteen at the time, but I wasn't a totally callous moron; if they'd actually have explained, then I'd have got it; but nobody tells you anything in this fucking family.
<![if !supportEmptyParas]> <![endif]>
To be honest, most of the kids in our school carried the burden of a family closet full of skeletons. We'd all had the necessity of presenting a front, that we were all part of some perfect family, so deeply ingrained it was almost part of our DNA. Keep up appearances, never cause trouble, don't attract attention, and never ever go there - when it comes to 'that which we do not speak of'.
<![if !supportEmptyParas]> <![endif]>
So, perhaps, what ultimately drew me to Fae was that, in a sea of kids bumbling along as clueless as each other about how to live with a backdrop of murky shadows, she already knew. She did it by compartmentalising, not seeing it as 'her problem', by seeing a loving relative where others could only see a criminal. In that respect, she was everything I desperately wanted to be.
We were honest with each other, compared notes, in a way. By rights, I should have been shocked at the stuff she said and did. Stuff like helping out with her uncle's accounts, which was actually money laundering. That she knew how to cover her tracks in everything, so much so, that most of the time she didn't even realise she was doing it - like when she casually moved a rug to cover a stain on the carpet, she once told me that she had seen it forming as Pat beat a man almost to death (his principles of non-violence apparently don't extend to those who threaten his family).
It wasn't long before I became an accomplice too; picking out names in case we needed to go into witness protection, not wondering which faceless corporation that casually given $20 bill had come from (indeed I started to feel it was OK, because they wouldn't miss it). Pat did his best to steer us onto the right track, to keep us safe and for us not to turn out like him. He wasn't a bad example though, not the way he imagined. He's always been a decent guy, honest about the bad and good of the job whenever we asked. And really, we weren't about to get into the same situation, because our lives were so different.
Yeah, that constituted a welcome break from my family.
It's easy to make assumptions that everything is just peachy in my family; because the Svensons are law-abiding folk, active in the Lutheran community (I think Dad pretty much funded the restoration project of our local church out of his own pocket), such generally well-mannered, decent people. But I don't walk into our house and feel like it's 'home', even though it obviously is. It's too easy to slip up, the repercussions too great. So I went to the Donaghues' instead. Everyone needs a place where they can just be themselves, and there should be no need for apologies.
<![if !supportEmptyParas]> <![endif]>
I looked over at Mom, wondering what she was thinking about to keep this whole charade from getting to her. This was probably the first time in years I'd seen her without make-up on passed breakfast time. She almost didn't look like my mother, with all that gloss and poise stripped away.
"Mom."
She didn't hear me at first; then glanced round, eyes brimming.
"Oh, babes, I'm so sorry," she said.
"For what?" 'Cause, hey, how should I know? It could be a million things.
"This." She gestured round the room we were being held in; Spartan décor, windowless and lit only by a naked bulb. At least they'd left us alone and quit shouting at us to be quiet.
"It's not your fault," I said automatically. Just as she always does to me during a family crisis. Is this what it's like to truly be an adult, taking on the duties always preformed by others for you, to have the security of that stripped away? "We're gonna be all right, Mom. Dad knows what's going on, he'll do whatever needs doing and we'll get home. Then everything'll be just fine."
"Yeah," she said wearily, "until next time."
She didn't have to elaborate; I knew what that meant.
<![if !supportEmptyParas]> <![endif]>
Blue
"If you don't quit it, you'll walk a hole through the floor." Ochre gave a genial shrug. "Or don't, whatever. It's a semi-free world."
At that I did stop pacing. For the most part, Ochre and I get along really well; we have our little fights, just like friends always do, but he's OK. Neither of us are the easiest people to get to know or figure quite how to take, maybe that's why we stick together? Along with the whole obsession over planes thing, of course. Pat and Brad don't know enough to keep up. Paul's a pilot too, but flying isn't such an all consuming thing for him, so he doesn't quite understand. I don't get it either, this obession with being a pilot, let alone what compelled me to join Spectrum to that end, fighting the good fight and all those cliches.
I could have been a good financier, like my father wanted to me to be. How much of that is down to inherent skill and what comes from having been pretty much groomed for it since birth, is irrelevant. Now it's true that I do quite enjoy it, at times; there's something deeply satisfying about the almost balletic pattern of numbers – about having everything fall into place – and, for once, there being clear-cut right and wrong answers - but there is still a general theme of me having to be coerced into the task. Whereas nobody ever has to ask me twice when it comes to flying planes.
I've wanted to do that ever since I can remember. Mom was the one who encouraged me. She tries not to let on, but I have a feeling that I'm her favourite, although not to the degree Peter thinks he's the least loved; chronic case of middle-child syndrome there. His middle name is Bjorn, after our father; it would have been mine, can't remember why they decided otherwise. Anyway, I ended up with Kristian, which nobody ever spells right. Pete's ended up doing everything I should have done, but the poor geek can't do it well enough to please our father, and some of that might be just because Pete's not me, and, hard as it is to believe at times, Dad still sees me as the golden boy. I sometimes think Cal got the best deal; nobody bugs him about that kind of crap.
We've always got on well, Cal and I. He was a great asset in getting dates, as caring for a kid makes you look all 'in touch with your feelings' or whatever else girls dig, and of course, I could always send him back to Mom, so he didn't actually cramp my style. In return, I rather generously spared Cal from having to get the man-to-man talk from Dad, and vice-versa, I guess. A teenager who thinks he knows everything, and a kid who never quits asking questions is a pretty interesting combination. Most of the time, it just didn't occur to me that he shouldn't have known those things; at least, not in quite such detail. In the years since then, I've done my best to rectify it and he seems to have survived.
Ochre got restless and ambled over to the computer.
"Have you got anything?" he demanded.
"Nope; but I have won seven out of two hundred forty-five games of solitaire," Magenta retorted with good-natured aplomb, then added more sympathetically, "when I do, you'll be the first to know."
Needless to say, I had a companion during my next two circuits of the room.
"I've got something!"
We both darted back over.
Magenta rattled off an explanation, which, with my knowledge of computer control, I was able to get the gist of. Ochre, however, really floundered.
"Again - in English, if you could," he pleaded.
"I've managed to trace the call between the ring leader and Mr Svenson."
At this point, Ochre perked up considerably. He was happiest charging around following clues like a puppy with ADHD. Not an unfamiliar concept, for me, from working with Scarlet, but he's generally less exuberant about it. I suppose that's why Ochre got partnered with Magenta, though sometimes you have to question the wisdom, as both favour a more liberal interpretation of regulations.
"Well, tell us then, where did it come from?" I asked, also desperate to be pro-active, albeit for different reasons.
Magenta sat back in his seat, a smile tugging at his lips, as if waiting to deliver a punch line. He raised his index finger ceiling-wards.
"Directly above us, give or take a floor or two."
"You're kidding!" Ochre exclaimed. "They must know we're here. Probably listening in to everything we're saying."
<![if !supportEmptyParas]> <![endif]>
Magenta reached out and gripped Ochre's wrist, sparing us another session of the latter near tearing everything apart. "If they were, you'd have found the bugs by now," Magenta reasoned gently.
Not having seen them work together like this before, I was surprised that he acted as the 'voice of reason'. Then again, it was the recurring theme of everyone underestimating Magenta.
Ochre wasn't going to drop it, though.
"Well, if they're right here, then why aren't we, y'know, doing something about it?"
"They could have moved on," I noted, apparently being incapable of just accepting good news.
"No, we've got guards at every possible exit point. All of them reported nothing. So I guess that's out," Morado insisted.
"Goddamn it, why are we all just sitting here?" Ochre grumbled, gulping down the last of the coffee Chan had made for us before she had left to take Fae to the safehouse.
My epaulettes flashed red, so I answered the call.
"Hi, Scarlet, good to have you back with us."
"Hmm, quite. I sensed there was something rather important going on for you not to be around when I woke up."
"Yeah, sorry about that, Paul."
"Oh, for goodness sake, Adam, you've enough to worry about without thinking you've hurt my feelings. Which, for the record, you haven't."
I managed to smile.
"Anyway," Scarlet continued, "during the last three hours of me being sat on my arse because somebody here won't take a hint that I've fully recovered, we have managed to accumulate some rather useful information."
"That's great, go on."
"Right. Word from our informants is that these kidnappers are hired mercenaries, and the research department has found some talk on the street of a plot against the Svensons. Which would tie up with the theory that this is ultimately the work of a SvenCorp client with a grudge, and a carefully planned op. We've run that CCTV footage Morado sent us and have been able to identify the ring leader as one Jean Dupont, which is probably an alias. Either way, he is wanted for… well, for pretty much everything… So upon capture, he's to be extradited to France."  
"They're probably sharpening their guillotine as we speak," Ochre quipped.
"… As per directive of the World President," Scarlet continued, which was enough to declare the matter non-negotiable. It had taken a lot for the World President to join Scarlet's fan club, owing to the small detail of Paul trying to kill him under Mysteron influence, so Scarlet was understandably keen not to blow it.  "Oh - this detail I particularly liked," Scarlet said with a sense of amusement. "It seems they have a website. In English, no less."
Though Scarlet gave the URL, Ochre took it upon himself to offer suggested names: 'we'llkidnapsomeone4u.com', 'mercenaries-r-us' and such like. I was tempted to snap at him for trivialising the issue, but let it go, as that was probably a coping strategy, or something.
"Now, would you like the good news or bad news first?" Scarlet inquired.
"Bad news," Magenta replied, "then we can end on a high."
"Fair enough. Green has tried to hack the site, but naturally it's completely encrypted - even beyond what he's capable of getting into."
"So, umm, what's the good news?"
I could tell Scarlet was grinning as he answered. "Well, it must indeed be a very small world, because the encryption programs were created by 'the Syndicate' of New York."
Magenta sighed. "All right, I'm on it."
"You leave 'em alone for two years and they frigging sell out on you," Ochre tutted.
"Something like that; though I've no idea how they got involved with the French."
"Well, you have," Ochre noted. "Working with Destiny and all. Though somehow I doubt they've branched out into 'horizontal international relations'."
"That is mere unfounded speculation," Magenta insisted, glaring at Ochre but otherwise refusing to comment.
"Speaking of Destiny, although not in that context," I said to Scarlet,"is Grey recalling her from her shopping expedition?"
"Unfortunately for the rest of us, yes," he answered. "You know how upset she gets if her shopping is curtailed, but needs must. Melody has been trying to translate, but her French really isn't up to par, and no other French speakers here have the necessary level of clearance. So looks like we will need Destiny's bilingual services after all… Well, that's about it for now. Shall keep you informed of any new developments, and be with you as soon as Fawn lets me go."
"SIG. Blue out."
"Bilingual services, eh?" Ochre smirked. "Well, that puts an interesting slant on 'taking one for the team'."
"That is not what he meant and you know it," Magenta snapped. "So get you mind out of the gutter and onto the task at hand."
"SIG." Ochre rolled his eyes like a petulant teen.
When Pat got into one of those moods it was best not to argue.
After a few minutes, Green radioed through some leads for us to follow up. So for a while we fell into peaceful and productive silence, waiting for Scarlet to arrive, so we could finally get some action.
<![if !supportEmptyParas]> <![endif]>
<![if !supportEmptyParas]> <![endif]>
Symphony
<![if !supportEmptyParas]> <![endif]>
I have to level with you, and admit that, before this assignment, I had no idea what being a 'wealthy financier' entailed, beyond the glaringly obvious. Honestly though, does the average person have that much of a clue?
So really, it's amazing what you can learn on the job; because I now know more about Mr Bjorn Stefan Svenson's business activities that he'd probably be willing to admit to his shareholders. Or at least, to his wife, but then, if my husband was head of SvenCorp, I probably wouldn't listen beyond the briefest answers to 'how was work, dear?'  Not that I'm an authority on Mr and Mrs 'head of SvenCorp', but I do know their eldest son is a damn good kisser.
That's not why I'm up to my eyeballs in SvenCorp, of course.
This assignment brings back memories of when I was in the Universal Secret Service, specialising in industrial espionage. Now don't get me wrong, I loved that job, though I'm also starting to remember why I gave it up. Paperwork is fine in small doses; I can tuck myself into a corner and play music through headphones, to make the time go faster, but I'd much rather fly a plane than be stuck at a desk. Guess Adam and I have that in common.
"How's it going, Symphony?"
I smiled at Brad, my knight in grey tunic bearing fresh coffee and lunch.
"Either SvenCorp is some last bastion of totally ethical business conduct, or…"
I stopped, but Grey's smirk compelled me to finish.
"Or Svenson is lying somewhere along the line." I sighed.  "I don't know how the other guys are doing, but there's nothing here. I've been going over this stuff for hours and just can't find a single clue as to why this is happening."
He nodded. "Seems you're not the only one hitting dead ends."
"Great, that's really comforting."
For a moment I didn't say any more; I couldn't anyway, while eating the sandwiches Brad had brought. He didn't eat fish himself, claiming to have given it up for Lent years ago and forgot to take it back up; but he knew I couldn't get enough of the tuna mayo sandwiches our galley made.
"We've got a real lousy deal, haven't we?" I said. "Seriously, being stuck in this place, while the other guys are swanning around in some fancy as heck resort.  That totally sucks."
"Oh, I doubt they'll be having too great a time." Brad smirked. "Especially Ochre, being field commander and having to boss Scarlet around for once."
"Yeah, I'm sure he's real cut up about that." 
"I know, but then Ochre was first on the scene and has some expertise in this situation. They'll sort it out between them."
Grey pulled up a chair and sat down beside to my desk. "You get the feeling we're missing something huge here?"
"Like the motive?"
"Exactly, and I figure two heads are better than one; so would you be up for some brainstorming?"
"Sure." I dug through the pile of music discs on my desk. "Would country be OK?"
"You know I'd rather rip out my own eardrums than listen to that kind of music," he teased.
The guys rib me so much over that, but I don't care. I grew up listening to the classics and early 21st Century stuff (Mom's a fan too), so it serves as a nice reminder of home. They don't mind it that much really, just exaggerate to make a point, like they do with how bad Adam's singing is.
"Well, too bad, I don't have anything else." So I got the music going, setting the volume to a suitable 'background' level.
Apparently, we needed to go round in circles for awhile first. About ready to quit with the frustrations of getting nowhere, I glanced up the news channel which was on constantly; as the latest bulletin gave way to a commercial break, the SvenCorp name and logo attracted my attention. What'd yah know, they do personal loans, now. 
It's a stupid commercial; I just couldn't believe that they would spout all this bull about being a 'family company', as if everything was just peachy. Oh sure, maybe it is - if you tow the line, but decide not to take up the family trade and it's a whole other story.
I get far more riled about it than Adam does himself these days, which is true about most other things, I guess. He's probably gotten used to it, worn down by the futility of fighting; but you can see he's got his daddy's stubborn streak. He's not gonna go backing down, if he figures it's worth the fight. 
<![if !supportEmptyParas]> <![endif]>
"Have you looked at the clients who are in debt to SvenCorp?" Grey asked, looking like he'd had a spark of inspiration. "If they've a grudge against the company for putting them in the red, they might be resorting to these drastic measures, having tried to get the company to cut them some slack, but not got anywhere."
 I gave it some thought. "That'd sure make sense," I agreed. "Being stubborn and a stickler for protocol does seem a reoccurring trait in said company's family."
"Surely, you aren't referring to Blue?" Grey teased.
"Yeah, especially him." I started taping in commands to enable a search. "How much was the ransom for?"
"34.6 million dollars."
My jaw nearly dropped clean to the floor.
"Apparently, Mr Svenson really could afford to pay that," Grey said simply. "It might take a fair chunk out of the holiday fund, but they'd get by."
"Wow… just wow. And to think I, a humble li'l country girl, am gonna be marrying into such high society. It's kinda like that old movie, y'know, the one with Audrey Hepburn." 
"'My Fair Lady'," he answered. "And, hmm, no, I'm not really seeing it."
"Whatever… OK, well, that's a pretty random number, and probably is close to the debit Mr X has mounted up. So I'll search through the clients who owe SvenCorp, allowing a margin of ten million either way."
"What makes you think it's a Mr X?"
"All these CEOs are guys. There are women, but they've paid their bills on time… and I'll leave it at that."
"Fair enough, I'm going to get some coffee. Shout if you find something suspicious."
<![if !supportEmptyParas]> <![endif]>
It didn't take long.
"Grey, I've got it."
He'd been across the room but came over soon as I yelled.
"There's this textile company in France; they owe SvenCorp 29.4 million. So all together, the ransom would pay off the debit, fees for the mercenaries, and there would be a bit left over for their own holiday fund."
"Yes, but they aren't the only company owing sums like that," Grey noted sceptically. 
"True, but the thing is this company has been in financial trouble before." I skimmed the page trying to find the relevant information. "They went to SvenCorp ten years ago and were given a loan by Stefan Svenson, which helped to keep them afloat. Then Nice Mr Svenson died and Adam's dad took over SvenCorp. Anyway, the company struggled again, but Mean Mr Svenson wasn't prepared to renegotiate the contract to cut the repayments or up the timeframe." 
"Which proved difficult for said textile people."
"Yup. That nearly put them under three years ago," I read off the screen. "Until things perked up a bit when the French fashion industry also got it back together. But now the French textile industry is struggling to compete with the cheaper prices offered by companies overseas… See, I do pay attention when Ads makes comments about the state of the foreign market. Well, sometimes."
"So, you think this latest downturn in the market is proving just enough to push them over the edge," Grey said, still not exactly convinced.
"Exactly." I was practically bouncing in the seat, knowing in my gut this was 'the one'.
"Good work. Who's the CEO?"
I gave the answer casually, while tapping it into the Spectrum database.
You know all those conspiracy theorists who claim the government is watching everyone, monitoring all forms of communication, and has every person's details on some super-computer network, meaning they're able to swoop in at a moment's notice? Well, for Spectrum, it's not too far from true.
<![if !supportEmptyParas]> <![endif]>
"That can't be …" Grey noted uncomfortably. "Please, tell me it's a coincidence."
"I'd like to," I replied, "but, sorry… she must be his daughter." 
They'd never outright said anything on the matter, but I'd known all along that there was 'something' going on between Grey and the lady in question. He gave it away more than she did. The guys like to think they are so subtle, but they forget most of us girls are trained in special intelligence too; and, for someone ordinarily reserved, Grey is a totally hopeless romantic and couldn't be any more blatant about it, short of a tattoo across his forehead.
It's not that I didn't feel terrible too; she is one of my best friends. I know the family wasn't exactly close, but it would be so heartless to expect her to put aside those emotions and bring him in.
"I know you don't want to," Grey said, as if he knew what I was thinking, "but there's no one else who could do it. Short of totally involving the local Spectrum HQ, and that'd be more trouble than it's worth… Karen, don't look at me like that.  Nobody here is under any illusions about the sacrifices this job can entail. We wouldn't be here if we couldn't put aside our personal feelings to achieve the goal."
I stared at him.  "You're asking her to rip her own family apart."
He softened a little. "Whilst it's true on occasion we have to set aside our attachments, equally we sometimes have to act on them. As a unit, I don't believe we could function if we didn't have the loyalty we do, that anyone of us would be prepared to take a bullet for any colleague. Metaphorically or otherwise. So no, Symphony, I'm not going to ask her to do this. I'm asking you."
<![if !supportEmptyParas]> <![endif]>
It wasn't even really a request; the Commander of Cloudbase tells us to jump and we damn well ask 'how high'.
"Yes, I'll do it," I said, but a doubt crept it. "I don't speak French though, what if he isn't fluent in English?"
"I would have said take Ochre, but he's busy …"
"As in Rick - the guy so multilingual that when Harmony greets him in Japanese he responds with 'bless you'?"
Grey allowed a slight smile in response.
"Yes, him… actually, it's more Ochre's police experience than linguistic abilities that are a factor here," he pointed out. "But of course that's all theoretical. So I guess you'll have to take along someone from Spectrum Paris."
I waited while Grey made the relevant call to the Paris headquarters.
"I'm sure you'll manage just fine, but Captain Auburn will accompany you. Now hurry up. He'll be waiting for you at Orly Airport."
I took down the address, sighed and stood up. Then I declared:  "This is a great job." 
"Well, I like to think so," Grey replied cheerfully.
"Actually, I'm just reminding myself."
<![if !supportEmptyParas]> <![endif]>
<![if !supportEmptyParas]> <![endif]>
Scarlet
<![if !supportEmptyParas]> <![endif]>
The summer of '69 has thus far been a very long hot one. And so, if the guests at the Golden Palms are anything to go by, sunbathing is seemingly still a very popular pastime. I have never understood why people feel a compulsion to lie out in the sun slowly roasting themselves, particularly when they often end up overcooked. But still, now was not the time for such thoughts; we had a job to do.
The local Spectrum personnel, apparently giddy with their new found importance, made a very thorough job of making sure I was indeed who I said I was. They had probably considered getting out the Mysteron detector too, but, for now, they were keeping out of it, and Ochre was able to intervene; which was a relief, because the inevitable result would have caused all hell to break loose.
"Ah, Scarlet, nice of you to show up," he told me. "Does this mean I have to hand over the mantle of command to your good self?"
"Why? By all accounts you're doing a good job."
"Nice of you to say so."
As we walked to our impromptu command post he brought me up to speed on the latest developments.
"Grey told me they've traced the guy who hired these goons, to just outside Paris," Ochre elaborated. "So Symphony is headed there to bring him in."
"That's great to be making such progress; hopefully, things will be as productive our end."
<![if !supportEmptyParas]> <![endif]>
Once Morado and I had made our introductions, we went through the plan of action, with a large blueprint of the building spread out on the table.
"My men will cover you from the adjacent buildings and other exits," Morado stated, pointing out such vantage points on a hastily drawn diagram. "Are you going to want a sniper team?"
"Yes," I answered. "It would serve as a good back up."
Then I stopped remembering that, not being field commander, it wasn't my place to make that decision.
"Scarlet's right," Ochre agreed. "How soon can you have the teams in place?"
Morado made the call, organising the team, then returned to us.
"Then we'll go in, as soon as possible for the element of surprise," Blue stated. "It's mostly storage and such up there, so we won't have to worry about any guests getting in the way." 
"So, have you been talking to them?" I asked.
"No," Magenta said. "But they have been in contact with Mr Svenson to arrange payment of the ransom. He should be arriving within the hour with the money… These guys are definitely pros, and probably have their fees and reputation riding on delivering exactly what their sponsor demands. They've nothing to lose, and that makes them all the more deadly. But as far as we can tell, they don't know Spectrum is onto them, or that their location is known. So we have that advantage."
"Right, well in that case," I began, "Magenta and Morado you take the two windows, coming in at a diagonal. With flash bangs for distraction, take cover, then shoot to kill."
"Obviously," Morado said, "we can't take risks. You can count on us, Captain." 
<![if !supportEmptyParas]> <![endif]>
In these kind of situations, you require absolute trust in your colleagues, and obviously that doesn't come easily. I was tempted to keep Morado out of this, but we couldn't afford to lose such man power. Perhaps I was just being unfair doubting him, because I hadn't worked with him before. After all, his credentials were good.
"Is that even wise?" Ochre said. "Considering the hostages could easily get caught in the crossfire or used as shields. It should be our first priority to ensure their safety. It'd make more sense to gas the room first."
"Well obviously, what I was going to say is shoot if faced with resistance. We're all professional enough to manage that." 
"Either way we're going to need to get someone to go in first," Blue said, "before the rest of the crew, to draw their attention, and ensure the hostages safety."
"Through the skylight then," I answered, poring over the plans.  "They'll have to be dropped from a helicopter." I looked up sharply. "Which obviously will be my job."  
"That's good of you to volunteer," Ochre said casually. I don't think he was very impressed that I was taking charge out of habit.
"Do I have a choice?"   
<![if !supportEmptyParas]> <![endif]>
It is so frustrating at times being 'the one'. I'd only just recovered from my last run-in with the Reaper and wasn't all that keen on having two in as many days. Sometimes, I just wanted a break from my own indestructible skin; for someone else to shoulder the burden. 
"Ah yes, you're the Captain Scarlet," Morado declared. "You are quite a legend in Spectrum. They say you cannot be killed."
"Of course I can," I retorted, which was entirely true. "I'm just… luckier than most."
"I'd say we're the lucky ones for having you around," Blue put in, effortlessly diffusing the tension. "So, you gonna do it, Paul?"
On hearing my first name, so casually used, I instantly scolded myself for being so selfish. Of course, I hadn't chosen to have these abilities, no one in their right mind would, but I was bloody well stuck with them; and if it meant having to take a bullet so that a colleague would not need to die, then I'll gladly step up and take it. And of course, this is Blue's family we're talking about; I didn't know them all that well but they had been very good to me, and I know Adam would do the same if our roles were reversed.
"Only if you're flying, Blue-Boy."
He grinned.  "Sure. I couldn't let you have all the fun."
<![if !supportEmptyParas]> <![endif]>
I looked round then, Ochre was still looking over the plans; his brow etched with concentration.
"What are these skylights made of, then?" he asked no one in particular. "Just regular see-through glass?"
Nobody seemed to have a definitive answer.
"We'll need to devise a Plan B then, in case things aren't exactly what we expect."
"Of course," I said. And stepped closer so that we could discuss the matter.    
<![if !supportEmptyParas]> <![endif]>
Being to all intents and purposes stranded at an outpost, it was unsurprising that, in addition to being deprived of the action, it seemed Cozumel was also woefully under-equipped. It was a good thing their only SPV has jetpacks, and Morado did manage to acquire respirators with anti-flare lens, and aforementioned flash bangs. I had no idea how, and didn't think to ask, I was just grateful he did. Unfortunately, our transport problem wasn't so easy to resolve. 
<![if !supportEmptyParas]> <![endif]>
I gritted my teeth and vented a sigh of frustration. Of course the Spectrum Passenger Jets and helicopters we had arrived on were in perfect working order. But in this situation, they would draw too much attention, and show from the outset that Spectrum was involved; which was the last thing we wanted. We would have to requisition civilian craft; but we had looked into that and found there weren't any suitable ready ones this side of Cancun. 
"Actually, Mr Svenson will be here soon, we could probably use his chopper," Magenta said, as if it was the simplest thing in the world.
"This is the man who hates Spectrum because we stole his precious baby," Ochre pointed out. "I somehow doubt he'll just hand it over with a full tank." 
It was then that he glanced up, just as I noticed the low, whirring noise approaching us from behind. It wasn't long before I recognised the vibrant blue paintwork, accented with canary yellow. Definitely not a colour scheme I'd have chosen, but I understood why they went for it: they were the colours of the Svensons' ancestors' fatherland's flag.
"Well, we don't have any other options if we want to move fast," I said. "And he's understandably desperate to ensure his family's safety, perhaps that will inspire him to look more kindly on us than usual."   
<![if !supportEmptyParas]> <![endif]>
The SvenCorp helicopter came down with an unceremonious bump - at which Blue visibly winced, as he hated to see anyone fly badly - revealing that the pilot was Mr SvenCorp himself. Yes, I really did think of Bjorn Svenson in those terms; somehow they seemed more fitting than just his name, and certainly more than 'Adam's Dad'.
"Who's in charge here?" he demanded, alighting from the aircraft.
Ochre stepped forward, intent on making suitable introductions; but by then, Mr Svenson had noticed Blue and headed straight for his son.
"Real family affair this, isn't it?" Ochre muttered.
<![if !supportEmptyParas]> <![endif]>
If Mr Svenson has one apparent redeeming quality, it is an impeccable sense of decorum. I knew full well how he despised his eldest son's career choice, and here it was literally staring him in the face, yet he didn't even blink.
"Hello Dad.  Have you spoken to Mom and Michael? How are they?" Blue asked. "And you?" he added, almost as an afterthought.
Until then, I honestly hadn't known the name of Blue's youngest brother; well, I knew he was called Cal, but suspected that wasn't what was on his birth certificate.
"I spoke to them about an hour ago, while arrangements were made. They're shaken, obviously, but otherwise seem to be holding up well. The kidnappers assure us they are unharmed."
"And you believe them?" Blue added something on the end, which I took to be something rather unflattering, in Swedish.
"We don't have a choice." Mr Svenson checked his watch. "Now, if you don't mind, we need to get on and resolve this situation. It is only an hour until I am to make the drop." 
"We are aware of that. Captain Magenta has been monitoring communications," I explained. "It's a straightforward drop; just got to this place." I showed him on the map of the hotel gardens. "Leave the case under the bench, then get out of there. Dupont, the man who gave you the instructions, will collect it after you leave. Are you ready?" I added, as an afterthought.  
"As I could ever be," Mr Svenson pulled a large, black-leather briefcase from under the passenger seat. "I have the money right here."
He must have noticed my reaction, and looked me in the eye. "Captain, I might have the reputation of a ruthless financier.  In fact, I'm aware that I deserve that reputation.  But money is just money – a tool to me.  It can be won or lost at the turn of fate; it is replaceable.  But my family, my wife and children, they are much more precious to me.  I will not risk their lives for money, and will not let anything stand in the way of their well-being."
I couldn't help glancing at Adam, wondering how he would react to that statement, seeing how he had become estranged from his father for not considering money, or at least a career in finance, to be vital. He made no comment, and if anything, seemed to have a glimmer of new found respect for his father. 
"We'll need to borrow the helicopter." Blue approached the aircraft. "Is it juiced up and ready to go?"
"Yes. Yes, the tank is at least three quarters full."
"OK." Ochre turned to address the other captains.  "Magenta, Morado, have your men in position. Blue, drop Scarlet as soon as you get the word… good luck."
"SIG, Captain." 
<![if !supportEmptyParas]> <![endif]>
With them gone, he turned to address me.
"Scarlet, having looked over the plan, I doubt a roof landing will be possible. So you'll need the jet pack from the SPV and be ready to go in, as soon as Magenta signals."
I collected the standard issue jet pack from the SPV; and returned to find Mr Svenson in the co-pilot's seat of the helicopter. I was to be seated in the back, and by 'seated' - I mean squished into a corner amongst what appeared to be holdalls and sporting paraphernalia; it seemed these aircraft were indeed meant for two.
"Will you be all right in there?" Svenson asked, to be polite more than anything.
"Well, you could say that I've survived worse."
Yes, I'm sure you do all the time … You're Paul, aren't you?" he asked.
"Yes," I answered, "but when I'm in uniform, it's Captain Scarlet, if you please, sir."
"Of course," he smiled. "I have heard a lot about you; you'll have to come to dinner at our home, sometime, so that we may have a proper introduction."
"Likewise, sir." Perhaps then we would both be able to look beyond each other's respective images built from anecdote and reputation. I had been to their home, once, but Mr Svenson had been away on business. It's a very impressive place. I'm sure Brad would stowaway with us if he found out the Svenson's had a heated Olympic-sized swimming pool.
By then, Blue had changed out of his uniform into casual clothing, then made his pre-flight checks and clambered into the pilot's seat beside me.
"Once I drop you off, I'll swing back round so Dad can hand over the ransom," Blue explained, with a hint of distaste for the thought. "Just holler if you need anything… Ready to get this party started?" 
Mr Svenson and I gave our agreement, and with that, we lifted off, watching the resort seemingly shrink to the size of a dolls house before we gracefully swooped towards our destination.   
For all this talk of my heroism, of being able to survive and be stronger for adversity, I only have to look at Blue to feel humbled. He is the real hero of the two of us, for doing all this without the safety net of retrometabolism, not to mention putting up with me.