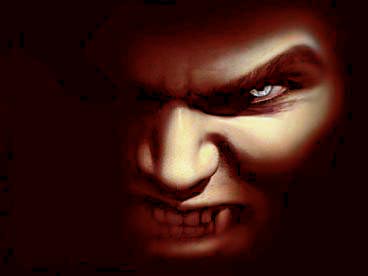 <![if !supportEmptyParas]> <![endif]>
Captain Black watched the roads. His skin was parchment, with black rings around his eyes and stubble covering his chin. He looked as though he had been without food or sleep for too long.
SCARLET WILL BRING THE PRESIDENT ALONG THE M27. WHEN HE DOES, YOU WILL TELL HIM THAT WE WANT THE WORLD PRESIDENT TO BE TAKEN ALIVE. ONCE HE IS THERE, WE WILL MAKE HIM OUR FINAL OFFER – AND IF HE REFUSES, WE SHALL DESTROY THE WORLD!
"I hear and obey," Black responded. His eyes glittered in the light, as he resumed his watch. The demons were well-pleased with the effectiveness of their decision that the most fitting punishment for a man renowned for his love of peace, was that he should become the figurehead of their army during the war.
<![if !supportEmptyParas]> <![endif]>
Scarlet sped towards London, ignoring his unwilling passenger. The Angels' shadows fell over the car as they flew overhead, and then circled around.
As he approached the junction, one of them peeled off from the formation. The bridge leading towards England's capital exploded.
"So much for London," he sighed, turning towards the Car-Vu.
<![if !supportEmptyParas]> <![endif]>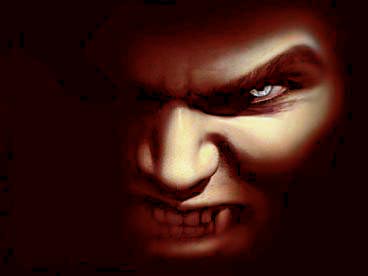 <![if !supportEmptyParas]> <![endif]>
A few miles away, another car parked hastily at a small waystation and a blond man climbed out. "Captain Blue, here for Spectrum Pursuit Vehicle," he said to the serviceman watching him with interest.
"I.D?" asked the mechanic, wiping oil from his hands with a rag. Captain Blue reached into his pocket, and flipped out his Identicard. The mechanic looked at it, nodded, and pressed a hidden button. The nearby trailer collapsed, revealing the hidden vehicle. "See you have an expert rating on these things. Must be hard, driving backwards," he remarked chattily.
"You get used to it," Blue answered, smiling easily. He dropped his casual air as soon as he was in the vehicle, feeling a cold knot in his stomach at the thought of what lay ahead of him. He settled into the driver seat, and headed off down the M27.
"Captain Blue, we have Scarlet's car in sight. It is a plain blue Saloon, heading towards the London Car-Vu," Destiny reported.
"S.I.G. I should be in sight of him in – five minutes. Keep me informed."
"S.I.G, Captain."
<![if !supportEmptyParas]> <![endif]>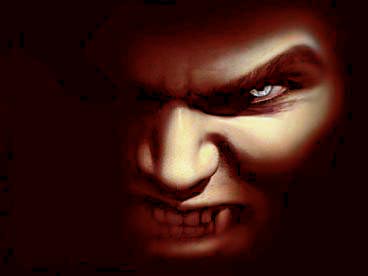 <![if !supportEmptyParas]> <![endif]>
Captain Black watched as Scarlet's car smashed through the barrier in front of the Car-Vu. "Captain Scarlet, you will take the president to the top of the London Car-Vu. We have control of Helicopter A42. Remember, we need the president ALIVE."
"Mysteron instructions will be obeyed," Scarlet acknowledged. Black raised an eyebrow. Was there a hint of reluctance in that comment?
<![if !supportEmptyParas]> <![endif]>
The demons had indeed gained control of the helicopter, and were guiding it towards the Car-Vu. They were not happy about having to alter their plans. Scarlet would need to prove to them that he could handle this mission, or they would rid themselves of him...
<![if !supportEmptyParas]> <![endif]>
Scarlet narrowed his eyes as the car swung around the Car-Vu ramps.
~You aren't having second thoughts, are you?~
'Don't be ridiculous. These Earthmen are pathetic.'
~You were an Earthman.~
'And I was as pathetic as they are! I'm grateful to my masters for changing me into this; for making me so much more than I was. I couldn't bear to be merely human again.'
~Good. Remember that.~
<![if !supportEmptyParas]> <![endif]>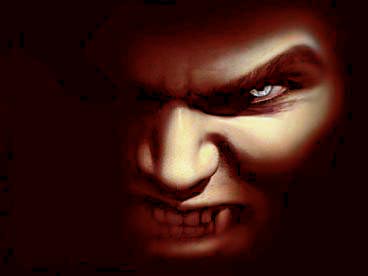 <![if !supportEmptyParas]> <![endif]>
Blue drove after the saloon. His training as a Spectrum officer had taken over, pushing his questions as to why Scarlet would do this to the back of his mind. All of his conscious attention was now focused on how to save the President.
<![if !supportEmptyParas]> <![endif]>
The saloon reached the highest level of the Car-Vu. "Out," Scarlet said, exiting the car. The President obeyed him, looking around for signs of Spectrum.
The SPV screeched onto the tarmac behind them. Blue called, "Captain Scarlet, let the President go! You have no other options!"
Scarlet rolled his eyes, and dragged the President towards the edge of the platform.
'That's what he thinks. My masters aren't so easily defeated.'
Captain Blue frowned when Scarlet didn't respond. "Helicopter A42 in position," came a voice over his cap radio.
"Good! Run an attack on Scarlet; you're in a better position than I am. And be careful, he's right next to the President," Blue ordered.
The helicopter lowered itself to attack, and shot – straight at Captain Blue!
"Angels! Helicopter A42 is attacking, and must now be considered hostile!" he called over his radio, diving for cover. One of the Angels turned to defend Blue, spitting bullets at the enemy aircraft.
The helicopter began defensive manoeuvres, but it was no match for the sleek Angel Interceptor. The bullets tore through its rotor blades, and it plummeted to Earth, crushing the supports of the Car-Vu.
Captain Scarlet grabbed hold of a support strut as the structure shuddered, and watched angrily as Captain Blue pulled on a hoverpack taken from the SPV and flew towards him.
"Captain Scarlet, surrender! You have no other choices!"
"There's always a choice," Scarlet hissed, his fangs fully extended. He snatched at his gun, and aimed for Blue's heart.
The bullet missed, but it was close enough that Blue flinched. "All right, Captain Scarlet," he muttered grimly. "If that's the way you want it, it's either going to be you – or me." He began to return fire.
The Car-Vu swayed suddenly. The President grabbed hastily at a support, trying not to fall off. Scarlet spun around to check on him – and Captain Blue saw his chance.
The bullet lodged itself in Scarlet's chest. Scarlet cried out, his face twisted. He stepped backwards – off the platform...
Captain Blue hurried to secure the President before his grip on the support weakened. The Car-Vu swayed again, tilting dangerously far. Blue caught hold of the President, and lifted them both – just before the Car-Vu collapsed in an avalanche of concrete and metal.
They floated down to earth in silence. As they landed, Blue noticed with absent surprise that someone was trying to contact him.
"Captain Blue! Report!" Colonel White was going frantic trying to reach his officer.
"Captain Scarlet took the President to the top of the London Car-Vu. I ordered Helicopter A42 to shoot him. Helicopter A42 proved hostile, and attacked me. One of the Angels shot it down. It hit the Car-Vu supports. Captain Scarlet refused to surrender. I shot him. He fell off the Car-Vu, and I rescued the President by hoverpack." Blue was aware that his report was disjointed, but he couldn't forget the scream Captain Scarlet had voiced as he fell. It had been inhuman...
There was a pause. "I see. Good work," said Colonel White. "I'll send some ground agents to recover Scarlet's body."
"S.I.G," Blue remembered to say. He closed his eyes for a moment, then looked at the President. "Are you all right, sir?" he asked.
President Younger looked at him. "What was Captain Scarlet?"
Blue's brow furrowed as he tried to understand the question. "Well, if you'd asked me that yesterday, I'd have said that he was the best officer in Spectrum," he began.
Younger shook his head. "Captain, the man who kidnapped me – the man whom you shot – he wasn't human."
Blue stared at him blankly. "What?"
"He moved faster than I could see, he crushed the radio in the plane with his bare fingers... That was not a human being, Captain!"
Blue was silent for a moment. "Then it wasn't the Captain Scarlet I knew," he said finally. "Because he was human."
<![if !supportEmptyParas]> <![endif]>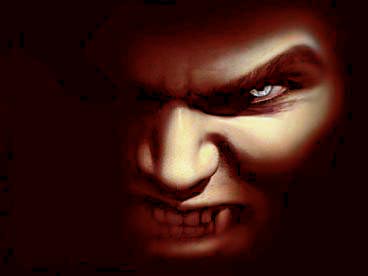 <![if !supportEmptyParas]> <![endif]>
Captain Scarlet's body was sent to Cloudbase as soon as it was found. Almost four hours had passed since the Car-Vu was destroyed...
Doctor Fawn studied the body carefully immediately it arrived in Sickbay. "Strange," he muttered. "He almost seems to be healing..."
Captain Scarlet drew in a deep breath.
Doctor Fawn fell back in astonishment. He called for security, not taking his eyes from the corpse that, somehow, was alive. Under his orders the body was moved, and restraints were applied.
<![if !supportEmptyParas]> <![endif]>
Captain Blue ran to the Sickbay as soon as he heard that Scarlet had revived. He found himself staring into a quarantine room where Captain Scarlet was restrained, taunting everyone.
"Do you honestly believe that my masters will give up so easily?" he asked contemptuously. "Your time is done, Earthmen. You will not survive the wrath of the Mysterons."
Blue stared at him, taking in the pale skin and the long fangs. "What did they do to him?" he breathed.
Scarlet turned and met Blue's eyes. "Improved me," he answered, with a fiendish grin.
Blue shuddered. "No."
"Oh, but they did. Here, I'll prove it –" he tore free of the restraints as though they were tissue paper, and flung himself through the observation window. Before anyone could react, he caught Blue's jacket, his rush propelling them both to the other side of the room.
"The only problem with what I have become is, I need fresh blood every so often," he smirked, one hand tearing away the chain which held Blue's crucifix and throwing it across the room, while the other one lifted Blue off the floor by his jacket and held him against the wall. Scarlet opened his mouth, his fangs growing even longer – and froze.
Slowly, his eyes moved up from Blue's pulse. Blue stared back, wondering what would happen to him.
Sky-blue eyes stared into their equal for a moment. Scarlet's gaze began switching between Blue's pulse and Blue's eyes, while Blue watched a struggle between the Scarlet he knew and a terrible hunger.
~What are you waiting for? Drink!~
'I – I can't.'
~You need blood.~
'Yes, but I can't do this.'
~You will. You can't resist it forever. This is what you are now.~
'No! No, I won't do this. Not now. Not ever.'
~Your masters will not be pleased with you.~
'I'm not pleased with them. And I'm not going to hurt someone just because I'm thirsty.'
Scarlet's fists tightened slowly, until the seams of Blue's jacket started to creak. No one dared move, for fear of disturbing the fragile balance and causing Scarlet to attack Blue.
~You can hear his heart beating. Just one bite, and you'll feel much better...~
'NO! I won't do this!'
~This is what you are.~
'This is what they tried to make me. I'm not going to let them.'
~Do you really think you can resist what you are?~
'Yes. I have to. I will not let them win.'
~You'll die without fresh blood! Don't you realise that?~
'Better than injuring someone else so that I can live.'
Something seemed to break; and the only thing in the blue eyes staring at Captain Blue was the shock and remorse of his best friend. "Adam...?" he breathed quietly. He set him down gently, his expression horrified. "Adam – I almost –" he turned and fled, moving too fast for the men in the room to see.
Blue stared after him for a moment. "Paul?" he whispered, then set off after him.
"Sir, where are you going?" asked one of the security guards who had been there in case what had just happened, happened.
"After him," said Blue impatiently.
"That's not a good idea," came the immediate response. "He's not human, he's been changed – and he just attacked you..."
"He didn't hurt me," Blue corrected him. "See?" he raised his chin, and tilted his head so that everyone could see the lack of bitemarks. "He's my best friend. I'm going after him." He set off again, and this time no one got in his way.
'Only problem now is, where is he?' reflected Blue. 'He's not likely to go somewhere with other people, so that leaves out the observation deck. And he's definitely not going to be in the gym. Let's see... He'll probably want to be alone – of course!' Blue mentally knocked his palm against his head. 'He'll be in his quarters!'
He headed off, wondering what he was going to say if he did find Scarlet.
<![if !supportEmptyParas]> <![endif]>
Paul Metcalfe slammed the door to his room shut, and tore the door of the cupboard off in his hurry to get at the bags of blood still hidden in there. He bit one and drained it in seconds, letting it fall and reaching for the next one.
'I almost bit him! I could have killed him!' he thought, agonising over how close he had come to seriously injuring his best friend.
Someone knocked on the door. He jerked his head up, panicking. The scent was familiar – "Adam?" he asked.
"Yeah, it's me, Paul," came the response. "Are you... How are you?"
"Don't you mean what?" Paul asked with a bitter laugh.
There was a pause. "May I come in?"
"No!" Paul said quickly. Adam opened the door and looked around it.
"Are you –" he started, but fell silent as he saw that Paul was crouched on the floor holding a transfusion bag, his fangs dripping red.
Paul looked down, ashamed.
"Paul?" He heard Adam open the door further, and step into the room. He leaned back unconsciously. "Are you going to be all right?"
He closed his eyes against the sudden sting of tears. "I don't know," he breathed, admitting his uncertainty. "I don't feel like I know anything, anymore."
"What happened to you?" Adam asked, settling himself to one side of the distraught man.
Paul swallowed, and began to quietly describe his last clear memories. "I was going to the rendezvous with Captain Brown. I wished him luck on his first big assignment, and we talked about the Mysterons." He frowned. "The tyre blew out – I don't know how. I – couldn't control the car. We were thrown about a lot; the car ended up smashed on the ground. We were both bruised and battered, but nothing irreparable..." His eyes glazed over with the memories. "There was a sudden impression of – evil. I know it sounds melodramatic, but – we were both scared stiff. We'd have run, if we could, but the doors were damaged. We couldn't get out." He wrapped his arms around himself. "There was a –" he stopped, and looked sideways at Adam. "It sounds ridiculous, but there was a pair of glowing rings on the ground. And then... the Mysterons spoke." He shuddered at the memory. Adam stayed silent, unsure what he could say that would help Paul. "They said that we were going to be their first servants. We said never, of course." His voice became even quieter. "They asked why we thought that we had a choice in the matter. The rings moved, until they were over Brown..." He started breathing faster, the memory obviously scaring him. "He was – screaming. I thought they were torturing him... and then it stopped, and he sat up and said, 'I await Mysteron instructions' as though it was normal." Paul buried his face in his arms. "And then they turned the rings on me."
Adam waited for Paul to continue. He was horrified by what he had heard, but he knew that his friend needed to get this out of his system before he could heal. And he needed someone to – not understand, but at least know what he had been through.
After a few minutes, he prompted Paul gently. "What did the rings do?"
"This." Paul gestured towards his body. "I've been – changed. I heal faster, I'm a lot stronger and faster, I can hear and see and taste and smell and feel more acutely than before.
"I'm a monster."
Blue blinked at the last comment. "Why a monster?" he asked cautiously.
"Look at me, Adam!" Paul turned to face him, baring his fangs. "I need blood. I attacked you – I almost..." he broke off, chest heaving. "I'm not human any more! I don't know what I am!"
Adam stared at him for a moment. "You're an officer of Spectrum," he told Paul firmly. "You're the youngest colonel ever in the WAAF. You're my best friend."
Paul stared at him. "After what I did?" he asked. Adam held his eyes, and nodded.
"Shouldn't I be asking that? I'm the one who shot you, you know," he reminded Paul.
Paul frowned thoughtfully. "When?"
Adam stared at him blankly. "On the Car-Vu. When you were trying to kidnap the President."
Paul sat up, looking at him intently. "Trying to... Adam, when was this?"
"Uh... maybe six hours ago. Why are you asking?"
Paul stared at him blankly, then sat forwards, frowning in concentration. He raised his head, his eyes wide. "Adam... I don't remember."
"What?"
"I... The last thing I remember clearly before I attacked you is those rings. After that, it's – hazy. I remember odd things – leaving Captain Brown, your crucifix, putting these bags in my cupboard, watching something in the Control room, flying a plane, driving a car somewhere... and nothing else. Just flashes, moments when I broke through whatever they did to make me obey them." His eyes widened further. "Adam, what did I do?"
"Do you remember what happened to Captain Brown?" Adam asked.
Paul frowned. "Something... I was angry that the Mysterons did that to him... What happened?"
Adam took a deep breath, and explained what had happened, beginning with Paul's report on the minor accident which made them late. Paul listened intently, fitting his memories to the situations Adam described. When Adam had finished, he was still for a moment.
"So. What happens now?"
Adam blinked. "What do you mean?"
Paul met his eyes. "I've kidnapped the World President, laughed at everyone, attacked you... I don't think a firing squad would do me any permanent damage, and I'm not sure what would. So a death sentence is probably out of the question. What will be done with me?"
Adam was silent. It had never occurred to him to worry about that. He'd been too busy wondering what had happened to Paul, and hoping that he was still himself. But now that the question had been raised, he found that he didn't have an answer. What would Spectrum do to Paul, after what he'd done?
"I'll stand with you, whatever they decide," he said firmly. Paul searched his eyes, and found that he was completely sincere.
"You'll probably damage your career beyond repair," he warned Adam.
Adam laughed. "I'll survive," he promised, then changed the subject. "How are you feeling?"
Paul considered for a moment, and shrugged. "I've had enough blood for now. Physically, I feel wonderful."
"And mentally?..." Adam prompted.
Paul rubbed a hand over his face. "It's going to take some time for me to adjust to – all this," he sighed. "It helps, knowing that you're here."
"That's what friends are for, buddy," Adam grinned, finally daring to clasp Paul's arm. Paul rested his hand over Adam's, his eyes filled with gratitude.
<![if !supportEmptyParas]> <![endif]>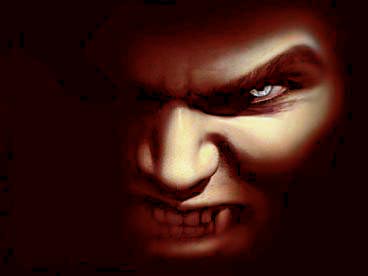 <![if !supportEmptyParas]> <![endif]>
Colonel White stared at Doctor Fawn as he reported what he had found out about Captain Scarlet. "He is the same man, Colonel. But somehow, his body has been altered. The metabolic processes have been sped up to the point where he can heal from any wound, even a fatal one, in a matter of hours. His strength and speed have increased drastically. You could almost say that he is no longer human.
"But there is a price for these changes. For an unknown reason, the haemoglobin in his blood is no longer capable of carrying oxygen. He requires regular supplies of normal blood in order to survive."
"Where would he get the blood from?" asked the Colonel, his eyes narrowing.
"Some of the blood supplies for transfusions have vanished from Sickbay," Dr. Fawn informed him. "I would assume that he took them."
Colonel White considered, leaning back. "So far, you've only described his physical changes. What has happened to him psychologically?" he asked.
Dr. Fawn sighed. "He is the same man. But there seems to be something else... almost as though the Mysterons managed to implant a new set of instincts. He's fighting them; but I'm not sure whether he'll succeed..."
There was a grim silence for a moment. It was broken by an urgent call, "Doctor Fawn? Scarlet just attacked Captain Blue, then ran off. Captain Blue has gone after him."
Colonel White and Dr. Fawn stared at each other. "This seems to answer the question of which side of his nature won," Colonel White said grimly.
"Ye-es... but why would Captain Blue go after him?" wondered Dr. Fawn.
<![if !supportEmptyParas]> <![endif]>
"Important! Captain Scarlet has escaped from confinement. He is highly dangerous. Any personnel spotting him are to report his whereabouts to Security immediately! Security, use any and all force necessary to restrain him!"
"Well, now we know how the Colonel is going to respond to me," said Paul helplessly, seeing that Adam was as shocked by the announcement as he was. He shook his head, trying to dislodge the self-pity and think. "They'll probably come here any time now. I should go – I should leave Cloudbase."
Adam nodded reluctantly. "Where will you go?"
Paul sighed. "I'll have to worry about that later. For now, I need to get off Cloudbase safely, without letting them find out where I've gone."
Adam nodded again. "Come on," he said, holding out a hand. "We'd better hurry to the hangar before they think to cordon it off."
Paul blinked at him, and smiled gratefully – then stopped, realising that the smile revealed his fangs. He climbed to his feet, and the two friends left his quarters, heading for the hangar bay to borrow a plane.
<![if !supportEmptyParas]> <![endif]>
Captains Ochre, Magenta and Grey were all in the Officer's Lounge when the announcement was made. They looked at each other in surprise. "But – Scarlet's supposed to be dead!" protested Magenta. "Blue shot him!"
"Yeah," Ochre agreed. "So what's going on?"
Grey shrugged, as perplexed as they were. "I don't know. But if Scarlet's in trouble, he'll probably want to leave Cloudbase," he pointed out.
"Right. We're going to the hangar bay," said Ochre decisively.
"Who made you leader?" asked Magenta, but he was already getting to his feet. Grey didn't say anything, just followed after his companions as they headed for the hangar bay – the only exit from Cloudbase.
<![if !supportEmptyParas]> <![endif]>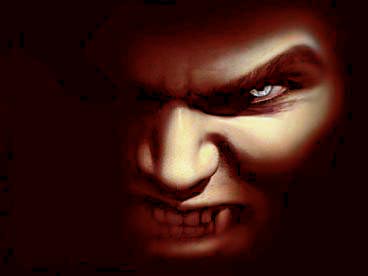 <![if !supportEmptyParas]> <![endif]>
Paul and Adam stood at a corner, watching the guards cautiously. "I think they've figured out where we're heading," Adam remarked quietly.
Paul nodded, his face grim. "If they just look the other way, I'm sure that I can get past them before they see me," he said, his voice as low as Adam's. Adam grinned.
"Why didn't you say so?" He straightened up, and walked towards the guards. "Have any of you seen Scarlet?" he asked.
"No, sir," they responded, all looking at him. Paul flitted past them, and stopped as he reached another empty corridor.
Blue noticed a flicker out of the corner of his eye. Remembering the speed with which Paul had attacked him earlier, he felt sure that his friend had made it to relative safety. "I've been checking these corridors," he said, careful not to mention what he was checking for. "I'm sure he isn't in them." Which was perfectly true. "Which passages have you checked?"
The guards pointed down the corridor that led to the hangar bay. 'Perfect,' thought Adam, careful to hide his relief at their answer. "So we know he isn't there," he said, lying through his teeth. The guards shrugged, and nodded. "Has he been seen, do you know?"
"We haven't heard anything, sir," came the response. Adam tried to look concerned, but inside he was laughing with glee.
"Has anyone checked his quarters?" he suggested, secure in the knowledge that Paul was safely away from that area of Cloudbase.
The guards blinked. "That never occurred... I'll suggest it right away, sir!"
"Good." Adam walked past them, and turned the corner. Paul raised an eyebrow at him as they walked down the passage.
"You just lied to Security," he said in a mock-serious tone.
Adam looked startled, then realised that Paul was teasing him. "Only one lie. And we know that no one knows where you are, and Security are off on a wild goose chase to your quarters. Not bad for a five minute chat, hmm?"
Paul grinned, then stopped, realising that his fangs were showing again. "Not bad," he agreed. The two friends hurried towards the hangar bay.
<![if !supportEmptyParas]> <![endif]>
Ochre, Magenta and Grey were also hurrying towards the bay. "You realise that we'll probably be too late," Magenta said conversationally.
"Not necessarily," Ochre corrected him. "Remember, Scarlet has to be careful to avoid being seen. We don't have that problem."
"He could just attack anyone who sees him."
"That would draw too much attention," Grey pointed out.
"And don't you think that a trail of unconscious bodies would be a little conspicuous?" added Ochre sarcastically. Magenta began to answer, but fell silent as they reached a group of security guards.
"Where are you going?" Grey asked them.
"To see if Scarlet is in his quarters."
"Why?" asked Ochre incredulously.
"Captain Blue suggested it."
The three colour-coded officers exchanged glances. It was certain that Captain Blue would realise that Scarlet would have left his quarters by now, if he ever went there... which suggested that he had a reason for aiming the guards in that direction. Specifically, to stop them looking somewhere else...
"This just keeps getting stranger," Grey muttered as they stood aside and let the guards pass.
"Tell me about it. I mean, is it just me or did it sound like Blue is helping Scarlet escape?"
"This situation is getting weirder," Ochre complained. "First Scarlet kidnaps the President, and Blue shoots him – then the next thing we know, there's a message on the intercom that Scarlet's loose and dangerous, and now Blue seems to be helping him to escape!"
<![if !supportEmptyParas]> <![endif]>
They reached the hangar, and looked around. "All of the aircraft are still here. See, Magenta? I told you we wouldn't be too late!" Ochre scoffed at his partner.
Before Magenta could respond, the doors opened, and Scarlet and Blue ran in – and stopped, staring at the other captains uncertainly.
Scarlet ran his tongue over his fangs nervously. The gesture made the other captains stare, and he realised that they didn't know what had happened to him.
"What happened to your teeth?" Magenta got out, eyes wide.
Scarlet forced his fangs to retract, and tried to ignore the questioning gazes of his friends and choose a plane. Blue was making his way to one of the small, fast jets that were available for Spectrum officers.
Ochre noticed what he was doing. "Blue, why are you helping Scarlet?" he asked, careful not to look away from the black-haired man.
"Because he needs my help," came the simple response. Grey moved to block him off as he drew closer to a plane, eyes flicking between him and Scarlet.
"He attacked someone!" protested Magenta.
Scarlet winced.
"Yeah. Me."
Everyone spun to look at Blue in surprise, as he stood meeting Grey's questioning glare.
"Why are you helping Scarlet if he attacked you?" insisted Magenta.
"Because he needs my help!" Blue took in a breath. "He didn't harm me. I'm fine. And Security are hunting him, and we don't know what they're planning to do if they catch him. So I'm making sure that they don't."
"We can't let you do that," said Ochre, his jaw firming. He turned back to Scarlet. "Captain Scarlet, I am placing you under arrest..."
Scarlet rushed him, landing a solid punch to his jaw. Ochre went down like a sack of potatoes, as Magenta and Grey yelled and drew their guns.
Blue clubbed Grey as soon as he turned to draw on Scarlet, leaving Magenta alone and facing two opponents. He looked from one to the other quickly, evidently afraid of letting his attention leave either of them long enough for them to do something. But he didn't plan for Scarlet's enhanced speed.
Faster than Magenta could see, Scarlet snatched his pistol out of his hand and knocked him out.
"Are they still alive?" asked Adam, seeing how still the three men were lying with a qualm.
"Yes. I can hear their hearts beating," said Paul simply. Blue gave him a cockeyed look, but decided not to comment.
"All right, then, let's get going," he remarked instead, looking towards the small jet.
"We'd better get them to safety first," Paul pointed out with a worried frown. "Or the depressurisation..." he didn't need to finish.
"You're right." Adam looked around, slightly uncertain. "Where do you think... Oh, of course!" He smacked his head with an open palm as Paul slung Ochre and Magenta onto his shoulders, and started carrying them to a Spectrum Passenger Jet. Adam followed him, hauling Grey along.
"They should be all right there," Paul said with a sigh of relief as he shut the door on the unconscious men. "Let's go, before some guard has the bright idea of coming to see if I'm here yet!"
Adam nodded, and the two friends climbed in to the jet and settled into the cockpit. Paul took the co-pilot's seat, giving Adam a quick smile. "Since we both know which of us is the better pilot!" he laughed.
"Like that was ever in question!" Adam grinned in return. He noticed the forced quality to his friend's teasing, but there was nothing more he could do to help.
Fortunately, no one had thought to close down the lift and prevent the aircraft from reaching the runway. The take-off was perfect, of course; Adam had been a test pilot before joining Spectrum, and it showed in the way he handled the aircraft. The two men both looked at Cloudbase as they left; they had enjoyed being Spectrum agents...
"Spectrum Control to Jet 64; what are you doing, Jet 64?" Lieutenant Green's voice suddenly sounded over the radio.
"Leaving," Paul answered, with only the faintest hint of a tremor in his voice.
"Captain Scarlet, bring that plane back right now!" Colonel White ordered.
The two captains looked at each other in surprise. "Well, I would, sir," said Paul, his blue eyes suddenly lighting with amusement, "But Adam's the one who's flying it."
"What?"
"Get me in trouble, why don't you," grumbled Adam.
"Well, it's perfectly true," Paul retorted.
"Then, perhaps you would be so kind as to return to Cloudbase, Captain Blue," Colonel White stressed. The radio cut off.
"I think he's annoyed with us," said Paul.
"So why are you smiling?" asked Adam blankly.
"Didn't you notice?" Paul gave a half-laugh. "He called me Captain Scarlet, Adam. I'm still a member of Spectrum!"
Adam paused to consider what he'd said, then began smiling too. "Shall we go home?" he asked, already guiding the plane back to land on the runway.
"Let's," Paul smiled, looking more relaxed than Adam had seen him since the 'accident'. "Let's go home, Adam."
<![if !supportEmptyParas]> <![endif]>
They were surprised when after leaving the jet they were greeted by a squad of medicos, instead of the expected security guards. Adam and Paul were both given a hasty check over, and then Paul was hurried off to Sickbay 'for some tests'. Ochre, Magenta and Grey were all being looked after as well, meaning that Blue was the only one fit enough to report to the Colonel.
<![if !supportEmptyParas]> <![endif]>
"Would you care to explain your recent behaviour?" Colonel White began, his eyebrows lowered.
"Well, you see, after hearing the announcement that Captain Scarlet was to be arrested, we thought that you'd decided against giving him a chance," Adam began. 'Why did Paul have to get himself carted off to Sickbay and leave me to face the Colonel alone?' he thought desperately. "So, we thought it would be best if he left Cloudbase, and the only way for him to do that was by plane, and –"
Colonel White held up a hand. "Enough!" Adam gulped, looking even more uncomfortable. "While I can understand your mistake about my decision, it does not excuse attempting to steal a Spectrum craft."
"We'd have –" Blue began, then bit his tongue. White raised an eyebrow at him.
"Have returned it later? How, if I may ask?"
Adam blushed, looking down. It had never really occurred to him – he'd been too busy worrying about all the other problems they were facing to ask himself what they would do with the jet once they were off Cloudbase.
Colonel White watched his officer blush with faint amusement, tempered with respect for his loyalty to his friend. Mostly, however, he was irritated that two of his best men had misunderstood the situation so thoroughly, and he intended to make sure that they both knew it. And since Captain Scarlet was in Sickbay, that just left Captain Blue for him to torment...
"Very well. I assume that if you ever find yourself in a similar situation again, you will please wait to find out what is going on before you decide to flee the scene?" he asked with heavy sarcasm. Blue winced and cringed slightly.
"Yes, sir," he mumbled, head hanging and ears as scarlet as his friend's tunic.
"Good. Oh, and when you see Scarlet, tell him that I want a word with him." The Colonel dismissed him, turning his attention back to the hundreds of minor details involved in running an operational base whose staff seemed largely convinced that it was some form of rest-centre – which he frequently reminded them it was not.
Captain Blue gave a sigh of relief as he left the Control Room.
<![if !supportEmptyParas]> <![endif]>
"Sir, what are you going to do about Captain Scarlet?" asked Lieutenant Green as soon as he was sure the blond officer was out of hearing.
Colonel White gave him a discouraging frown, to remind him not to question his superiors. When the young man seemed suitably crushed by it, he told him, "I'm going to keep him as a Spectrum Captain, of course. Why would there be any question of it?"
"I thought that – after that incident with the President –" Green began, looking confused.
"I am convinced that whatever influence the Mysterons might have held over Captain Scarlet, it has been broken – and the captain is not the sort of man to allow his enemies another chance to control him!" Colonel White smiled, somewhat coldly. "No, lieutenant, who- and whatever these Mysterons are, they seem to have been far too confident of their control over him. That it has been broken, I have no doubt. And in the coming war, Captain Scarlet may well prove to be our greatest asset..."
<![if !supportEmptyParas]> <![endif]>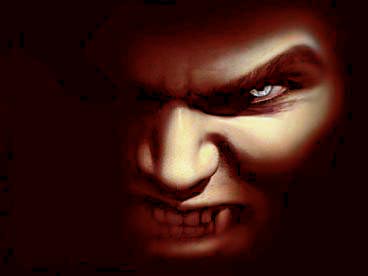 <![if !supportEmptyParas]> <![endif]>
In Sickbay, the man who would be considered Spectrum's 'greatest asset' sat on a bed talking with Dr. Fawn about what had happened to him.
"You should come in here for a transfusion every other day, but apart from that, I can't see any problems with your new state," Dr. Fawn told him.
"Thank you, doctor," said Paul gratefully. He stood up, and then looked thoughtful. "Do you think it might be possible for me to have a blood-pack with me on assignments, though? Just in case..." he trailed off, unable to say out loud what he was thinking.
"Of course. I'll make sure of it," Dr. Fawn assured him, aware of what had crossed Scarlet's mind. If he should need blood in a situation where a transfusion was impossible... "I'll make sure of it," he repeated.
Scarlet nodded, but stayed looking at the doctor.
"Is there something else?"
"Magenta and Ochre. They are all right...?"
"Oh! Of course they are!" Dr. Fawn smiled widely. "Although, if Patrick doesn't stop flirting with my nurse, I do believe that Chan might change that..." The two men laughed together.
"Goodbye, doctor," Scarlet called over his shoulder as he left the Sickbay, and almost walked into Blue.
"Colonel White wants to see you."
Scarlet searched his face apprehensively. There were definite signs of coming from one of the Colonel's notorious tongue-lashings. "Dare I ask about what?"
"Go and find out," Blue responded, with a slight smile. Scarlet looked unconvinced, but headed off to the Control Room.
<![if !supportEmptyParas]> <![endif]>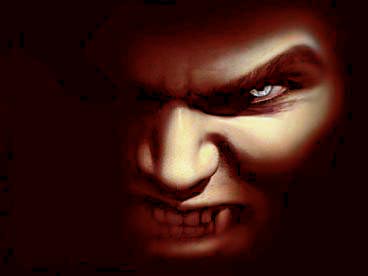 <![if !supportEmptyParas]> <![endif]>
Later, the Colonel looked around at the staff he had called to a general meeting to discuss the results of their first brush with the Mysterons. Captains Scarlet and Blue were still subdued from his earlier reprimands over their behaviour; Captains Grey, Magenta and Ochre were all giving Scarlet and Blue sideways glances, ranging from questioning to dubious; Destiny Angel was watching the men in surprise; and Dr. Fawn had one eyebrow raised and a wry expression on his face as he met the Colonel's eyes.
"Well. As I am sure you are now all aware, Captain Scarlet was attacked and changed by the Mysterons. However, he has regained his – ah – self-control, and is as willing to fight the Mysterons as any of us. There have been several changes to his body, but none to his personality or memories. In truth, the only important difference between Captain Scarlet as he is now and as he was before the Mysterons attacked, is that he now possesses the ability to retro-metabolise. Captain Scarlet is now virtually indestructible!"
In the silence that followed, Captain Scarlet blushed deeply, and wished that the ground would open and swallow him whole.
<![if !supportEmptyParas]> <![endif]>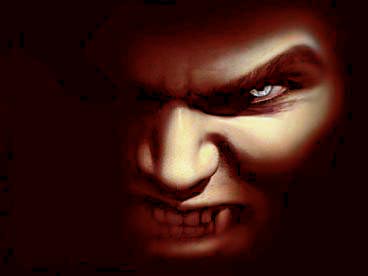 <![if !supportEmptyParas]> <![endif]>
If the demons had been furious before, their wrath now knew no bounds. Their chosen vassal had somehow broken their hold over him! This should be impossible!
Eyes filled with inhuman fury and malice glared through space at the unknowing humans. They would have revenge for this latest insult to their power...
<![if !supportEmptyParas]> <![endif]>
<![if !supportEmptyParas]> <![endif]>
<![if !supportEmptyParas]> <![endif]>
<![if !supportEmptyParas]> <![endif]>
(Just for anyone who was wondering: A vassal is 'someone who is dependent on or subordinate to another'. I thought it was a good definition of how the Mysteron agents seem to act...)
This story is based on the pilot episode of the original series, written by Gerry and Sylvia Anderson. I do not own any of the characters I have used here.
I don't think that I borrowed anything from other fanfiction writers in this story. If I am wrong, say so – and please don't be too mad at me; I didn't ignore it on purpose...
Please let me know what you think of this story.
<![if !supportEmptyParas]> <![endif]>
<![if !supportEmptyParas]> <![endif]>
<![if !supportEmptyParas]> <![endif]>
Any comments? Send an E-MAIL to the SPECTRUM HEADQUARTERS site